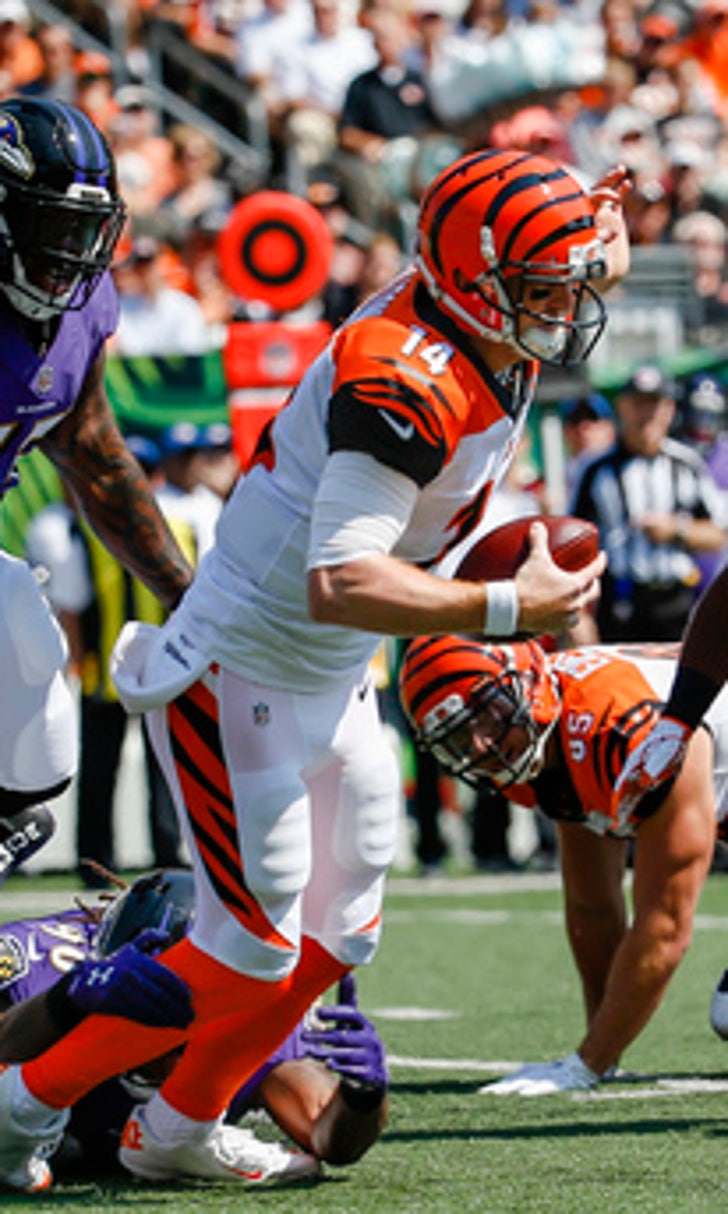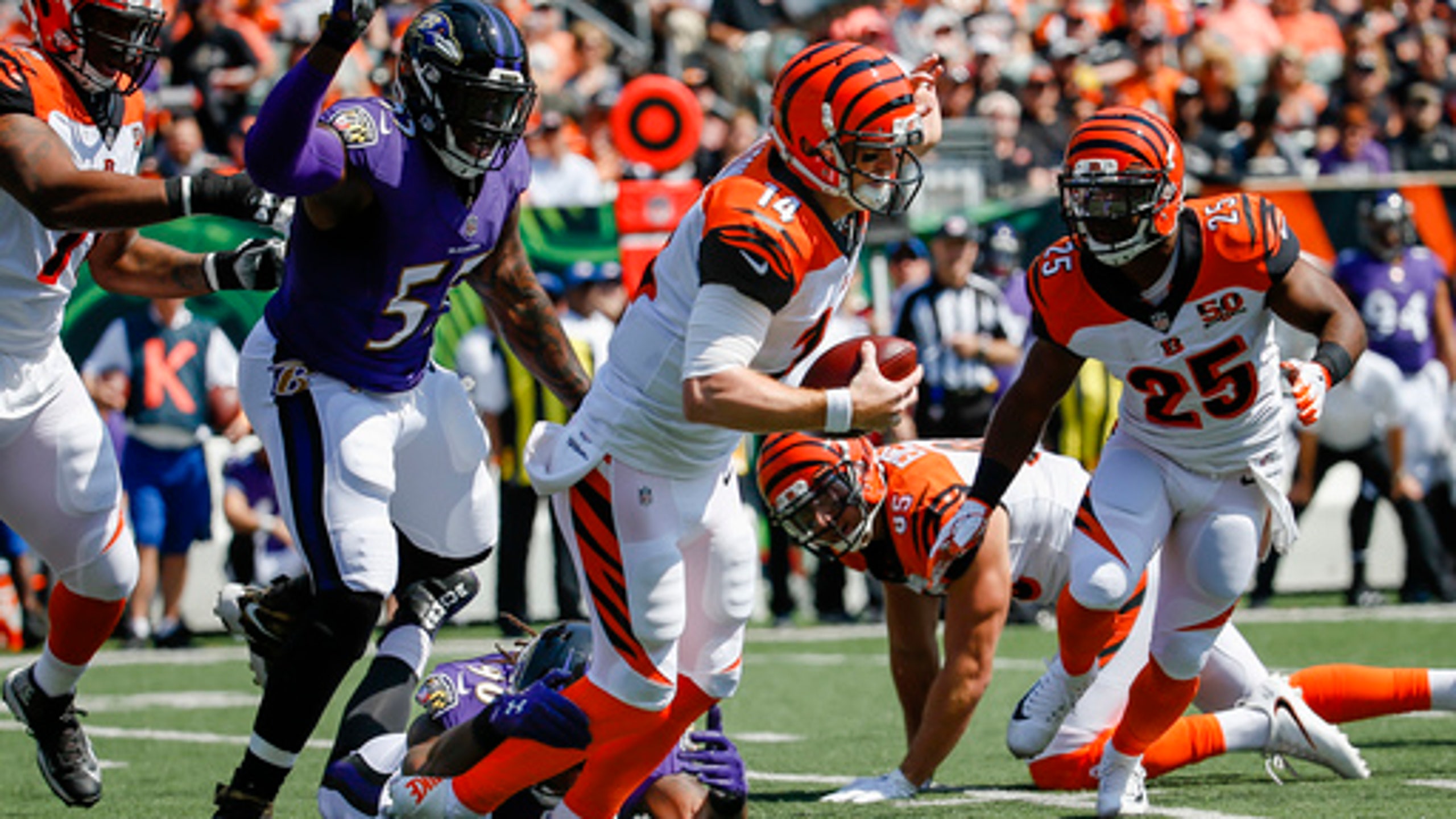 Duck! Some NFL offensive lines are pretty offensive so far
BY AP • September 16, 2017
Rarely do NFL fans focus on the offensive line, except perhaps when they see their quarterback flat on his back. By the looks of how things went for the Bengals, Texans, Giants and 49ers in particular, one must wonder if the coaching staffs were ignoring their blockers this summer, too.
It was ugly to watch in Week 1, and painful for the likes of Tom Savage and Deshaun Watson, who shared 10 sacks as the Texans flopped against Jacksonville. It had to hurt Andy Dalton as he went down five times when Baltimore blanked Cincinnati .
It was a bit better for the Texans and Bengals when they faced off on Thursday night, but not much. Each team allowed three sacks and the offenses were mediocre or worse in a 13-9 Houston win.
Eli Manning felt the Cowboys' pass-rush wrath three times, but the issue for the Giants was that its O-line was more of a 0-line, as in zero production.
Brian Hoyer could get virtually nothing going for San Francisco against Carolina, and the run game truly failed with 51 yards.
''I knew that game was going to be rough,'' first-year 49ers coach Kyle Shanahan said. ''I've played against Carolina a lot, so you go in expecting that. You know it's not all going to be pretty. It's going to be ugly. I've never played Carolina when it hasn't been that way. But, you've got to come up with those plays and that's what gives you a chance to win and if you don't it's real tough to.''
It was far worse in Houston. At least New York, Cincinnati and, to a lesser extent, San Francisco have proven quarterbacks who can reduce the damage of a leaky offensive line by making some adjustments.
Savage and Watson? Basically they are both rookies.
''What we talk to quarterbacks about all the time is put us in the play that you can,'' Texans QBs coach Sean Ryan said before Houston's win Thursday night, when Watson's brilliant weaving 49-yard run provided the only touchdown.
''We preach that all the time to those guys,'' Ryan added. ''They always do their best to see what's going on defensively and get that done for us. And then the next thing for the quarterbacks is let's have that clock in your head. Know when it's time to get the ball out of your hands or know when it's time to tuck and go. It's something that you're constantly working with the quarterbacks on and we still work on it and always will.''
Oddly, the Giants and Bengals didn't do much work to improve their blocking units in the offseason.
New York's main weakness on offense in 2016, when the defense carried it into the playoffs, was the production up front. The running game stagnated because there were few, if any, lanes to run through. True, the Giants didn't and still don't have a stud running back. But a running game by committee can work, especially with an Odell Beckham Jr. on the outside as the main threat who demands double-teams on virtually every snap.
Yet the Giants barely addressed the O-line, and they sure paid for it in the opener.
The Bengals were even more careless in the trenches. They let not just their best blocker, Kevin Zeitler, but their second best - the accomplished veteran Andrew Whitworth - leave in free agency. While the Browns are smiling about having Zeitler at guard and the Rams are grinning with Whitworth at tackle, Dalton is getting punished. And the rushing attack gained 77 yards in the opener before managing 82 Thursday night.
Line play was a noticeable problem in many stadiums in Week 1. Here are a few reasons why this could be an early-season trend beyond 2017:
TRAINING CAMP: There is such a paucity of hitting in the summer thanks to the current labor agreement that O-linemen don't get a feel for the physicality they will need for the real stuff. We hear complaints about the lack of synchronicity between quarterbacks and their receivers, and how solid tackling is disappearing from the game. Add in the bane of blockers: not enough contact work on the field.
THE COLLEGE GAME: Put simply, the colleges don't turn out offensive linemen who are ready for NFL chores. The spread offense, which is only moderately used in the pros, is the staple of college ball nearly everywhere. The blockers don't learn the techniques or fundamentals they need for the NFL. They also don't get enough banging of bodies.
THE OTHER SIDE OF THE BALL: Let's face it, defenses are getting the better athletes up front than are offenses. As coaches have become enamored of size and brute strength in their blockers, they've lost sight of the fact that fast, agile and also strong defenders are the better players.
Fans throughout America might need to keep this word handy as they watch their QBs drop back to throw: DUCK!
---
For more NFL coverage: http://www.pro32.ap.org and http://www.twitter.com/AP-NFL
---
---