Jordan Clarkson
Jordan Clarkson
Raptors-Lakers Preview
Published
Nov. 19, 2015 5:58 p.m. ET

As the Toronto Raptors continue to search for their early season form, Kobe Bryant hopes to turn back the clock against an opponent he's historically dominated.
Bryant returns to the court as the Los Angeles Lakers host the reeling Raptors on Friday night in a matchup of struggling teams.
Toronto (7-6) has lost the first three of a challenging five-game western trip and six of eight overall after a franchise-best 5-0 start. Slow beginnings and poor defense have plagued the Raptors during the losing streak, and both were a factor in their latest defeat.
Down by as many as 10 in the first half Wednesday at Utah, Toronto came back to take the lead in the third quarter before surrendering 34 in the fourth of a 93-89 loss. Utah shot 61.1 percent in the final period to overcome a 77-71 deficit with seven minutes left.
"Our defensive focus in the fourth quarter to give up 34 points ... that was the ballgame," coach Dwane Casey said. "We are shooting ourselves in the foot with unsound defensive plays and unsound offensive plays. Until we learn that, it is just going to be the same record."
More bad defense could benefit Bryant, who has had few off nights against Toronto over his brilliant career. His 27.7 points per game average versus the Raptors is his third-highest against any team, and he delivered one of the most memorable individual performances in league history by scoring 81 against them Jan. 22, 2006, at Staples Center.
One of the only six games in which he surpassed 30 points last season came against Toronto, scoring 31 in a 129-122 win Nov. 30, 2014. Bryant is expected to play after being rested Monday at Phoenix.
The Raptors also struggled to guard in losses to Sacramento and Golden State to begin their trek. After holding opponents to 41.5 percent shooting over the first 10 games, they've allowed 51.3 percent during the skid.
Toronto would benefit from better starts as well. It is shooting 35.1 percent and averaging 21.8 points in the first quarter, both league-low marks that have Casey contemplating whether to revise his starting five.
"All we can do is address it," he said. "If we don't get a better start, the only other option is to change that starting lineup. I don't know if we're at that point yet. Believe me, I have every number known to man as far as our woes in the first quarter. We're aware of it. We work to try to correct it. It's still our Achilles heel right now."
Facing the often off-target Lakers could help Toronto solve its other problem. Los Angeles is last in the league in field-goal shooting at 41.5 percent but had one of its better offensive showings Monday with Bryant sitting out.
Los Angeles (2-9) shot a season-best 48.1 percent and had six players score in double figures, but permitted 40 points in the fourth en route to a 120-101 loss.
"They came on in the fourth quarter and decided they were going to take it up a notch," guard Lou Williams said. "I felt we didn't do the same thing."
Williams, the 2015 Sixth Man of the Year for the Atlantic Division champion Raptors, is shooting a career-low 32.7 percent in his first season in Los Angeles.
Jordan Clarkson had 20 points and is averaging 19.3 over his last three games. The second-year guard has become the Lakers' most consistent scorer with Bryant struggling with his shot in a season that the 37-year-old has hinted might be his last.
The Raptors have lost 11 of their last 12 road games in the series but beat the Lakers 94-83 at home March 27 when Bryant was out.
---
---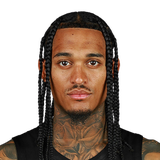 Get more from Jordan Clarkson
Follow your favorites to get information about games, news and more
---