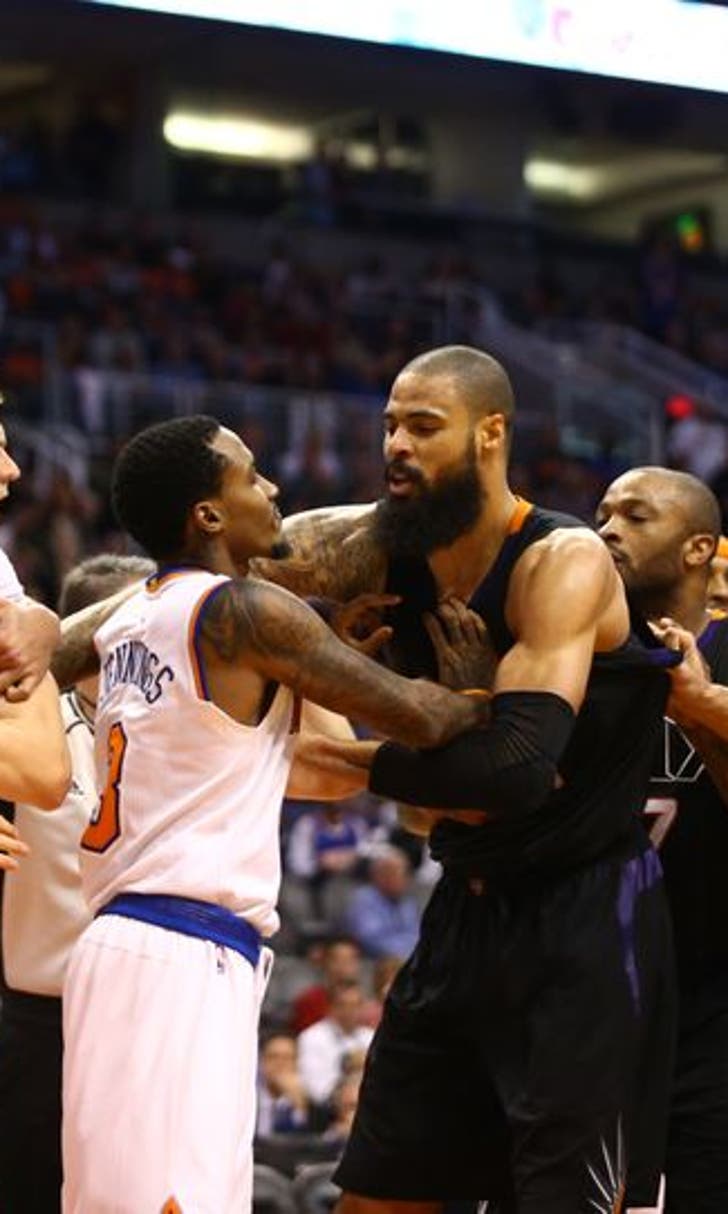 Kristaps Porzingis was having none of Marquese Chriss (Video)
BY Fansided and John Buhler/Fansided • December 13, 2016
New York Knicks power forward Kristaps Porzingis wanted nothing to do with Phoenix Suns power forward Marquese Chriss, shoving him hard after a collision.
The New York Knicks are playing very well in mid-December 2016. They would be the No. 3 seed in the Eastern Conference Playoffs if the season ended today and a lot of the Knicks' success in 2016-17 falls on second-year power forward Kristaps Porzingis.
Porzingis is the ideal physical specimen to play the stretch five in the NBA. On this scuffle with Phoenix Suns power forward Marquese Chriss, Porzingis gets very physical and confrontational in a shoving match.
The Knicks were down 60-54 to the Suns with a little under nine minutes remaining in the third quarter. Porzingis would get his feet tangled up with Suns point guard Eric Bledsoe in transition. He would stumble backwards and Chriss would then proceed to shove Porzingis on to the Talking Stick Resort Arena hardwood.
Porzingis has been a bit non-confrontational in the early part of his promising NBA career, but he wanted nothing more that to get in Chriss' face and push him around.
It would be a brief donnybrook, as Knicks center Joakim Noah would hold Porzingis back from really going after Chriss. Getting held back by Noah only adds to the fascinating basketball narrative that is Porzingis. The Knicks power forward looks tougher strictly by this gesture from his new teammate having his back.
Phoenix is one of the few really bad teams in the NBA this season and the Suns are certainly bound for the NBA Draft Lottery. New York looks to be a playoff team in the East with the hopes of advancement. Noah knows that New York needs Porzingis in the starting lineup to win. Porzingis just wanted to get after Chriss on that possession.
More from FanSided
This article originally appeared on
---
---