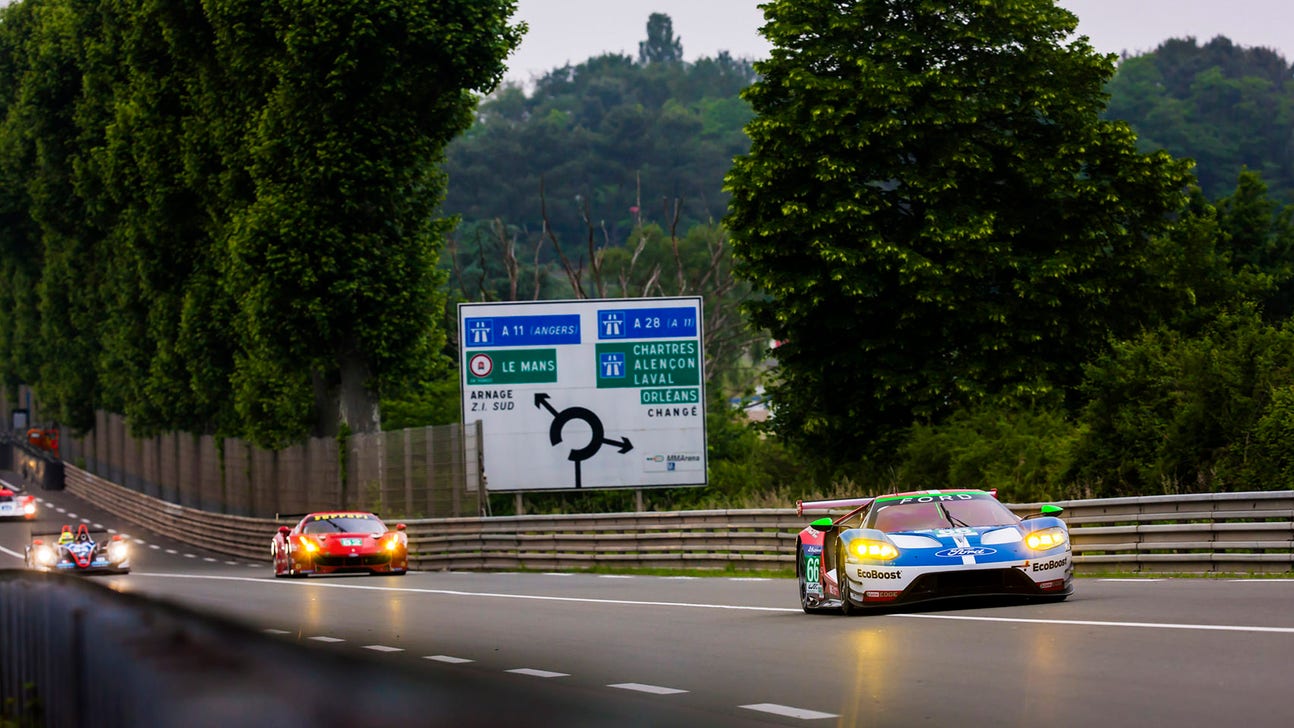 Ford vs. Ferrari rivalry reignited at Le Mans
Published
Jun. 18, 2016 8:42 a.m. ET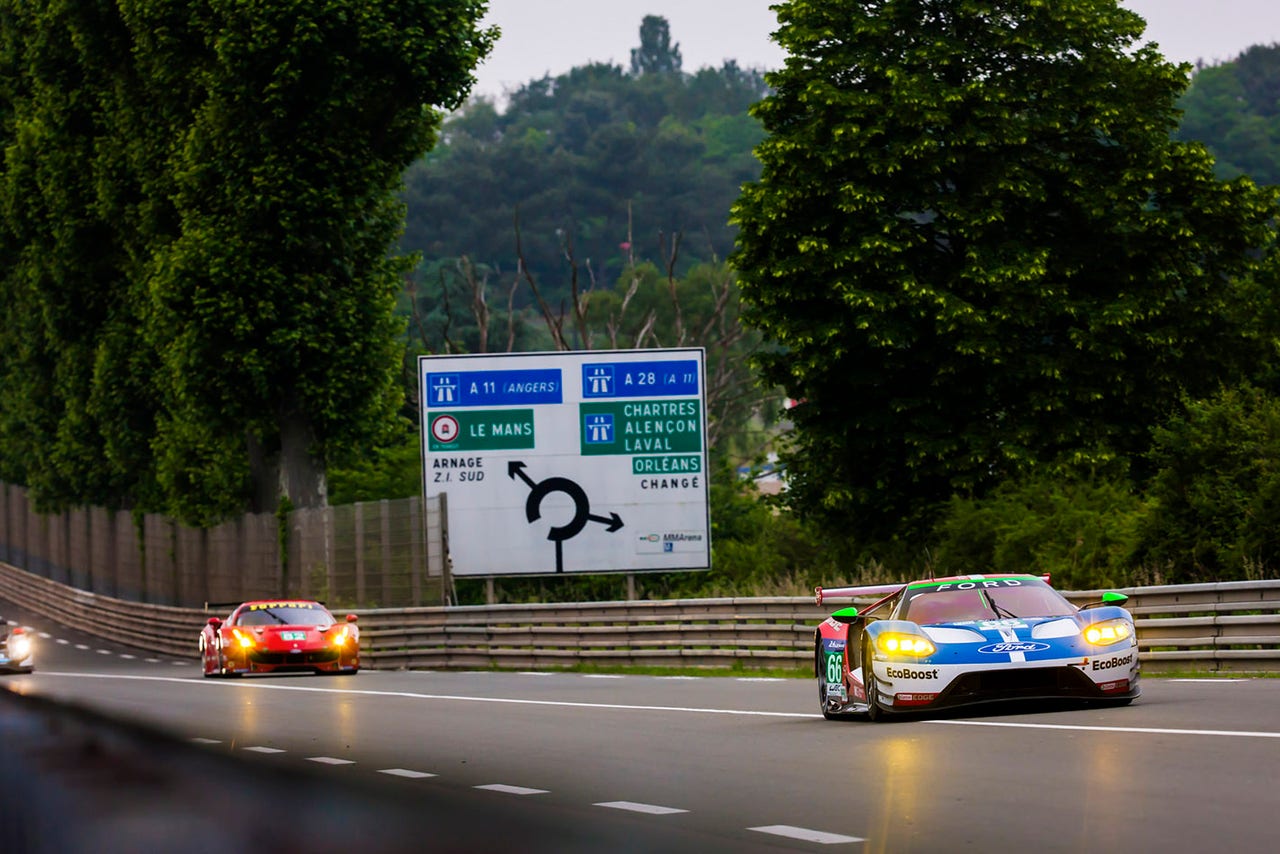 Nearly 50 years after Ford and Ferrari last clashed for 24 Hours of Le Mans supremacy, the Blue Oval and Prancing Horse will battle once again at Circuit de la Sarthe for victory in the world's greatest sports car race.
A formidable force of four Ford Chip Ganassi Racing Ford GTs will go head-to-head with several factory-supported Ferrari 488s in the ultra-competitive GTE-Pro category.
The class is also home to other proven GT racing powerhouses from Porsche, Corvette and Aston Martin but the focus has firmly been on the renewed battle of Ford versus Ferrari.
"I have never been involved in a program that stirred so much passion in people," Chip Ganassi told Sportscar365. "People remember the program or learned about the program from the mid-60s. It still moves them today."
Motivated by a potential business partnership with Enzo Ferrari gone wrong in the early 1960s, Henry Ford II decided to beat Ferrari at its own game.
Ford was going to win the 24 Hours of Le Mans with an American-made car powered by big-bore V8 Detroit iron.
Ferrari opened the 1960s with five straight victories in the 24 Hours of Le Mans but soon found its match in Ford's stacked program.
The breakthrough win came with a top-three Ford sweep in 1966 with the Shelby American-entered Ford GT40 Mk. II of New Zealanders Chris Amon and Bruce McLaren leading the similar machines of their GT40 teammates across the line in a photo finish.
Ford would win Le Mans with various iterations of the GT40 the next three years, including the final victory in 1969 with Jacky Ickx and Jackie Oliver. They took the checkered flag in the same J.W. Automotive Engineering GT40 Mk. I that Lucien Bianchi and Pedro Rodriguez had won with a year earlier.
Giuseppe Risi, owner of the successful Risi Competizione team that is attempting a fourth Le Mans class win in a Ferrari in GTE-Pro, was a spectator at the 1969 race.
"That was a very exciting race," Risi told Sportscar365. "It was the final Ford GT 40 win and that particular chassis had won the year before. It won two Le Mans, that car.
"Those were truly wonderful years, as they are now, things have changed, but it is every bit as special and exciting."
Along with a pair of Ferraris from past Le Mans class winners AF Corse, Risi will be a major part of Ferrari's defense against the Ford camp in today's race.
The No. 82 Risi Competizione Ferrari 488 GTE will be co-driven by Matteo Malucelli and former Le Mans winners Giancarlo Fisichella and Toni Vilander.
An Italian, Fisichella understands the importance of Ferrari winning against other world powers, particularly at Le Mans.
"In Italy, Ferrari is Ferrari," Fisichella said. "It is nice to see Ford coming back fighting for this important race. I think it is going to be a nice battle and I am looking forward to it."
Today's current drivers are too young to have a first-hand recollection of the original Ford versus Ferrari battle but all have heard about this golden era of sports car racing.
American Joey Hand co-drives the pole-winning No. 68 Ford GT with Dirk Mueller and Le Mans native Sebastien Bourdais.
"I really wasn't aware of the entire story until I came to the Ford program and started to hear and see so much about it," Hand said. "I have heard the more intimate details about how it all went down when you meet people that were there for it.
"We have met the engine builders and heard Edsel (Ford II) tell stories about it from when he was there at 18-years-old.
"That changes the whole thing, that's the real stuff, not what you read in the book, and that has been the biggest thing for me."
Ferrari's last overall win at Le Mans was in 1965, ironically with a Ferrari 250 LM entered by the U.S.-based North American Racing Team (NART) and co-driven by American Masten Gregory and Jochen Rindt.
The Italian manufacturer has not fielded a factory prototype effort for Le Mans in decades but has fully supported its GT campaign that has been a winning force at Circuit de la Sarthe throughout the last decade.
The most recent of Risi's three wins with Ferrari at Le Mans in 2008 and 2009 came in the GT2 class.
AF Corse, making its 10th appearance at Le Mans this weekend, scored GT wins with Ferrari in 2012 and, in GTE-Pro, a 2014 victory and runner-up honors last year.
Risi is proud of his role in carrying the torch for Ferrari at Le Mans but maintains some peer respect for the Ford effort.
"There is no question that the whole Ford presentation -- Ford just being here -- is something to be extremely respectful of," he said.
"They have got an ace of an organization with Chip Ganassi Racing. Ford has the will and the want to come back and it is a formidable team."
Ganassi, who has won the Indianapolis 500 and Daytona 500 with his teams, shares a similar respect for Le Mans and its annual turnout of top teams and the world's premier manufacturers.
"A win at Le Mans would certainly be right up there with our victories at Indianapolis and Daytona," he said. "This type of racing is a little more how you might say industry important.
"Whether you are in IndyCar racing championships, sports car racing in the U.S. or in NASCAR, those are sort of fan-based series.
"Here in Europe, and at Le Mans, it is still company versus company with a lot of nationalism and pride."
The importance of winning at half-a-century after the first GT40 triumph is felt by everyone at Ford Chip Ganassi Racing.
"This is the big one, trying to win this race a half century later," Hand said. "One way or another we will go into the history books.
"We are here, that is history, but I would like to make the awesome history of winning here on the 50th anniversary."
---