Salas returns, Montero impresses in Mets' bullpen
BY AP • March 19, 2017
PORT ST. LUCIE, Fla. (AP) While Mets reliever Rafael Montero keeps pushing hard to make the club's final roster out of spring training, one vital piece of the bullpen returned to the New York's clubhouse on Sunday as Fernando Salas arrived for the second time in camp.
Salas reported in February, did his work and left to pitch for Team Mexico in the World Baseball Classic before ever appearing in a spring training game for the Mets.
Getting back to the U.S. became a problem.
After appearing in two games for Mexico and tossing just one inning, the 31-year-old Salas found out his visa wasn't in order, keeping him from returning to Florida. Fortunately for Salas and the Mets, that paperwork is up to speed.
''I'm happy because I'm here,'' Salas said after handshakes with teammates. ''I understand the rules and have my visa now.''
Now it's up to Mets manager Terry Collins and pitching coach Dan Warthen to get Salas up to speed.
''He hasn't pitched very much. I have a lot of concerns,'' Collins said recently. ''I told Dan that when he gets in here we're going to certainly have to get him in every other day for a while to get him to pitch.''
Salas's first day will be Monday when the Mets travel to Lakeland to face the Tigers. Matt Harvey will start for New York, but Collins and Warthen will likely be looking hard at Salas, who was a reliable acquisition by the club during last season's stretch run to the postseason.
Salas posted a 2.08 ERA, struck out 19 and didn't allow a walk over 17 1/3 innings in 17 relief appearances. The Mets brought him back, signing him to a one-year, $3 million deal last month.
With All-Star closer Jeurys Familia facing a possible suspension after a domestic violence arrest in the offseason - the charge was later dropped - Salas will move back one frame to pitch the eighth inning, setting up temporary closer Addison Reed.
''The most important (things) are that I'm healthy and worked all offseason and in spring training. I practiced (in Mexico) and played catch, but now the most important thing is to stay in games,'' Salas said.
The 26-year-old Montero and his strikeout numbers continue to impress the Mets. He fanned three more in two scoreless innings on Sunday and has 20 in 13 1/3 innings, plus he lowered his ERA to 2.70.
''We've known that I get a lot of strikeouts and throw a lot of strikes. It's just been a matter of working on my command, but I've been working hard on that,'' Montero said through a translator.
''I'm using the curveball in the dirt a lot and the fastball outside,'' he said.
Collins said Warthen has Montero working more inside and setting batters up, and Montero is living on the edges.
''Right now, he's locating his pitches that he hasn't done in the past. He works the edges of the plate, and this year he's catching those edges with all his pitches,'' Collins said.
''He's starting to show us things we know he's got.''
NOTES: OF Jay Bruce (stiff hip) didn't play as planned in a 7-5 home loss to Miami. Collins said it wasn't a concern and that Bruce should play Wednesday. . P Jacob deGrom gave up four runs in 5 1/3 innings and said his goal is to work deeper in the next couple of spring games. . Collins said OF Brandon Nimmo (hamstring) would be out until at least later in the week. . The manager said Travis d'Arnaud's velocity was fine but that he wanted the catcher to speed up his throws. . Team Dominican Republic players Jose Reyes, Hansel Robles and Familia are expected back in camp by Wednesday.
---
---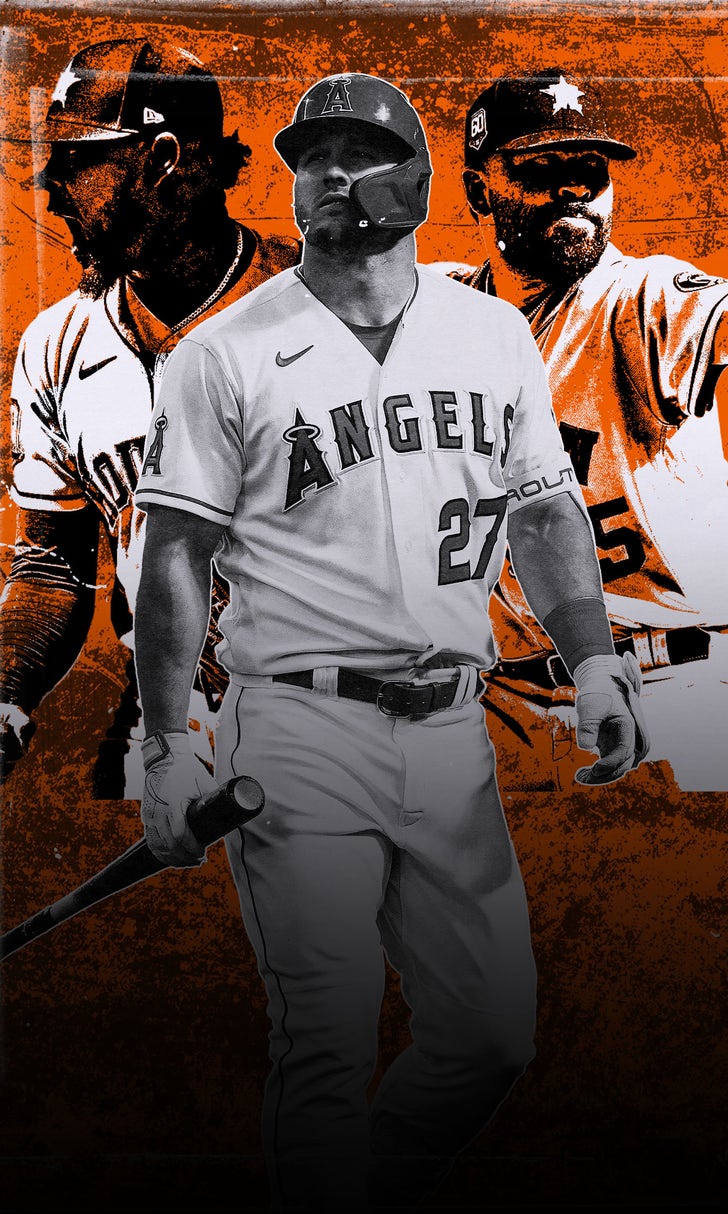 Mike Trout's slump worsens, Astros K 20 to sweep Angels