Albert Pujols
Albert Pujols
Angels host Twins with Pujols milestone behind them (Jun 04, 2017)
Published
Jun. 4, 2017 3:28 a.m. ET

ANAHEIM, Calif. -- Albert Pujols' pursuit of his 600th career home run to join eight others on a short list of baseball royalty came to a conclusion Saturday night, and he admits to wondering what else is ahead of him. He should get hit No. 3,000 by 2018.
What he wants most, though, is to win games and championships. In the midst of a great baseball moment, the Los Angeles Angels and Minnesota Twins resume their series Sunday with the finale of their four-game set.
The Twins lost a road game for only the sixth time this season Saturday, and look to get back on the winning side as they remain atop the American League Central. The Angels scored more than three runs, a novelty in a season in which they're 6-24 when scoring three runs or less.
Sunday's pitching showdown rings a disturbing bell for the Angels, a team whose pitching staff has been pummeled by injuries but also a team that has made specious personnel decisions the last few years on their way to irrelevance.
Ricky Nolasco (2-5, 5.07 ERA. .278 opponents average) makes his 12th start of the season and the Angels are 3-8 in the previous 11, losing their last six. He's allowed 16 home runs, the most of any AL pitcher, at an average of 2.4 every nine innings.
Nolasco earned the 2017 opening day start by default because the rotation mimicked the old Revolutionary drawing of three soldiers in bandages.
He was acquired from Minnesota last season in a deal that rubbed Angels fans and critics raw because it sent Hector Santiago, a 2015 All-Star (9-9, 3.59 ERA) and the best and grittiest pitcher on the 2016 staff (10-4, 4.25), out of Anaheim.
In the face of a young staff in flux because of injuries, it didn't make much sense in terms of team building. Santiago is just 29. But it did make sense from the perspective of Santiago becoming a free agent in 2018 and commanding a sizeable contract.
Nolasco is a career .500 pitcher (110-108, 4.54 ERA). The Twins signed him in 2014 on the strength of a good half-season with the Dodgers in 2013 (8-3 record). Since 2014, Nolasco is 21-33 with an ERA fluttering near 5.00. He has faced his former team just once, in 2013, earning a win in five-plus innings.
"It seems like his fastball command isn't as crisp as it was at the end of last year, when he really pitched well for us," Angels manager Mike Scioscia said after a recent outing. "At times he's missing with his two-seamer and his four-seamer over the heart of the plate, and those guys aren't missing."
"There's no real reason to explain it," Nolasco said. "Just a couple mistakes. I'm going to keep working."
His last two starts were a six-inning effort against Tampa in which he allowed five runs and three home runs. His latest was against the anemic Atlanta Braves, who battered him for seven hits and six runs in 2 2/3 innings.
The only good part of that trade is the Angels also received 6-foot-7 right-hander Alex Meyer, who has pitched well in two of his last three starts.
Meanwhile, the Twins on Sunday counter with a right-hander on the verge of a breakout. Jose Berrios, a 22-year-old who is 3-1 with a 2.70 ERA, has a crisp curve and two effective fastball grips. The break on some of his pitches, as one Internet pundit put it, are whiffleball crazy. This will be his first outing against the Angels.
The Twins' 2012 first round pick starred in the minors the last four seasons, earning the nickname La Maquina (The Machine), but was 3-7 with an 8.02 ERA when recalled last season. First-season butterflies have given way to a breakthrough.
"You have to be excited about the performances," Twins manager Paul Molitor said. "The kid has received a lot of attention since signing, and last season when he had difficulty making the transition."
"It was just a matter of time," outfielder Max Kepler, 24, also one of the Twins' impressive kids, said. "He's got some of the best stuff. I have faced him and he is electric. It's all about the mentality and how confident you are."
---
---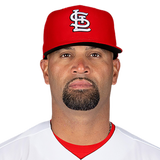 Get more from Albert Pujols
Follow your favorites to get information about games, news and more
---