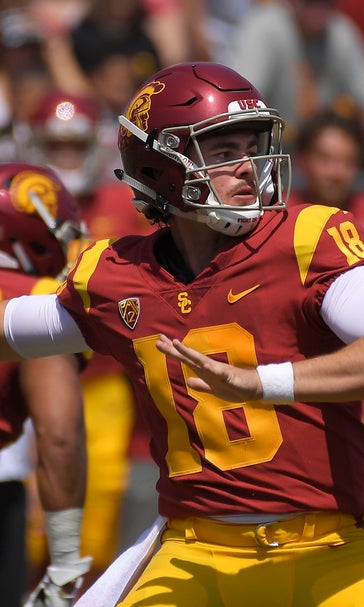 USC QB Daniels persevering through freshman growing pains
November 8, 2018
LOS ANGELES (AP) — J.T. Daniels is mentally and physically weary as he heads into the home stretch of his freshman season, which he realizes hasn't been the smashing success many Southern California fans anticipated.
The 18-year-old quarterback won't stop until he becomes the passer he knows he can be. He's still grinding and learning every day, from the practice field to the film room and back.
When asked why he puts in so many hours of video study, Daniels shines a frank light on his skills and his determination to improve them.
"I'm not as good as someone like Sam Darnold, just to be straight-up," Daniels said this week after practice for the Trojans' (5-4, 4-3 Pac-12) visit from California (5-4, 2-4) on Saturday night.
"I can't do what a guy like Sam can do," Daniels added. "For me, if I'm going to succeed, I know that I have to be the most prepared to know what's going to happen. I'm also not the tallest guy, so I can't see everything that's happening at all times. I just have to know, based off preparation and film study, who's going to be where, and I have to know where I've got to put the ball."
Daniels arrived at USC several months ago amid fanfare and excitement for the next great quarterback in the Trojans' enviable lineage. After a phenomenal high school career in Orange County, he graduated a full year early to compete for Darnold's job, and he won it in training camp.
With three games left in the regular season, Daniels is eighth in the Pac-12 with 1,788 yards passing, and he has just nine touchdown passes against seven interceptions. His 125.2 passer rating is below every Pac-12 team's top passer except UCLA's Dorian Thompson-Robinson, and his 56.6 completion percentage is 13th in the league.
Daniels' numbers are inextricable from the USC offense's struggles as a whole. Quarterbacks coach Bryan Ellis still sees every bit of Daniels' vast potential, even if the offense's performance hasn't reflected it yet.
"I think what he's learned is college football is a little faster and a little harder than he thought it was going to be," Ellis said. "He learned that he's still a freshman, that we are still making freshman mistakes. We've learned we've got a long way to go. We've got a lot of work to do."
Daniels was sidelined by a concussion last month at Utah, missing the rest of that defeat and a loss to Arizona State the following week. He returned for last week's win at Oregon State, and he didn't allow the injury to slow his weekly quest for constant improvement.
He hasn't cut down on his voracious film study, either.
"He's the hardest-working quarterback in the film room I've ever been around, and that's as an 18-year-old kid, which is really, really impressive," Ellis said. "I think he just enjoys it. He's a football junkie. He knows that he's got some things to learn, some things to get better at, but he's doing it every day to get ready to be a really good quarterback."
Daniels is far from the only USC offensive player with work to do. Last week, head coach Clay Helton took over the Trojans' play-calling and fired his offensive line coach, shaking up an underachieving unit that sits ninth in the Pac-12 in yards passing and 10th in yards rushing.
Daniels is likely to be without key receiver Michael Pittman Jr. against the Golden Bears, adding another degree of difficulty to the Trojans' fall slate. After their crosstown showdown with UCLA at the Rose Bowl next week, USC finishes the regular season against No. 3 Notre Dame.
The Trojans could still reach the Pac-12 title game, or they could miss a bowl entirely with an 0-3 slump. Daniels' performances will have a big influence on that finish, and he is determined to play beyond his years.
"I guess I'm just so into it right now," Daniels said. "You're coming into the home stretch and your body is tired, your mind is tired. You could really use a break, but you're not going to get a break. ... It's a big stage, but I'm doing my best. I really love the sport and love the game and love the team, so I'm still excited to come out every day."
---
---