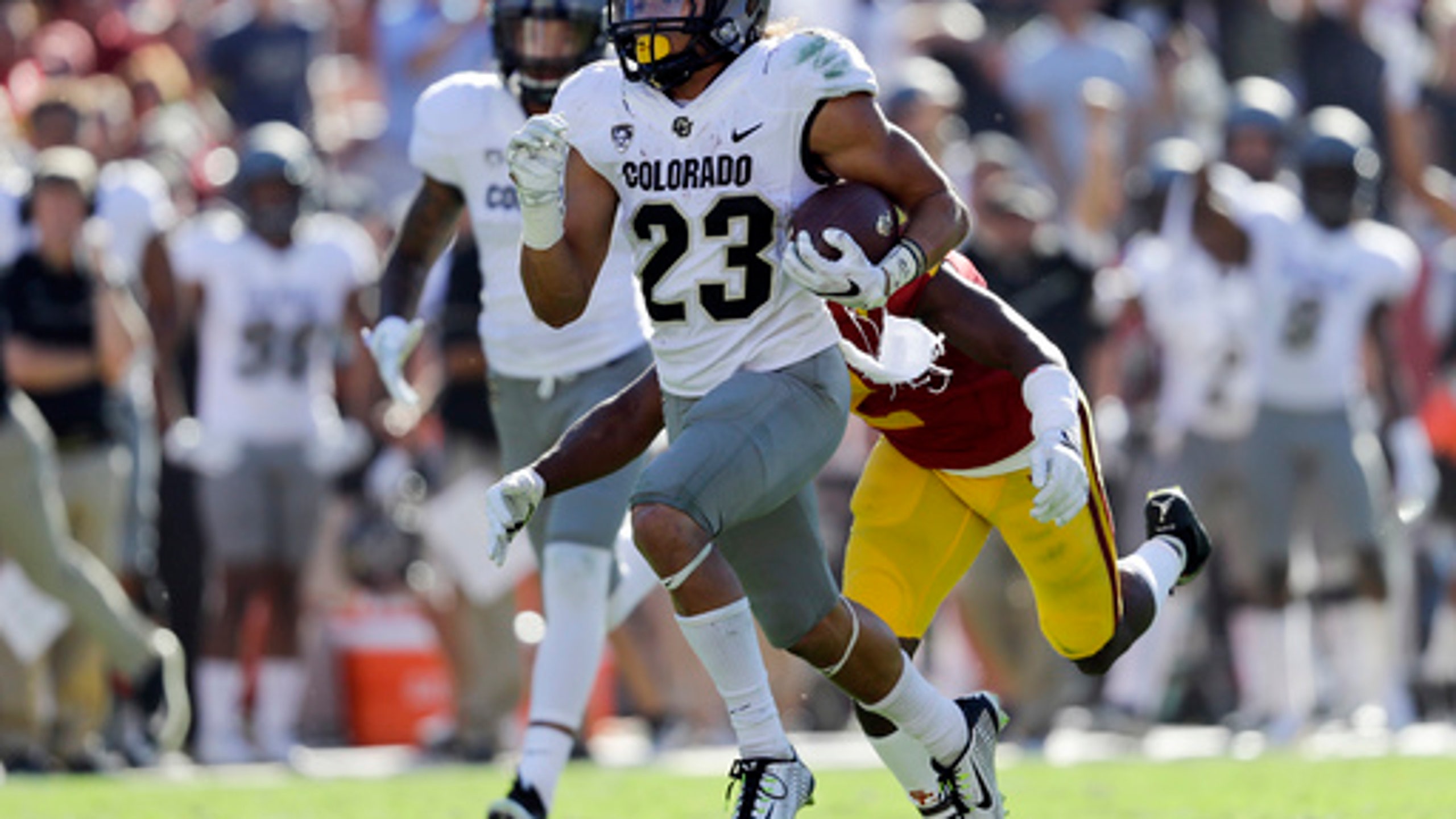 Tailback dubbed Tasmanian Devil leads Colorado's revival
BY foxsports • October 12, 2016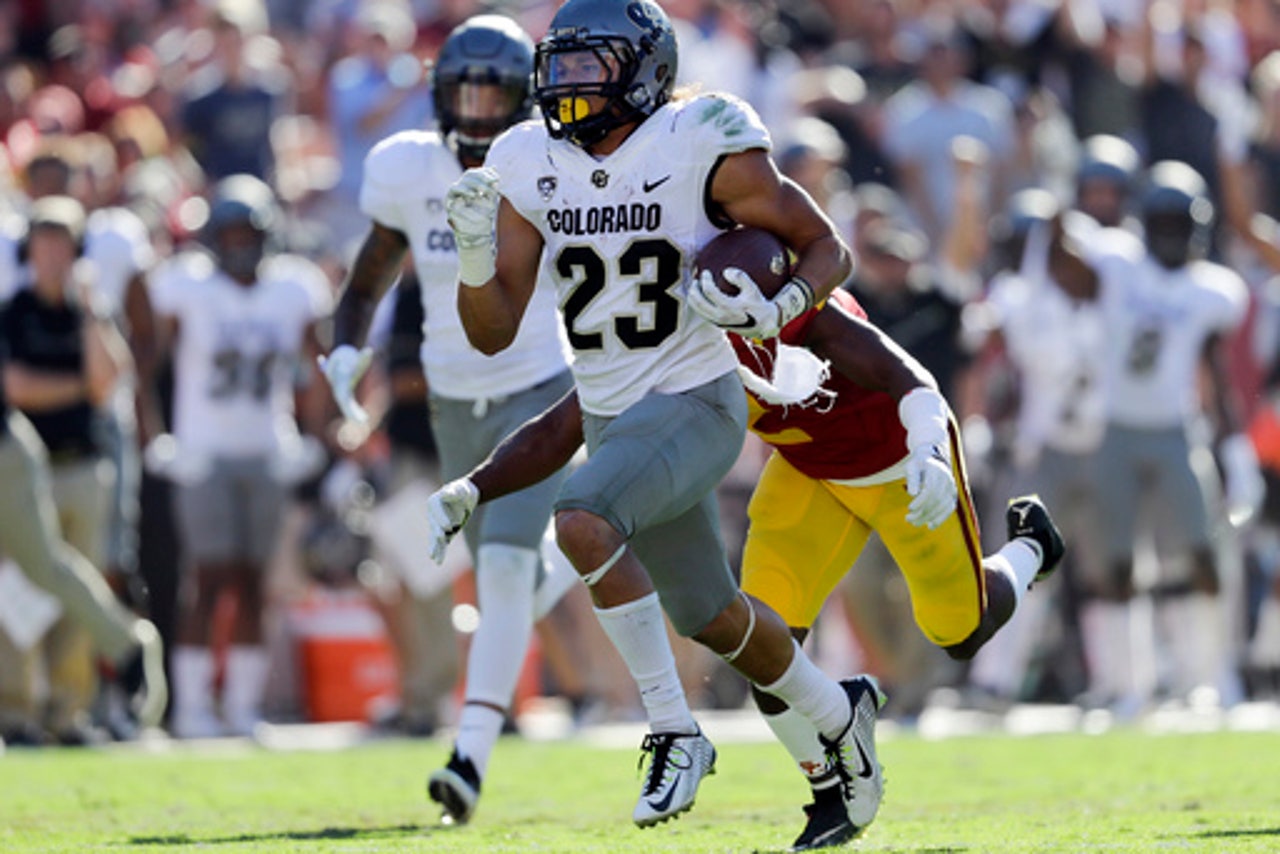 BOULDER, Colo. (AP) His nickname: Tasmanian Devil. His hair: Untamed. His running style: A combination of the two.
The Colorado Buffaloes are pretty much molded in the image of junior tailback Phillip Lindsay - a gritty, no-nonsense player with a cool nickname (given to him by head coach Mike MacIntyre) and springy hair to symbolize his ''wild side.''
Lindsay's never-shy-away-from-contact running approach and passionate leadership has the Buffaloes (4-2, 2-1 Pac-12) in contention for a Pac-12 South title as they host Arizona State (5-1, 2-1) on Saturday night.
''He's just a hard-nosed kid who earns everything. A local kid making good,'' running backs coach Darian Hagan said of Lindsay, who's from Denver. ''You think about all recruits all over the country, and you're trying to find players who can do special things - and you have one right down the street.''
Colorado is finding more and more creative ways to get the ball in Lindsay's hands. In a loss at Southern California last weekend, Lindsay had six catches for 105 yards - the most yards receiving for a Colorado tailback in nearly 15 years. Lindsay's not always flashy out of the backfield - his longest career run is 37 yards - but always tough to bring down. He's averaging 4.9 yards per carry this season and has scored six times.
One of his most memorable moments so far this season wasn't so much on the field, but on the bench at Michigan . When Wolverines returner Jabrill Peppers crashed into the area where injured quarterback Sefo Liufau was being examined, Lindsay quickly jumped up and screamed at the Heisman Trophy candidate.
''That's him. He's protective of everything,'' said Hagan, who helped the Buffaloes capture a national title in 1990. ''He's the middle brother but acts like the big brother and the father.''
Lindsay certainly has an athletic family. His father was a fullback at Colorado State. His younger brother plays at Northern Colorado and his little brother at Denver South High, where Phillip Lindsay rose to prominence and was a hot recruit even after tearing his ACL during his senior year. In addition, he had a sister play volleyball at Prairie View A&M and another basketball at Mesa State in Colorado.
His biggest supporter remains his mom. He said she's suffering from a muscle disease and can't always make it to games. Still, he calls her before every contest.
''She's the rock in our family and there's nothing that she hasn't done for her kids,'' Lindsay said. ''So every time I score a touchdown, it's for her.''
Lindsay was convinced early on that Colorado was the right fit for him. He committed on March 22, 2012 - a date he will never forget, because his family's house was robbed later that night. The thieves took his mom's jewelry and hurt his dog, Rambo, who's made a complete recovery.
For the next several months, Lindsay scoured thrift stores and pawn shops looking for his mom's rings, but to no avail.
He's just that devoted - to his family and his teammates.
When he arrived at Colorado, MacIntyre dubbed him the Tasmanian Devil - an ode to the whirling Looney Tunes character who's always going 1,000 mph. He likes the nickname.
''It defines me. I'm fiery. I have a motor on me. I'm nonstop. That's who I am,'' said Lindsay, who's trying to help the Buffaloes earn their first bowl appearance since 2007. ''I'm going to go at you 24/7, until the game's done. I want to protect my brothers, protect my family.''
His work ethic sets the tone.
Hagan showed up at the office recently at what he thought was the early hour of 6 a.m. But there was Lindsay, starting his workout before a team meeting still hours away. That's nothing new, either.
''His teammates see how he works and prepares and they want to do the same thing,'' Hagan said. ''He's just one of those guys - the type of guy you want on your team.''
---
Online: The AP's college football page: http://collegefootball.ap.org
---
Follow Pat Graham on Twitter: www.twitter.com/pgraham34
---