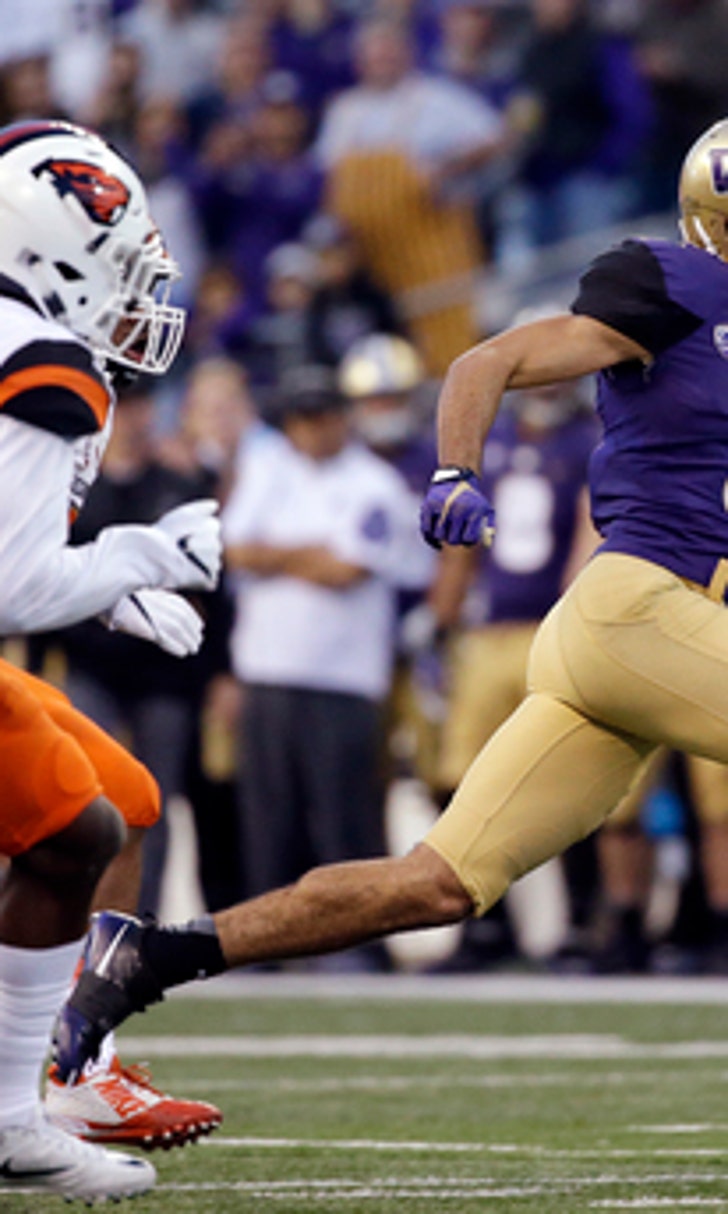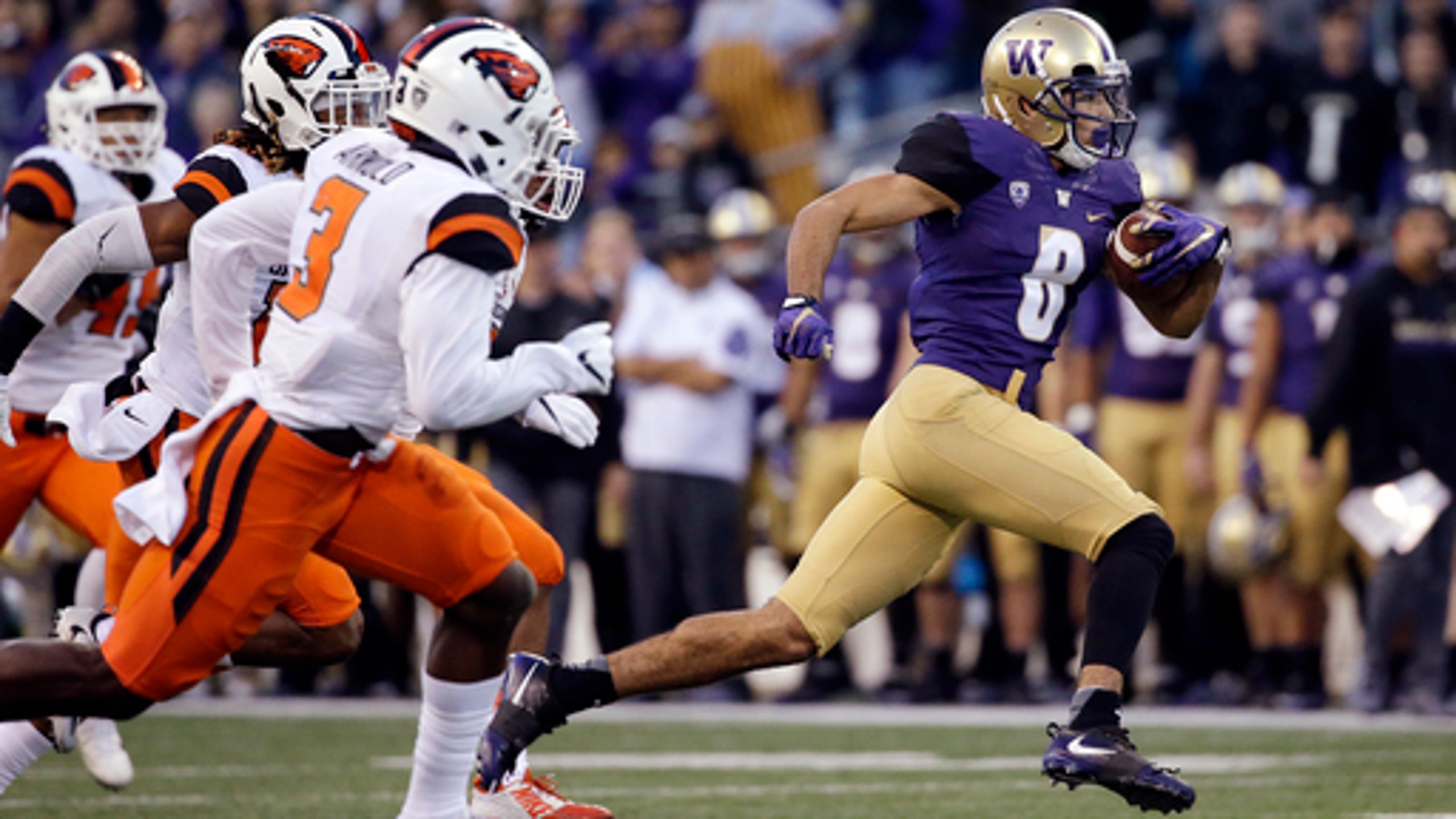 Pettis and Ross giving No. 4 Washington a dynamic duo at WR
BY foxsports • October 24, 2016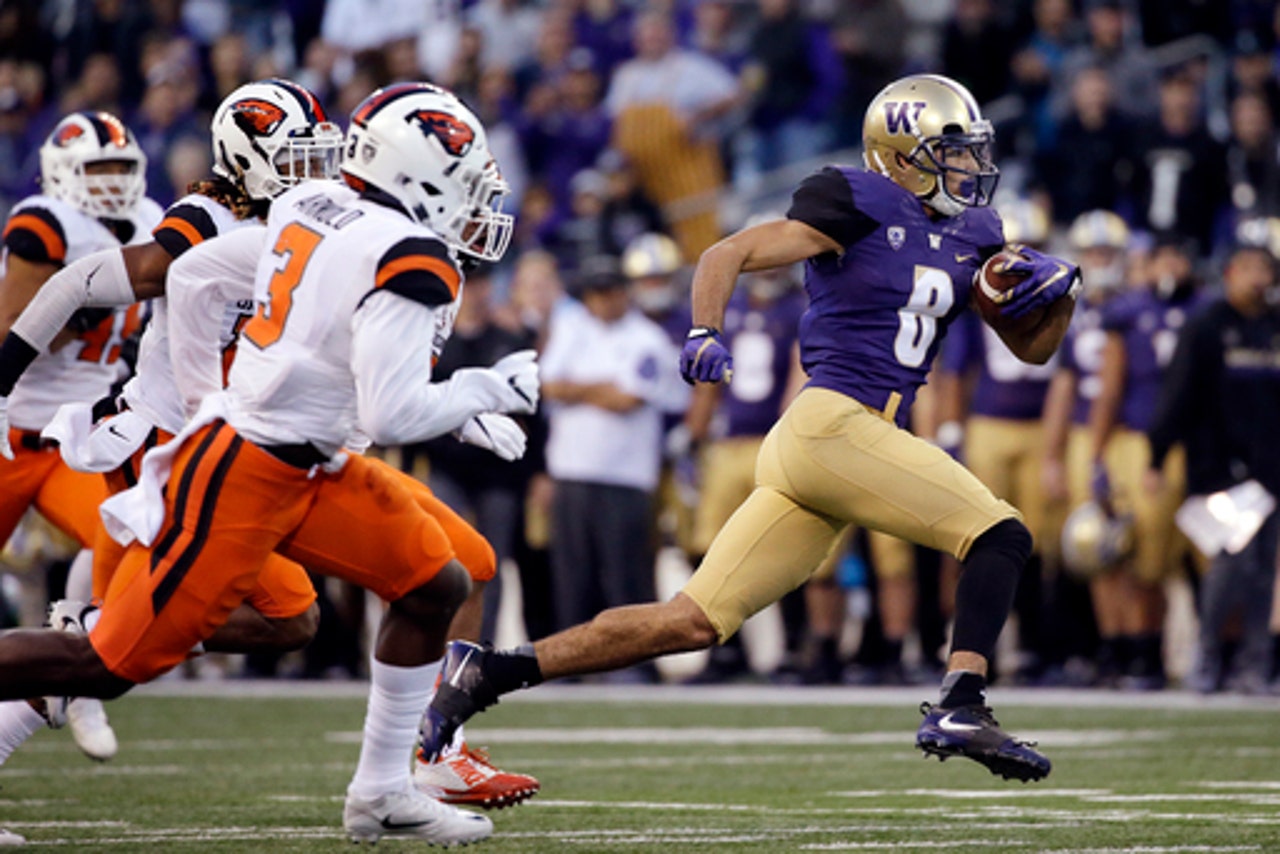 SEATTLE (AP) Jake Browning's performance through the first seven games rightfully has the Washington quarterback in the Heisman Trophy conversation.
Somewhat lost in what Browning is doing for the fourth-ranked Huskies are the players on the receiving end of those passes - most often the combo of John Ross and Dante Pettis - and the huge chunks of yards they're claiming after the catch.
Ross and Pettis will be called upon to have big games again when the Huskies (7-0, 4-0 Pac-12) travel to No. 17 Utah on Saturday for one of the most anticipated Pac-12 games of the season.
Last Saturday against Oregon State, Pettis and Ross became the first pair of Washington receivers with more than 100 yards each in the same game since 2002. Ross finished with 115 yards and Pettis had 112, becoming the first duo to accomplish the feat since Reggie Williams and Patrick Reddick in a game against California.
For the season, Ross and Pettis have combined for 61 receptions and 17 touchdown grabs. Ross leads the Pac-12 with nine touchdown catches, while Pettis is tied for second with eight.
''It always helps to have a couple of guys out there who can make plays,'' Washington coach Chris Petersen said. ''And we really feel like that. You know John and Dante are getting a lot of balls, but some of those other guys can do some things as well and we're not afraid to throw those guys out there.''
Ross has received his share of attention for his return from a knee injury that cost him the 2015 season. With blazing speed that is tough for any defense to match, Ross has been an assignment headache for nearly everyone that's tried to slow him down.
''It's better than I thought to be honest,'' Ross said of his return. ''It's not so much how I'm doing, it's how the team is doing. I've never been a part of something like this, I've said multiple times, the more we win, the better I feel, no matter if I contribute or not. But I go hard every single time to contribute and it's showing up for everyone and I'm proud to be a part of it.''
But Ross' rise has also created more opportunity for Pettis, who might be Washington's most improved offensive player from a year ago. Pettis has caught a touchdown in four straight games, but unquestionably his most important TD of the season so far was his leaping overtime touchdown catch in Washington's 35-28 win at Arizona in late September.
Pettis was quick to answer when asked why he's getting so many chances.
''Honestly, John Ross. I don't think I've done that much more,'' Pettis said. ''I think everyone is focusing on him and it's opening stuff up for everyone else.''
Pettis already surpassed his totals in yards and touchdowns from a year ago and he needs just four more receptions for a new career high. The two touchdown catches on Saturday were the third time this season Pettis had multiple TD catches in a game. The first showed his elusiveness, catching a quick slant, slipping a tackler and racing for a 23-yard TD.
The second TD was much easier. With Washington in a run formation, Pettis slipped free on the play-action fake and was wide open for a 41-yard score. Sometimes, those are the tougher catches to make.
''You think everything happens a lot faster than it does, except for the ball,'' Pettis said. ''The ball is staying up in the air forever in your eyes and the defenders are closing in super fast, so everything is kind of twisted. You hear the crowd start yelling and stuff, but it's fun, though. You kind of live for stuff like that.''
---