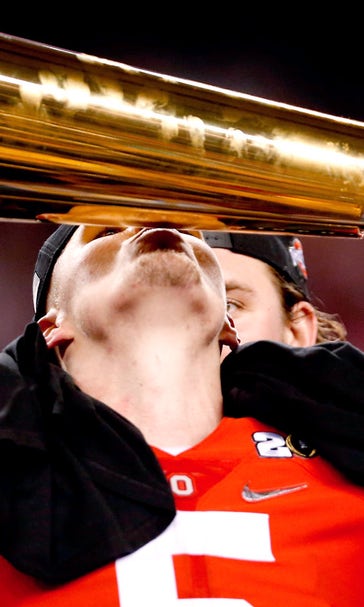 Mailbag: How undefeated Ohio State could end up in playoff danger
July 8, 2015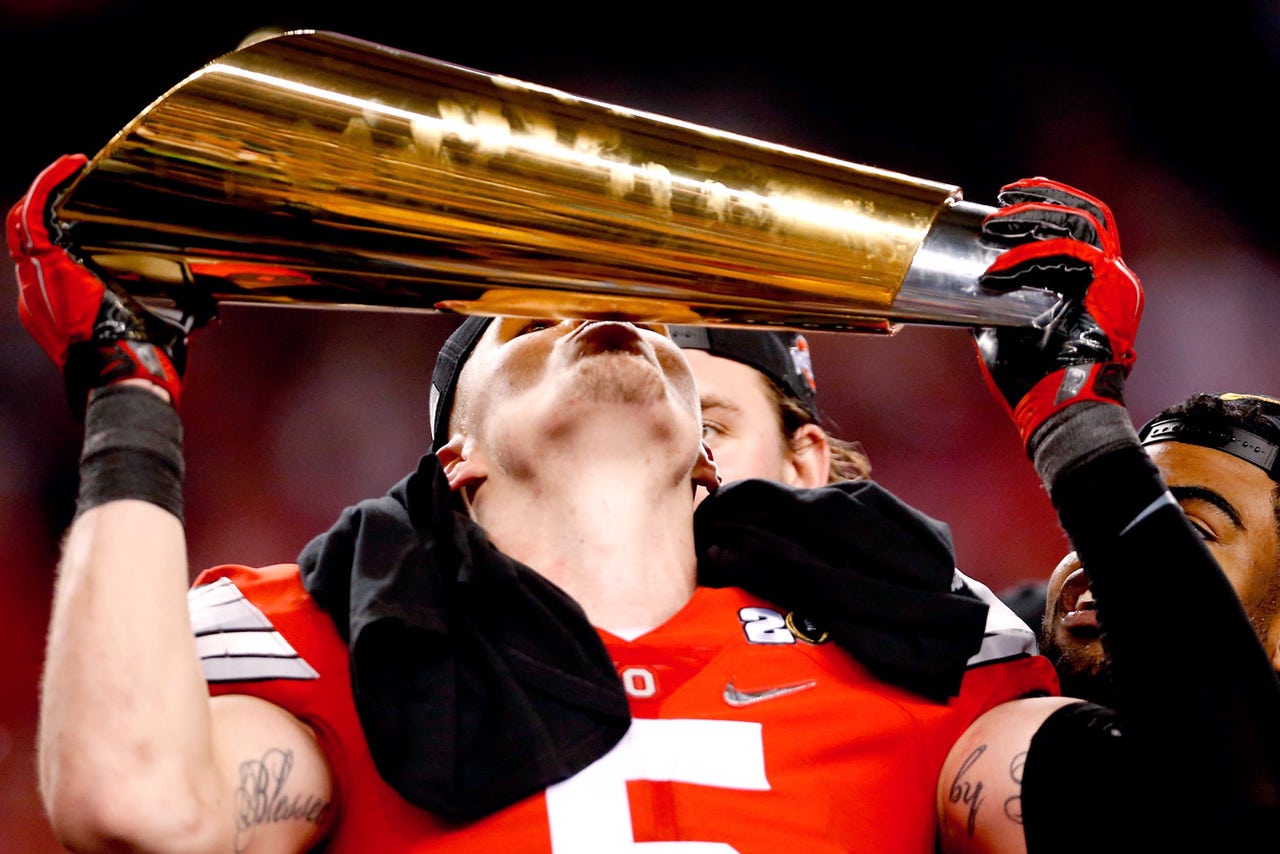 Editor's note: Send questions for future Mailbags to stewart.mandel@fox.com.
***
One quick note before we get to this week's Mailbag questions. If you're on Facebook and would like some college football articles to break up the stream of vacation pictures and political rants, take a second to "like" my new author page. My columns will start automatically appearing in your news feed. In return, I promise never to post a picture of what I'm cooking for dinner.
Stewart, is Ohio State's schedule so bad this year that even running the table the Buckeyes could miss the playoff? Does beating Virginia Tech, Hawaii, Northern Illinois, Penn State, Western Michigan, Indiana, Maryland, Rutgers, Minnesota, Illinois, Michigan State and Michigan make them worthy of a playoff spot, when a team like Alabama is going to have to beat SEVEN preseason top-25 teams
-- John, New Jersey
First of all, I hope you're just a neutral observer, not an actual Alabama fan, because an Alabama fan questioning Ohio State's worthiness would seem pre-tty, pre-tty pathetic right now. (I've been re-watching old "Curb Your Enthusiasm" episodes recently, so apologies if I start infusing Larry David references).
Were this the BCS, or any point in the 70-plus years of college football's poll era, I would have immediately dismissed this question as pure nonsense. Ohio State is the defending national champ. It's starting off preseason No. 1. If the Buckeyes go undefeated, of course they'd make the playoff. But as the selection committee showed last year in its treatment of Florida State, they're not beholden to either preseason rankings or the number in your loss column. While the committee never dropped the undefeated 'Noles out of the top four, it did have them behind three one-loss teams heading into the final weekend of the season.
If Ohio State and Alabama were to both put themselves in playoff contention, and if the schedules wound up as disparate as you paint them, I could certainly see the committee valuing a 12-1 Crimson Tide team over a 13-0 Buckeyes team. It might depend in part, though, on how Ohio State performed against that schedule, as the committee also showed it pays attention to whether or not you dominate weaker opponents (and docks you if you don't).
That being said, I'll believe it when I see it that the committee would ever leave out an undefeated Power 5 team entirely. It'd have to be a pretty unusual situation, one where there are multiple undefeated teams and the one in question played a particularly horrific schedule. Meanwhile, don't be so sure that either Alabama or Ohio State's opponents will turn out exactly as expected. The Big Ten East is not yet the SEC West, but there are some rising teams in that group. Virginia Tech could wind up a quality win by season's end, and the Buckeyes could also face a highly ranked team in the conference title game.
Also, watch out for Rutgers. Any school that can give us the great Carli Lloyd may well be about to catch fire in other sports. 
Stewart: Great podcast discussion after the Women's World Cup about which college football champion's season most resembled the WWC win by the USA. As a huge international soccer fan and a USC season-ticket holder, I feel uniquely qualified to share my thoughts. During the final on Sunday, I thought, "OMG, this is exactly like USC's 2004 season." Everyone remembers the 55-19 blowout to end the season, but USC had some struggles that year and was fortunate to pull out victories in a few of those games.
-- Bob Bettwy, Irvine, California
First of all -- U-S-A! Secondly, thanks for listening. I enjoyed that discussion with editor/producer extraordinaire Teddy Mitrosilis, and while we both brought up the '04 Trojans, upon further reflection I don't think that's quite right. Close calls are one thing. Every national champ (save for 1995 Nebraska) has them. And USC's closest call that year came against Aaron Rodgers-led Cal. Nothing to be ashamed of. In this case, I'm looking specifically for a team that, like the U.S., struggled to score even against clearly overmatched opponents and relied inordinately on its defense only to achieve a ridiculous offensive explosion at the end.
With that in mind, I've come up with a new comparison -- 2006 Florida. Like 2014 Ohio State, whom we discussed on the podcast, it's not a perfect comparison because those Gators did lose a game. But to the point, Urban Meyer's first national title team was a mess on offense much of that season. It survived mediocre South Carolina 17-16 on a blocked field goal in mid-November. Then suddenly upon reaching the SEC title game, Percy Harvin ran all over Arkansas, whom Florida beat 38-28, and then Chris Leak played the game of his life in a 41-14 rout of undefeated Ohio State.
That game, like USA-Japan, was over quickly. Though I don't recall a specific touchdown quite as remarkable as Lloyd's midfield goal (0:40 mark in this video).
So did Florida State learn nothing from the Ray Rice incident in its handling of De'Andre Johnson? Is it only after video is released to the public that teams and coaches will be shamed into kicking players off teams? If FSU was given a different version of events from the player then they should say so. Otherwise it just looks like they're reacting to the video.
-- John Hayes, Spokane
Florida State took a lot of flak last year, deservedly so, for its handling of Jameis Winston and some other disciplinary issues. But you're not going to hear that from me about Johnson. That video is disgusting. There's no arguing that. But that doesn't mean the Ray Rice comparison is warranted. In that case, the commissioner of the NFL initially suspended him two games for knocking out his fiancee. Which is insane. FSU, by contrast, suspended Johnson indefinitely before he was even charged. Even a week later, a detailed police report was not yet available. Would you really expect a coach to dismiss a player from the team -- no small decision -- based on such little information?
But the video -- which FSU says Jimbo Fisher himself had not seen until the Tallahassee Democrat published it Monday -- obviously changed everything. We'll never know whether Fisher would have done the same if he'd seen the video before it went public, but end of day, he did the right thing. Contrast that with Oklahoma's handling of Joe Mixon. A video of him punching a female student exists, but it's never been made public. Media members in Oklahoma were allowed to see it. I have not, but from what I understand it depicts an even worse act than Johnson's. Yet OU suspended him for a year, and he'll play this season. I doubt he'd still be there if the video had gone public.
As the Oklahoman's Berry Tramel wrote Tuesday: "Such is life in the second decade of the 21st century. It's not necessarily what you do. It's what we see you do."
Does being named to an award Watch List actually mean anything? Are you still capable of winning if you're not on the list?
-- Steve, Tallahassee, Fla.
It means your school gets to add a line to your bio on its Web site. That's it. You don't have to be on a Watch List to win the award, and most importantly, voters are still allowed to watch other players. I think.
Stewart, How 'bout your Top 5 underachieving schools of all time? Considering the fact that Texas A&M has not won ANYTHING of note since before World War II, they would surely make your list.
-- Kevin Oliver, Texarkana, Texas
Gosh, Kevin, I don't suppose you're a fan of the Texas Longhorns? (I checked. He is.)
Sorry, but A&M would not crack my top five, given it ranks in the top-20 nationally in all-time wins and has 10 post-World War II conference championships on its books (albeit none in the 21st century). I'll give you mine:
1) UCLA. One of the most recognizable brands in higher education, much less college athletics, in the second-largest city in the country, has won exactly one national title (in 1954) and has not won a Rose Bowl -- you know, that game played in its home stadium -- since 1986. Think about how improbable it would have seemed not long ago that Oregon would become a preeminent West Coast powerhouse before UCLA.
2) North Carolina. Much the same reasons as UCLA. UNC is one of the most recognizable brands in college sports and has enjoyed national preeminence in not only basketball, but in sports like soccer, baseball and lacrosse. Its state is loaded with high school talent. And yet the Tar Heels' football history is almost entirely underwhelming.
3) Ole Miss. Located in the heart of the most football-crazy region of the country, famous for off-field traditions like the Grove, the Rebels' glory years consist of basically one brief period in the late '50s and early '60s. I don't necessarily expect Ole Miss to be Alabama, but it's crazy that the disparity between the two is as steep as the Tide's 50-10-2 all-time record.
4) Arizona State. I've never understood why the Sun Devils can't sustain success. First of all, you can get pretty much anyone into school there. It's easy access to talent in Los Angeles. It's a warm-weather school with beautiful, um, scenery. But the apathetic fan base doesn't help.
5) Maryland. The program has history -- albeit mostly distant history at this point. It's located in fertile recruiting territory near a major metropolis. And it's won one conference championship in the past three decades, a goal that's only going to become more difficult in its new league.
Obviously a few of these -- particularly Ole Miss and ASU -- are already showing signs of a potential breakthrough, but that's where things stand today.
I think one of the most fascinating aspects of college football are the conference commissioners. We receive a steady stream of reporting regarding realignment and TV rights deals (we all know that the Big Ten's contracts are up next). Commissioners' replacements are more infrequent yet they have a larger impact on the sport's future. With Jim Delany (Big Ten) and John Swofford (ACC) both in their late 60s, are people positioning to be their successors?
-- Trent, Jackson, Ohio
Like with coaches and athletic directors, commissioner hires are based in large part on how members felt about the predecessor. The Pac-12 was lagging behind its competitors financially when it hired a complete outsider, then-tennis executive Larry Scott, to succeed longtime commissioner Tom Hansen in 2009. Three years later, when the rapidly imploding Big 12 and Big East ran off Dan Beebe and John Marinatto, respectively, they, too, looked for outside perspectives. The Big 12 hired Stanford AD Bob Bowlsby; the Big East brought in TV executive Mike Aresco. On the other hand, when the SEC's Mike Slive announced his retirement last year, it was a no-brainer to promote his right-hand man for much of that conference's recent success, Greg Sankey.
Along that same vein, the Big Ten and ACC currently couldn't be much healthier, so I'd be surprised if both don't promote from within. Delany, 67, is expected to stay through the end of his current contract, in 2018, at which point I could see him handing the reins to either deputy commissioner Brad Traviolia, longtime lieutenant Mark Rudner or perhaps Big Ten Network president Mark Silverman. Swofford, 66, also doesn't appear on his way out anytime soon, but he has eight senior associate commissioners that report to him, not to mention College Football Playoff COO Michael Kelly formerly held that position. Any would make logical successors when the time comes.
Here's a question: Will a woman ever hold a seat among the 11 figures -- the 10 FBS commissioners and Notre Dame AD -- who oversee the CFP? There have been several Division I female commissioners, but as of 2015, none at the highest level of football.
Stewart: Love your work! ESPN did a poll among college coaches asking whom they would most want their son to play for. They chose Mark Richt and Bob Stoops. What is your take on this list and whom would you put at the bottom?
-- Robert Madel, Metuchen, N.J.
Neither of those guys is a surprising pick, but what stood out to me is that they each received just 8 percent of the vote among 98 voters -- presumably eight votes. There's no single coach in the country revered enough by his peers to land even 10 votes. That says to me just how much turnover has wracked an industry that in recent years has lost several guys -- mainly Joe Paterno, Mack Brown and Jim Tressel -- who likely would have received far more than that in their prime. And even Richt and Stoops are under fire from a certain segment of their fan bases. College football today lacks the equivalent of a Mike Krzyzewski. I'd imagine plenty of basketball coaches would vote for him to coach their son. His closest football equivalents on the other hand -- Nick Saban (four national titles) and Urban Meyer (three) -- barely registered on this list.
Meanwhile, do you really think I'm going to name someone I would LEAST want my as-yet unborn son to play for? That's insanely mean. I'd sooner steal someone's corpse-sniffing dog or chop the hair off of a little girl's doll.
Hey Stewart. This isn't a college football question, but with you being a kind of sports TV ratings guru I figured you'd be a good one to ask: If the USMNT ever made it to the World Cup championship match, would it pull a Super Bowl-type TV rating?
-- Scott Sandy, Albany, N.Y.
A week ago I would have said no chance, but after watching the U.S. women garner 25.4 million viewers for their championship victory -- a game decided in the first 15 minutes, mind you -- I have to reevaluate. Obviously the men's World Cup draws a larger audience to begin with, and that audience has escalated exponentially over the past two editions (2010 and '14). Interestingly, before Sunday, the largest U.S. network audience for a soccer broadcast was last year's men's U.S. game against Portugal with 18.2 million -- and that was only in the group stage. Also worth noting, the women's audience essentially tripled from the semifinal against Germany (8.4 million) to the final against Japan.
So based on all that, it's realistic to think that if when the men finally make it to the semifinal, viewership would easily approach 40 million (especially if you include Spanish-language broadcast). It would then need to triple like the women's final did to match the 114 million who watched last year's Super Bowl. At first glance that seems preposterous, but there's no telling just how galvanizing it would be for Americans to watch a national team play for the most prestigious sports trophy in the world.
Besides the Floyd of Rosedale, of course.
TO: stewart.mandel@foxcom
SUBJECT: Y U hate BYU?
BODY: put BYU in Big 12 plz k thnks
-- Nate Watson, Utah
Either you're taking a recent podcast discussion way too seriously or you've grossly overestimated my influence on actual realignment. So thank you.
Stewart Mandel is a senior college sports columnist for FOXSports.com. He covered college football and basketball for 15 years at Sports Illustrated. You can follow him on Twitter @slmandel. Send emails and Mailbag questions to Stewart.Mandel@fox.com.
---