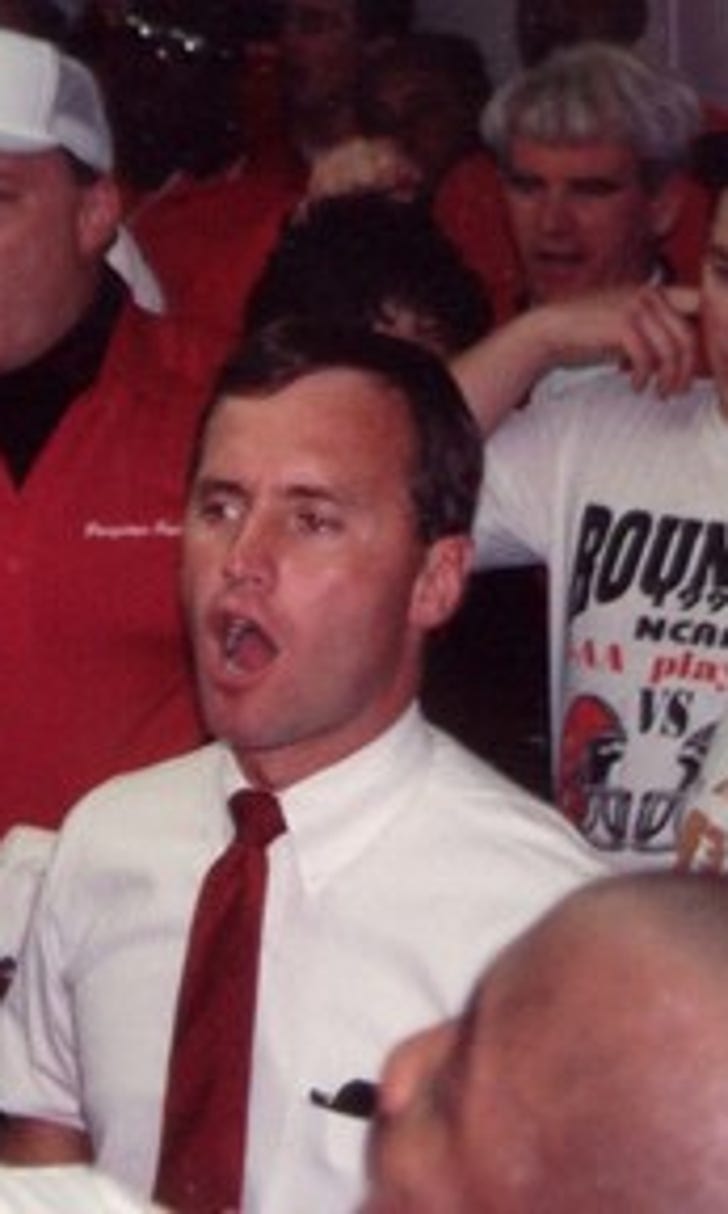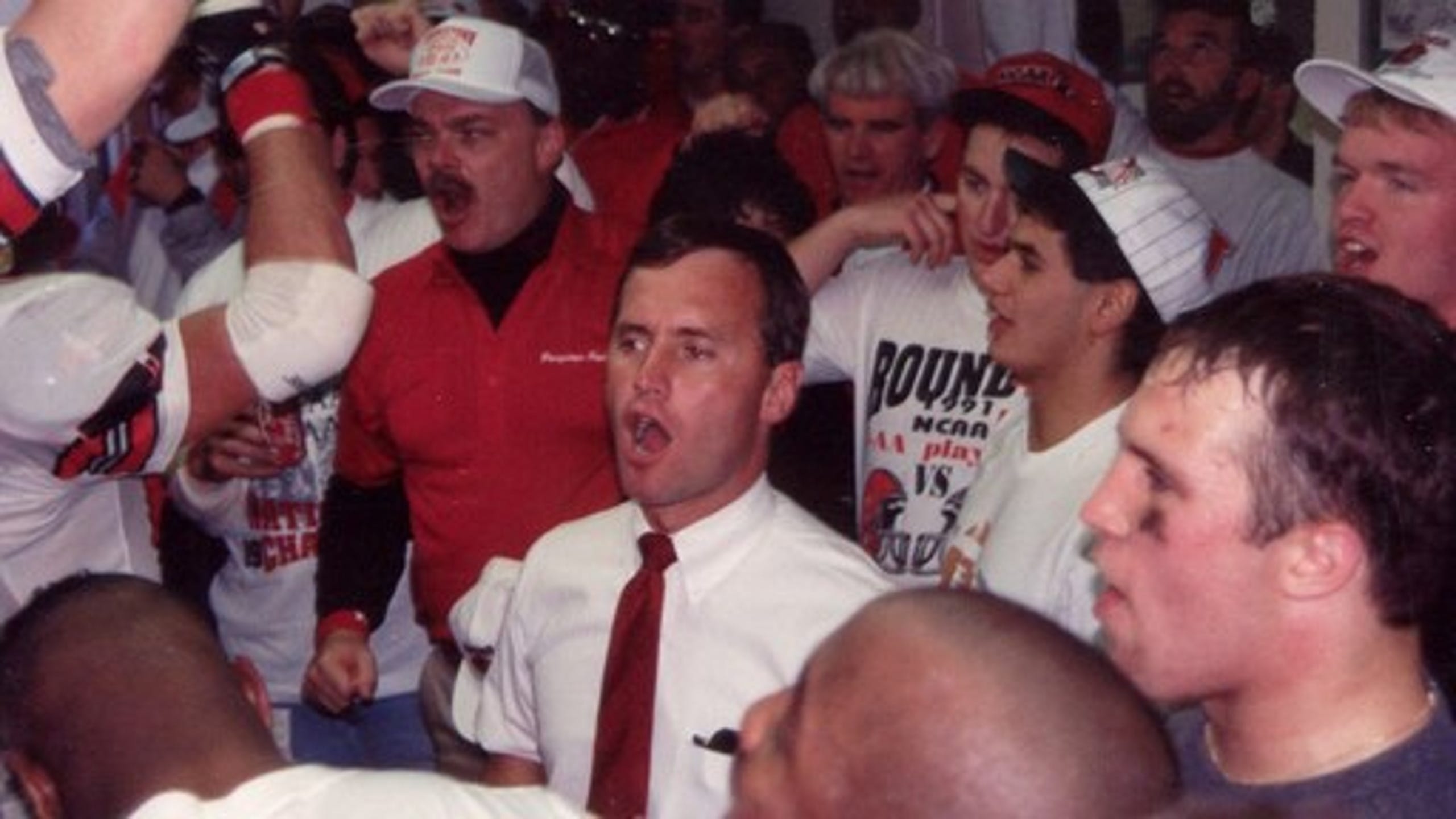 FCS Top 25 preview: Dynasties rule
BY foxsports • October 13, 2016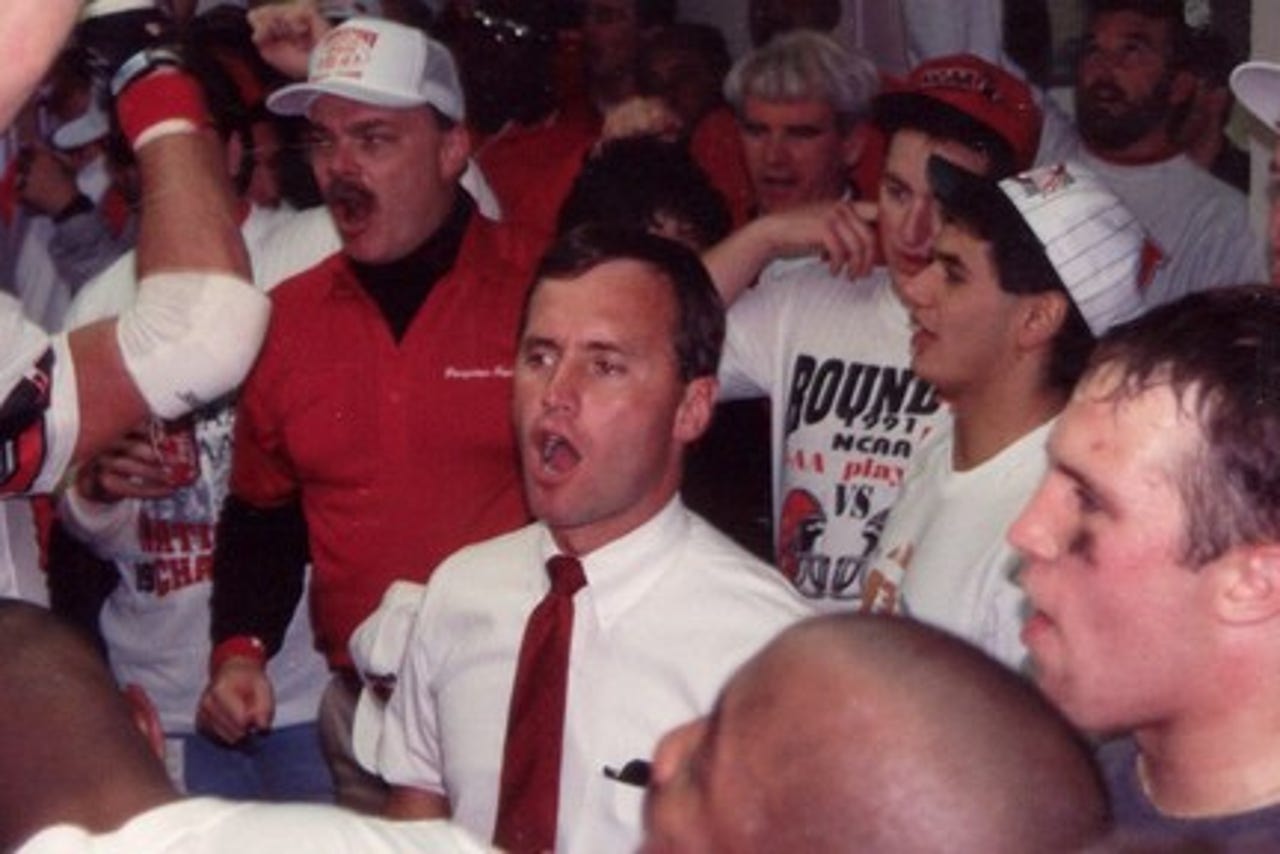 (STATS) - Nearly 50 former players will return to Youngstown State on Saturday as the Ohio university celebrates the 25th anniversary of the Penguins' first of four FCS national title seasons during the 1990s.
The 1991 squad will be reunited with their coach, Jim Tressel, now the Youngstown State president, and feted at Stambaugh Stadium.
The '91 Penguins were on a two-game losing streak and only 4-3 when they entered November. But they won 19-17 at national power Georgia Southern to open the month and spark a magical run. They won three more times to enter the playoffs at 8-3, then beat Villanova (17-16), Nevada (30-28) and Samford (10-0) in the national playoffs before they returned to Georgia Southern, host site of the championship game, and defeated Marshall 25-17.
Under Tressel, Youngstown State added FCS titles (then Division I-AA) in 1993, '94 and '97 and was the national runner-up in '92 and '99, giving the Penguins four titles among six championship game appearances in a nine-season span.
The Penguins had one of the great dynasties in FCS history, and there's been a number since the Division I split in 1978 and the FCS level went to a national playoff system.
Eastern Kentucky had the first dynasty under coach Roy Kidd, winning national titles in 1979 and '82 and finishing as the runner-up in the two seasons in between.
Georgia Southern had two great runs over a record eight title game appearances. Just prior to Youngstown State's first title, the Eagles were the national champs in 1985, '86, '89 and '90 and runners-up in '88 - all but 1990 under Erk Russell. They got back to the title game in 1998 and lost, but followed up with consecutive titles in 1999 and 2000 under Paul Johnson.
Marshall, whose first appearance in the finals was in 1987, was motivated by its loss to Youngstown State in '91, winning national titles in '92 and '96 and finishing second in '93 and '95. Jim Donnan coached the Thundering Herd from 1990-95, succeeded by Bob Pruett in '96.
Appalachian State, under Jerry Moore, became the first program to win three straight FCS titles from 1995-97. That standard has been surpassed by perhaps the greatest FCS dynasty, North Dakota State winning five national titles in a row from 2011-15 - the first three under Craig Bohl and the last two under Chris Klieman.
Montana has made the second-most appearances in national championship games with seven - including wins in 1995 and 2001 - but they were spread out over 15 seasons, never more than two in a four-year period.
---=
FCS GAME OF THE WEEK=
The Matchup: No. 5 Chattanooga (6-0, 4-0 Southern) at No. 8 The Citadel (5-0, 3-0)
Kickoff: 3 p.m. ET at Johnson Hagood Stadium (21,000) in Charleston, South Carolina
Television: Fox Sports Southeast
Series: Chattanooga leads 30-17-2 (most recent meeting: Chattanooga won 31-23 at home on Nov. 14, 2015)
The Skinny: Two of the five FCS unbeaten teams meet for the 50th time. They shared the Southern Conference title last season - Chattanooga's third straight and The Citadel's first since 1992.
Chattanooga senior Derrick Craine holds a slight lead among SoCon rushers with 113.3 yards per game, averaging 7.2 yards per carry. Alejandro Bennifield has thrown for 15 touchdowns and is No. 1 in the conference in passing efficiency (176.6). Strong against the run and pass, the Mocs lead the FCS in scoring defense (12.2 ppg) and total defense (225.7 ypg). They have allowed only one touchdown in the first half, outscoring opponents 148-10 by halftime.
The Citadel spent last Wednesday to Sunday away from campus (winning at North Greenville Thursday night) because of Hurricane Matthew. Coming off back-to-back 500-yard rushing games for the first time in school history, the Bulldogs lead the FCS in rushing yards per game (388.8). They feature five of the top nine rushers in the SoCon, led by fullback Tyler Renew (third, 83 ypg). The defense has 17 sacks, with seven players between two and three apiece, and has allowed only 14 points in the fourth quarter.
Prediction: Both teams are excellent at controlling game clock. Chattanooga will want to play with a lead and take The Citadel out of its growing rhythm. Chattanooga, 28-24.
---=
STATS FCS TOP 25 SCHEDULE=
Saturday, Oct. 15
All Times ET
X-Predicted Winner
No. 17 Albany (4-1, 1-1 CAA) at X-Maine (2-3, 1-1), noon - Richmond showed the blue print with facing Albany - load the box against running back Elijah Ibitokun-Hanks, who was held to 34 yards on 16 carries.
X-No. 7 James Madison (5-1, 3-0 CAA) at New Hampshire (4-2, 3-0), noon - Heading into the first-place showdown in CAA Football, UNH has won 17 straight regular-season games in Durham. JMU running back Khalid Abdullah has posted five straight 100-yard games and needs two rushing touchdowns to tie the school record of 32.
X-No. 15 North Carolina A&T (4-1, 2-0 MEAC) at Bethune-Cookman (0-4, 0-2), 1 p.m. - This was supposed to be one of the most important games in the MEAC after the defending tri-champs were picked first (A&T) and second (Bethune) in the preseason poll.
X-No. 20 Harvard (4-0) at Holy Cross (2-4), 1:05 p.m. - It's been 15 straight wins and over five years since the Crimson lost to a non-Ivy League team - Holy Cross, 30-22 on Sept. 17, 2011.
X-No. 16 Coastal Carolina (3-2) at Gardner-Webb (3-3), 1:30 p.m. - Strangely, Coastal has never had a punter average 40 yards or better in a season. Evan Rabon is averaging 40.2 yards per punt this season.
Austin Peay (0-5, 0-4 OVC) at X-No. 3 Jacksonville State (4-1, 1-0), 2 p.m. - Gamecocks coach John Grass has retired from officiating a post-game wedding with an undefeated record.
Southern Utah (3-2, 2-1 Big Sky) at X-No. 22 North Dakota (4-2, 3-0), 2 p.m. - Just saying, UND winning a game and North Dakota State losing one on the same day hasn't happened since Nov. 12, 2011.
X-No. 12 Western Illinois (4-1, 1-1 Missouri Valley) at Missouri State (3-2, 1-1), 3 p.m. - Thanks to South Dakota State, the Leathernecks have been outscored and outgained in yards by opponents despite being 4-1. They seek to stop a five-game losing streak to Missouri State.
VMI (3-2, 1-1 Southern) at X-No. 24 Samford (4-1, 2-1), 3 p.m. - Samford quarterback Devlin Hodges has won two straight Southern Conference offensive player of the week awards.
No. 11 South Dakota State (3-2, 2-0 Missouri Valley) at X-No. 1 North Dakota State (5-0, 2-0), 3:30 p.m. - The Bison have tormented SDSU with eight straight wins since 2010, but Jackrabbits quarterback Taryn Christion (20 touchdowns against one interception) is on top of his game.
X-No. 13 Villanova (5-1, 3-0 CAA) at No. 6 Richmond (5-1, 2-1), 3:30 p.m. - An FCS playoff bid was supposed to be a great goodbye gift for retiring 'Nova coach Andy Talley. How about a conference title?
Abilene Christian (0-6, 0-4 Southland) at X-No. 2 Sam Houston State (5-0, 4-0), 4 p.m. - The Bearkats earned their 500th all-time win last month, coach K.C. Keeler gained his 200th career victory last weekend and they play the 1,000th game in program history Saturday.
Sacramento State (1-5, 1-2 Big Sky) at X-No. 10 Montana (4-1, 1-1), 4:30 p.m. - Now if the Griz drop Sac State for negative-61 rushing yards, that would be a statement. They're 18-1 all-time against the Hornets.
X-No. 19 Cal Poly (3-2, 1-1 Big Sky) at Portland State (2-4, 1-2), 5:30 p.m. - It's hard to tell which Vikings team will show up. The Mustangs will show up with their running game.
No. 23 Central Arkansas (4-1, 3-0 Southland) at X-McNeese (3-3, 2-2), 7 p.m. - A cast-iron pot goes to the winner of the "Red Beans & Rice Bowl." The host Cowboys are getting back All-Southland safety Dominique Hill and wide receiver Tavarious Battiste from six-game suspensions (violation of team rules).
X-No. 18 Eastern Illinois (4-2, 2-1 OVC) at Tennessee Tech (2-4, 2-2), 7 p.m. - Last weekend's one-point win against previously unbeaten Tennessee State lifted EIU to 6-2 in games decided by seven points or less over the last two seasons.
X-No. 21 Northern Iowa (2-3, 1-1 Missouri Valley) at No. 14 Youngstown State (4-1, 2-0), 7 p.m. - With another loss, the visiting Panthers may start wondering if their non-conference schedule is too tough considering what follows in the Missouri Valley.
Idle: No. 4 Eastern Washington (5-1), No. 9 Charleston Southern (3-2) and No. 25 Grambling State (4-1)
---