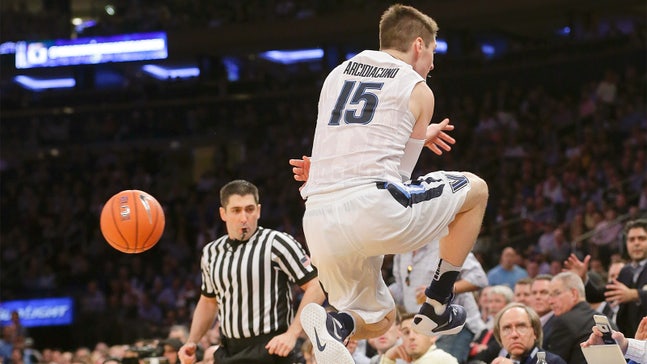 Ryan Arcidiacono has some great thoughts on diving into the stands
Published
Mar. 11, 2016 9:52 p.m. ET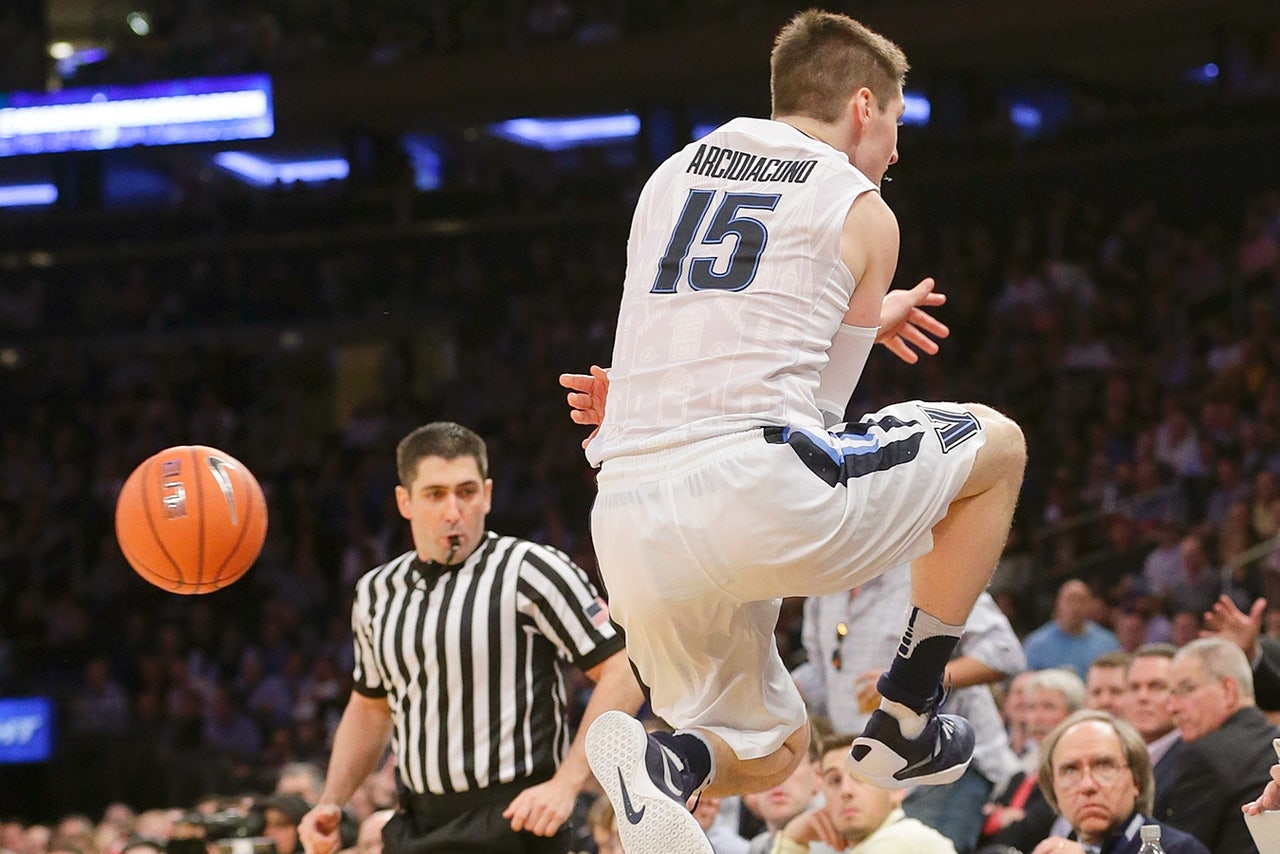 NEW YORK CITY — If you're looking for evidence that Ryan Arcidiacono ought to make college basketball's All-Tough First Team, look no further than what happened a few minutes into the second half of Villanova's 76-68 victory over Providence on Friday at Madison Square Garden.
The Friars' Kris Dunn was all by himself near midcourt with a straight line to the rim when Villanova's senior point guard tipped the ball away from him. The ball bounced out of bounds, and Arcidiacono raced after it — over the press table, through two college basketball reporters and several rows into the stands:
For a moment, the World's Most Famous Arena was silent, and necks craned to see if Arcidiacono would get back up. When he did — and of course he did — he received a standing ovation as he bounded back over the press table and onto the court. It was the third time in the Big East tournament he'd dove over a table, but this one was certainly the most daring. One can only imagine that Hugh Jackman, a.k.a. Wolverine, applauded the superhero effort from where the actor was sitting in the stands.
"That's just the way I play," Arcidiacono said in the locker room afterward. "I love that. I just have a football mentality. My dad played football. A lot of contact growing up. I enjoy it and embrace it because I think it gives us a mental edge over the other team and helps my own teammates. In football I loved hitting people and I loved getting hit even when I was running the ball."
That sort of all-out, non-stop effort is Arcidiacono's signature. Coach Jay Wright noted how Friday's game had such a physical, old-school Big East feel to it. And he mentioned that old-school Big East basketball was what Arcidiacono knew as a young Villanova fan growing up in Philly. That sort of balls-out basketball is to Philly what Hoosier basketball is to kids growing up in Indiana.
Does Wright catch his breath when his senior leader goes hurtling into the stands?
"I really don't think anything of it," Wright said. "He does it in practice every day. He does. He did it in high school. He did it before he came to Villanova. I love it."
On Friday, Arcidiacono had a typically stellar game. Arcidiacono went toe to toe with Dunn, a certain lottery pick in the upcoming NBA draft, and he won in every aspect. Arcidiacono scored 15 points and held Dunn to nine. He had two steals; Dunn, perhaps the top perimeter defender in college basketball, had zero. Arcidiacono grabbed seven rebounds, Dunn two. After Arcidiacono missed a bunny when Providence was mounting a comeback, he grabbed his own rebound, dribbled back out of traffic and got fouled. It was as tough as it was smart.
But the signature play of his day came on his dive into the stands. Plays like that — plays he's done for years — fire his teammates up.
"I've seen him jump over many stands, many tables, but today might have took the cake," junior Josh Hart said. "Just does whatever it takes for us to win. If he doesn't get that steal, that might have been a layup for (Dunn) the other way. That was a huge play. He didn't hit a three, he didn't have some crazy move, but that play was huge."
His coach loves it. His teammates love it. Arcidiacono loves it. But what does his mother think when he flies into the stands with reckless abandon?
"We have six kids," he said. "If they lost me, they had five other ones. My mom would get nervous, but my dad, that's his mentality too. I want to be the hardest-playing guy on the floor. Any way that I can prove that, I'll do it."
Follow Reid Forgrave on Twitter @reidforgrave or email him at ReidForgrave@gmail.com.
---