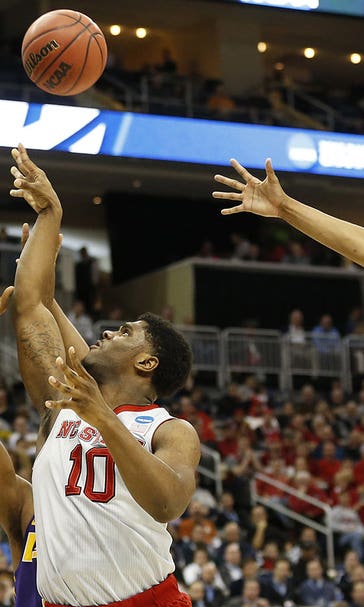 No. 8 NC State surges back, knocks out No. 9 LSU on last-second shot
BY foxsports • March 19, 2015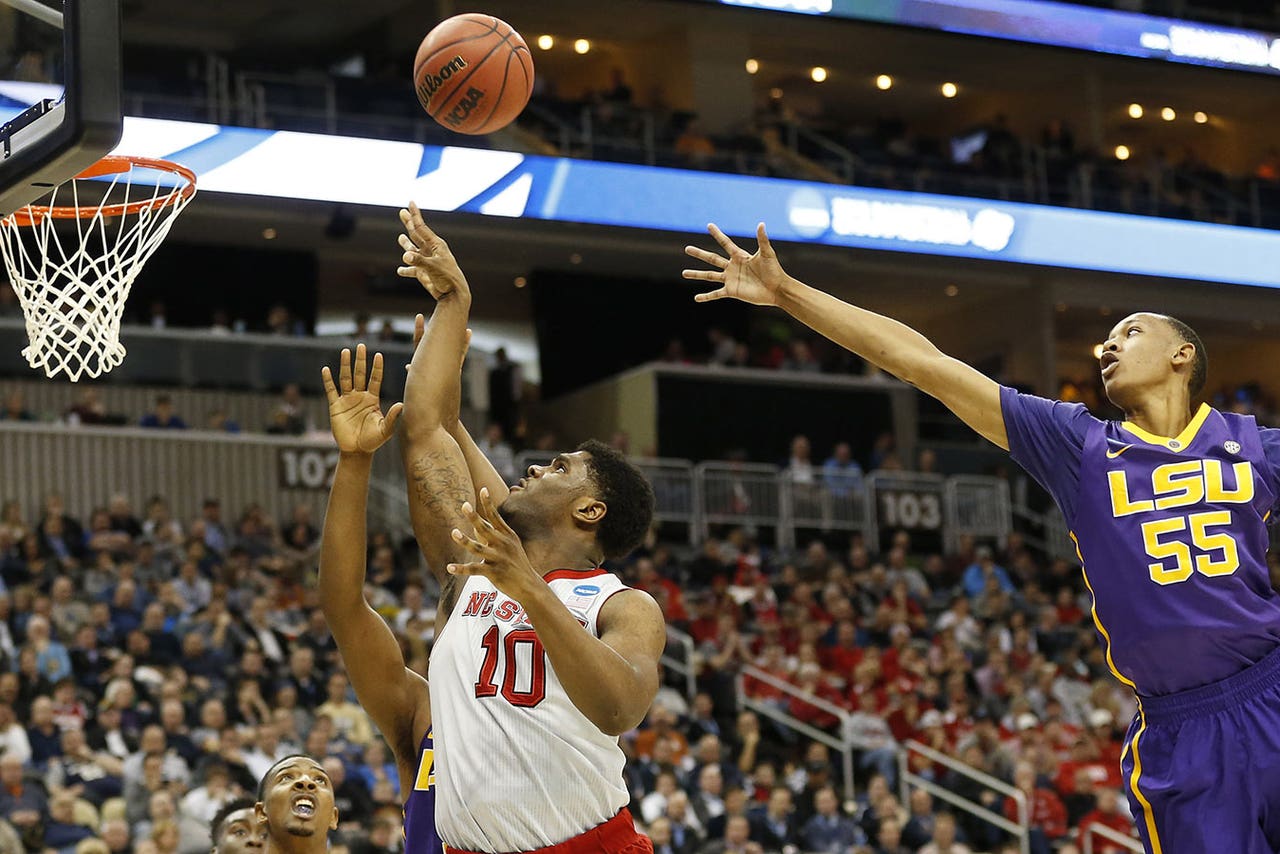 PITTSBURGH -- BeeJay Anya watched his teammates put up all the shots they wanted for more than 39 minutes. Then the burly forward made the only two that mattered in the final 45 seconds.
Anya's tip-in got North Carolina State within a point of LSU and his left-handed hook just before the buzzer lifted the eight-seeded Wolfpack to a 66-65 victory in the NCAA tournament on Thursday night.
The final play was designed for teammate Trevor Lacey, but LSU bottled up the senior guard, and the ball ended up in Anya's willing hands.
"I was like know what, it's time for me to shoot the ball," Anya said. "Trevor called for it back. He had a chance. It was my turn to shoot it."
Just as importantly, it was his time to make it. Next up for the Wolfpack (21-13) is top-seeded Villanova on Saturday thanks to Anya's deft touch and a maddening collapse by the Tigers.
LSU (22-11) led by 16 early in the second half but missed its last 12 field goals and six crucial free throws in the final minutes.
"We wasn't ready for our season to end right now," LSU sophomore forward Jarell Martin said. "We worked real hard and felt like we had a great shot."
Just not the last one, even if it wasn't quite the way coach Mark Gottfried drew it up.
"Beejay just made an instinctive play," Gottfried said.
Cat Barber led N.C. State with 17 points and Abdul-Malik Abu added 13 as the Wolfpack provided another jolt during a typically frantic opening day of the tournament. N.C. State's win was the fifth one-point game of the day, a record.
"Amazing things can happen," Gottfried said. "Today was a great day, exciting day in that regard. For us, being a part of it, being on the good end, it ended up being a great day for us too."
Tim Quarterman led LSU with 17 points. Martin had 16 points and 11 rebounds, and Jordan Mickey had 12 points and 14 boards for the Tigers, who appeared to be in firm control before the latest and most painful collapse during an otherwise promising season.
A week after falling to Auburn in the Southeastern Conference tournament, the Tigers' breakout season under third-year coach Johnny Jones ended with a thud.
"We weren't able to convert on the offensive end," Martin said. "We did a great job of moving the ball around from side to side, but we just couldn't get the ball to fall in."
Jones admitted he wasn't sure how his young team would react while making the program's first NCAA appearance in six years, maybe because the Tigers have been a talented but uneven work in progress all winter.
LSU alleviated any of Jones' concerns early. Riding the athleticism of their two sophomore big men and Quarterman's budding confidence, the Tigers attacked. LSU filled the lane repeatedly, soaring over the Wolfpack at times and racing around them at others.
During one sequence in the first half, Martin banked in a running layup, and then followed with a putback dunk in which his right hand appeared to be even with the square on the backboard before he grabbed the ball and slammed it through.
Mickey ended the half with a traditional three-point play, and then a dunk as the Tigers took a seemingly commanding 40-26 lead.
Like just about everything else this year for the Tigers, comfort was fleeting.
MURKY FUTURE
The future might be bright in Baton Rouge, but it's not exactly clear. Martin and Mickey were first-team All-SEC selections. Now they head back to campus weighing whether to return for one more run or test the professional waters.
I'll get with coach Jones, my parents and we'll come to a conclusion," Martin said. "I don't have a time period on it."
TIP INS
LSU: The Tigers finished 12 of 22 at the free-throw line and shot just 29 percent (7 of 24) in the second half. ... LSU outscored 28 points in the paint alone in the first half, more than N.C. State managed during the opening 20 minutes.
N.C. State: The Wolfpack made just 5 of 24 3-pointers. ... Lacey had nine points and nine rebounds in 38 minutes. ... Former LSU player Ralston Turner had 10 points against his former team.
UP NEXT
LSU's season is over.
N.C. State plays Villanova on Saturday.
---