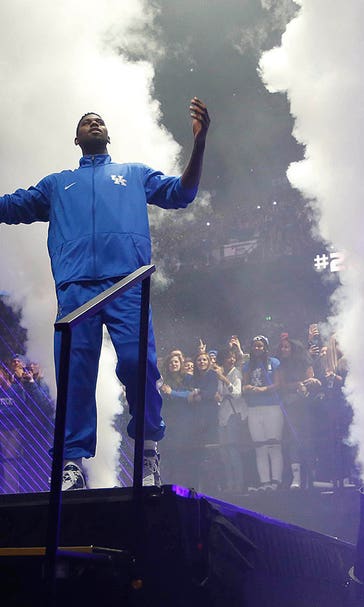 Kentucky's Poythress back from hoops hell of torn ACL, but rehab was pure purgatory
October 30, 2015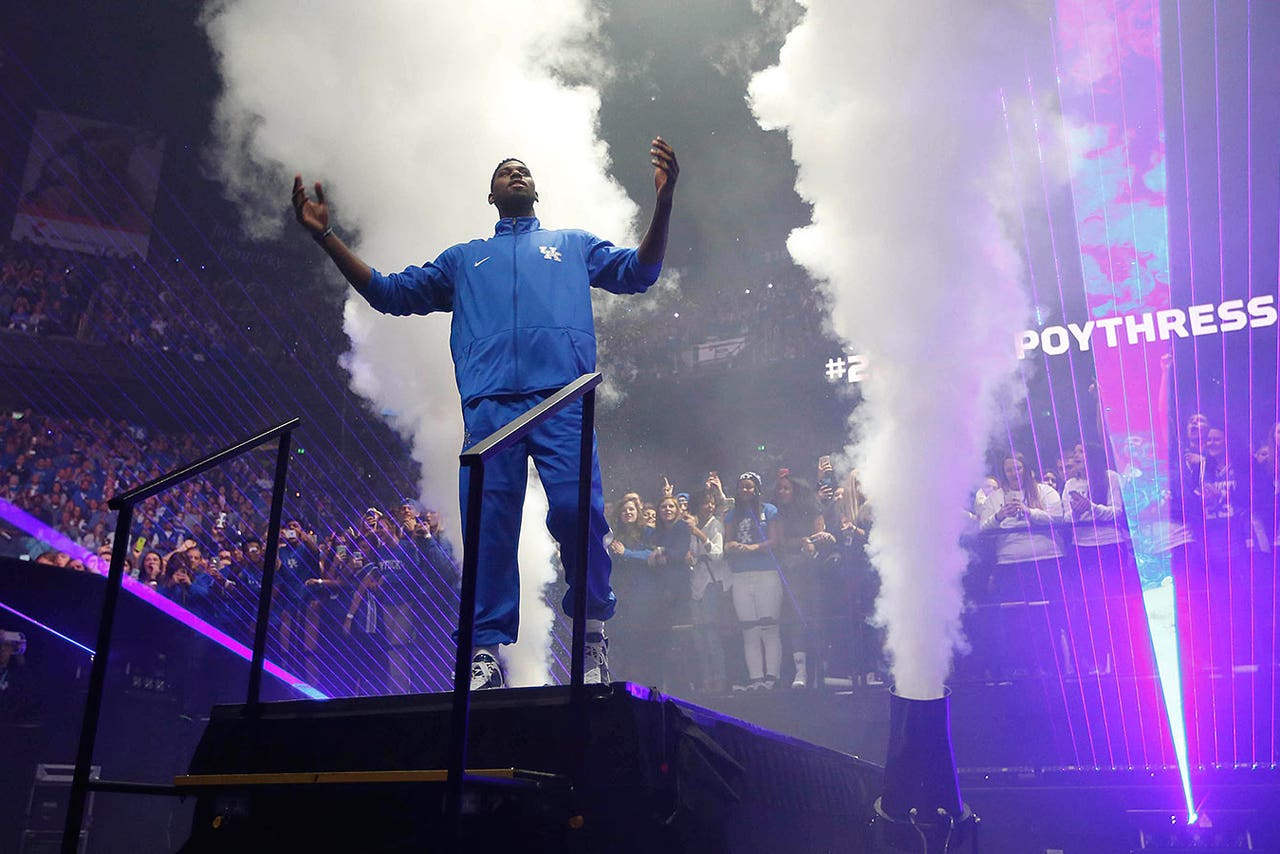 LEXINGTON, Ky. -- The 21-year-old lay in his bed at Kentucky's Wildcat Coal Lodge, his laptop glowing, his left knee in pain after another day of excruciating rehab.
It had been a few months before — in December, 10 games into a promising junior season where it looked like he'd finally found his right role for head coach John Calipari — when Alex Poythress landed awkwardly on his left knee on an uncontested layup at a Kentucky practice. He'd torn his ACL, ending his season as his teammates were chasing the first 40-0 season in college basketball history.
Surgery came right after Christmas. Then some time in a knee brace, doing little things to get ready for the long recovery. Now was the most painful part: Getting his knee to bend again.
That meant bending his foot as far back as he could, inch by inch. Before Poythress could move any further to a return at the beginning of the 2015-16 season he needed to break up the scar tissue from the surgery and return his knee to full flexibility.
"You gotta be sure you get your flexion back, bending it, touching your foot to your butt," Poythress said the other day, not long after he played in his first game before a Rupp Arena crowd since his injury. "That's the most painful part. Once you get past that, you start doing the fun part of rehab. Squats. Defensive slides. Getting your quad back, getting your knee back stronger. You can't do all the other stuff until you got that part done. It's painful. Some days, you're yelling."
On those days — the toughest days of his rehab, which coincided with the most high-flying days of what would become a record-tying 38-1 Final Four season for Kentucky — Poythress would yell his way through rehab. Then he would sit on the sidelines and watch his teammates practice. Then he would walk across the parking lot from the practice facility and go inside Wildcat Lodge. Then he would walk past the eight Kentucky national championship trophies in the lobby, go on the elevator, pass the photographs in the hallway of every Kentucky player who played in the NBA, and open the door to the dorm suite he shared with teammate Willie Cauley-Stein.
He lay on his bed, popped open his laptop, and clicked on the show "Breaking Bad." It's a dark show to watch during a time when Poythress was trying to avoid going to a dark place. He is obsessed with TV and movies — his favorite is "Space Jam," but he watches all the critically-acclaimed shows of modern television — and some days he'd watch four or five episodes of "Breaking Bad" in a row before he fell asleep.
"I'm not sure what the low point was, but it was real hard," Poythress said. "It was rough. You're a part of the team but you're not playing. Your season is over, but your team's season isn't. It's hard to get around. But you just need to cheer them on, not be a bad teammate."
In the darker moments, there were people Poythress would lean on. His mom. Coach Cal. The Harrison twins. Cauley-Stein, who'd help take Poythress' mind off things by playing video games with him.
And most of all, his twin sister, Alexis, a kinesiology student at Kentucky. The two are, as Alexis puts it, "best friends." She is 18 minutes older, and much more vocal. Poythress isn't shy; he's just quiet. He was a bookworm as a kid, reading a book a day in elementary school and setting his elementary school's all-time record in a book-reading challenge. Alexis saw Alex struggle with being the awkward tall kid in school when he was younger. Then she saw him come into his own at Kentucky, go from the guy who wouldn't say a thing his freshman year to a much more confident guy now.
Alexis had just finished a physics exam last December when she got a text from Coach Cal, telling her Alex had been hurt at practice and was at a hospital. At first, coaches and trainers didn't think it was serious, just a tweaked knee. By the time Alexis got to the hospital, her twin brother knew the news was bad.
"There were a lot of tears between him and his teammates and his coaches," Alexis recalled. "It was upsetting, because he's had such a long journey. But you can come back from it. It's not death. You're not going to jail or anything. You're just hurt. I wasn't too freaked out about it."
Why not? Because when Alexis was a volleyball player in high school, she tore her ACL. And her brother came with her to her therapy sessions, to doctor's appointments. The family had been down this road before.
The ACL injury itself was more weird than painful. That's how Alexis described it. It was like you could feel your loose ligament popping around the bone. But the rehab — that's where the pain came in. You get home from surgery and you want to pick up your leg, but you can't.
Each therapy session became more and more painful for Alex: Strengthening the quad muscle. Breaking up the scar tissue. Getting flexion back in your knee. Doing defensive slides.
"You're such an independent person and you can't do simple life skills by yourself," Alexis said. "Learning how to walk again is going to be mentally draining if you're 5, 20, 50. You think it's going to be so easy, and then it just doesn't come back like you expect. It's not like you twisted your ankle. It's such a big thing. You want it to happen so fast, but it can't."
And so Poythress would go to business marketing classes. He would go to therapy sessions. He'd be there for practice, and film sessions, and games — a busier schedule than even when he was playing — and he'd cheer on his teammates. It wasn't hard to cheer them on. After all, they were always there for him. But it was hard, so hard, to not be able to be out there on the floor, to be part of something historic.
His teammates kept Alex's chin up. So did his coaches, and his mom. So did his sister, who'd tell him things like: "Life is unpredictable. Everything happens for a reason. You just have to learn to deal with it."
And so did, in an odd way, the mental therapy of sitting in his dorm room late at night and disappearing into Netflix or Hulu or HBO GO, watching the darkness of "Breaking Bad," which could put his own life into perspective.
"I never got depressed or anything like that," Poythress said of his recovery. "But I learned to not take the game for granted. Basketball was taken away from me for a few months. I'm just so thankful and humbled that I can keep playing again."
On a recent afternoon, Poythress was back in a familiar position: Sitting under a basket at Kentucky's practice facility, bent at the waist, head in hand as he watched his teammates practice. Coaches gave him the day off because the night before he'd played in Kentucky's intrasquad scrimmage in front of 15,000 people. It was his first competitive game since his injury. He had shone: 17 points, seven rebounds, back to that same high-energy, glue-guy role he'd found so much success in at the beginning of last season. His knee felt good. It still got sore sometimes, but he had a spring in his step.
After the grueling three-hour practice, Poythress walked across the gym. Calipari wanted everyone to make 100 free throws before they left the gym, Poythress included. Before he went to the free-throw line, he spun the ball on his finger and smiled. He talked about how important it was to have that circle of encouragement around him over the past 10 months. His struggles have brought him closer to his teammates, his coaches, his sister, his God. He stared off into the distance as he spoke, still a man of few words, but there was a palpable joy in being back on the basketball court.
Not that far in the distance, Poythress could envision the happy ending to his wild journey. He'd started as a one-and-done possibility, went through the disaster that was the NIT season, journeyed through two Final Fours and an ACL recovery, and now, at 22, has become the rarest of Wildcats on a Calipari team: the four-year rotation player.
"Win the national title then go on and play professional," Poythress said. "That's the fairy-tale ending."
Any darkness of the past 10 months was a distant memory. He'd made it through to the other side. As the sun was descending outside, he'd make his 100 free throws, walk across the way to Wildcat Lodge, grab a meal, then go up to his dorm suite and flip open the laptop.
It was only there, inside his dorm, where the darkness still came out. Only, it wasn't a darkness inside Poythress. Not any more. It was the new show he's now obsessed with: "The Walking Dead." It is a show about a zombie apocalypse.
Follow Reid Forgrave on Twitter @reidforgrave or email him at ReidForgrave@gmail.com.
---