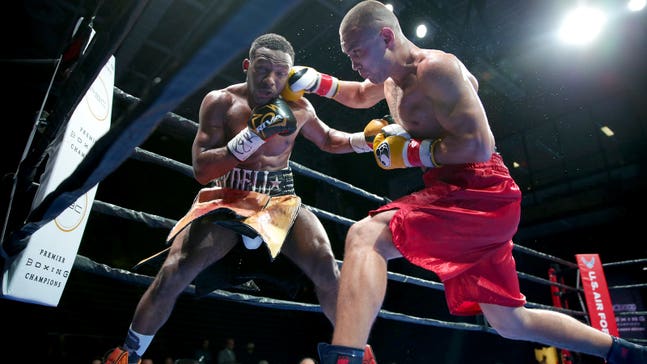 Lipinets moves from chess, to street brawls, to kickboxing, and now boxing main events
Published
Mar. 15, 2016 2:31 p.m. ET

At just 26 years old Sergey Lipinets (8-0) is already in the midst of his second combat sports career, but as a child he had very different competitive aspirations. "I actually wanted to become a professional chess player," he tells FOX Sports.
"I loved playing chess as a kid."
When he got a bit older, however, the Kazakhstan-born Lipinets began to use his cunning and guile in street fights. He didn't have skills, but he had plenty of heart, and a coach eventually saw him and encouraged young Sergey to head to the gym with him.
Lipinets was properly introduced to kickboxing, and it changed him for the better. "For sure it calmed me down," he admits.
"I got more calm as I really learned to fight."
Lipinets would go on to win titles in kickboxing, in addition to improving his own temperament and emotional maturity. Now, however, he is a boxer, and a headlining one at that. 
Lipinets decided to take on a new combat sports challenge a few years ago and, after trying amateur boxing, turned pro in 2014. For him, it was all about new conquests, as well as working toward his own strengths.
"I have always been the type of guy to want to take on new challenges," he explains. "After I accomplished a little in kickboxing, I wanted to move on to the next thing. That's just the way I am. 
"Also, even in kickboxing, I was always the type to fight more with my hands. I kicked, of course, but I liked using my hands most."
That part is key as few kickboxers really have the type of punching skill that their boxing counterparts do. So far so good, however, for Lipinets.
He is undefeated as a pro boxer, with most of his wins coming by way of KO or TKO. Tuesday, he fights on the biggest stage he's had to date. 
Lipinets takes on fellow Eastern European fighter Levan "The Wolf" Ghvamichava (16-1-1) in a 10-round super lightweight FS1/FOX Deportes PBC main event, airing live at 9 pm ET.
The Georgian Ghvamichava has shown a good amount of power himself in his bouts and has more experience than Lipinets. As such, Lipinets won't underestimate him or make any fight predictions.
He is, however, clearly quite confident that his technique will match up nicely against the aggressive Ghvamichava. "He is aggressive, and strong," he says of his opponent.
"I think he has confidence in his power. I believe he will come right at me, hard, but I don't think that is going to work well for him."
---