The NFL Got the DeAndre Hopkins Call Right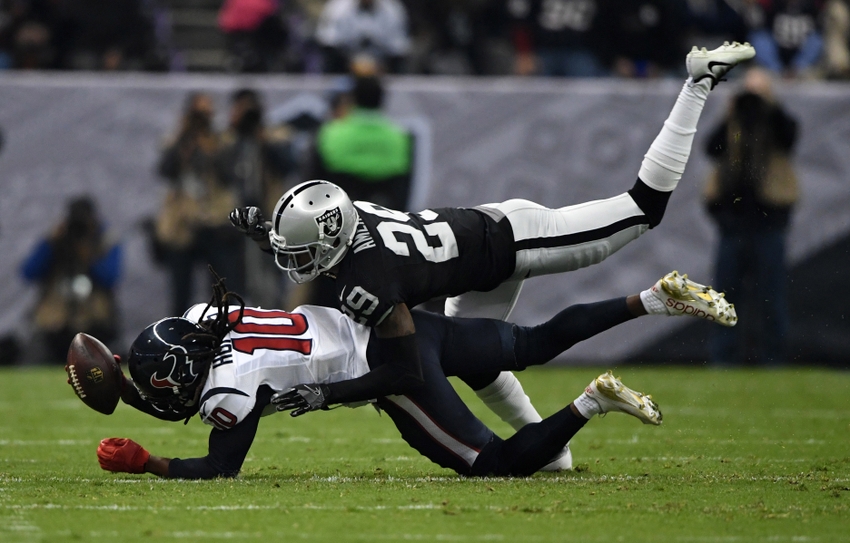 A play in which DeAndre Hopkins stepped out of bounds is one of several calls/non-calls that looms large over the Raiders vs. Texans game on Monday Night in Mexico City.
With 12:34 remaining in the first quarter and both teams scoreless, Texans wide receiver DeAndre Hopkins seemingly broke loose for a 60-yard touchdown reception. But before he could reach the end zone, the play was blown dead. The sideline judge ruled that Hopkins stepped out of bounds.
Watching the game live on TV, it didn't look like Hopkins was out of bounds — and it didn't even look like he was close to being out of bounds, either. And the initial replays failed to show evidence that he stepped out. It seemed like it was a bad call, and the Texans were shafted out of 7 points.
It wasn't until after the game was over that clarification was given. The NFL's Senior VP of officiating, Dean Blandino, tweeted a video with commentary that showed where Hopkins stepped out of bounds.
Blandino showed a new angle that the TV broadcast did not, and Hopkins right foot was clearly out of bounds. Heel down, and no green in between.
The problem with the original angles on the TV broadcast is that the head of someone on the sideline blocked DeAndre's foot when it was out bounds, so that is why everyone thinks it was a blown call.
Now, if we want to talk about blown calls, I have to admit that the NFL got Houston's 4th & 1 attempt wrong. I still have no idea how the ball carrier was ruled short. Clear as day, his knee was not down and the ball was extended past the first down marker.
So as a Raiders fan, it's easy to feel for Texans fans who got jobbed with that one. But at the same time, it's nice to be on the right side of a blown call for a change.
Just Win, Baby.
More from Just Blog Baby
This article originally appeared on