Running Back Prospect Dalvin Cook Back in Heisman Race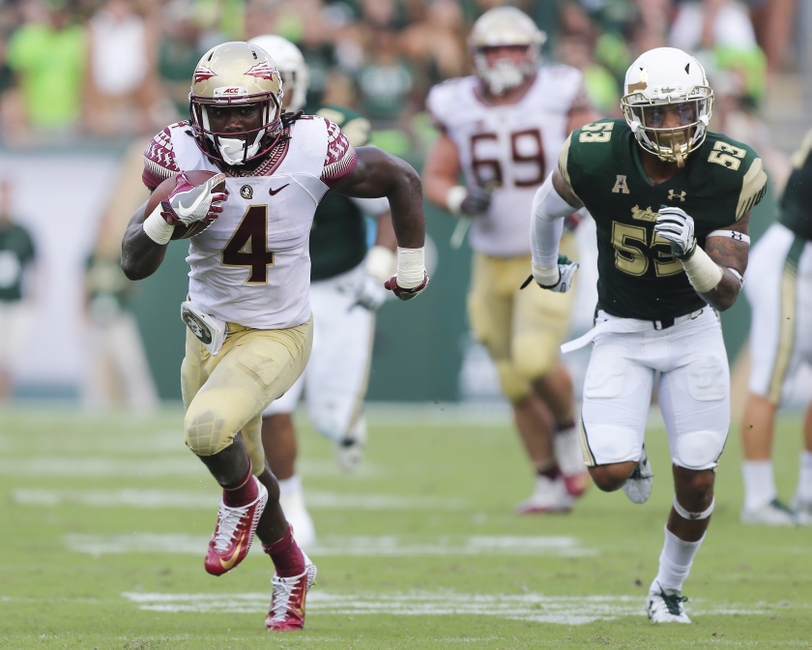 Florida State running back Dalvin Cook started the 2016 college football season quiet after all the preseason hype he got. After all but dropping out of the Heisman race through three weeks, he re-entered it with a big performance Saturday.
The 2016 season started with five running backs that could possibly go in the first round next may. And Florida State running back Dalvin Cook is one of those prospects. Of course, Christian McCaffrey, (Stanford) Leonard Fournette, (LSU) Nick Chubb (Georgia) and Royce Freeman (Oregon) are the others.
Louisville quarterback Lamar Jackson clearly leads the Heisman race. But of the running back prospects, Freeman, McCaffrey, and Fournette had the best chance. After a great first game, Chubb fell off the map and it didn't look like Cook would get in it.
But Saturday, Chubb turned in a performance that would put him right back in the race. Against South Florida Cook started it off with a 75-yard run on the first play from scrimmage. His vision, elusiveness, tackle breaking, and breakaway speed were on display.
Then later in the first quarter, he showed his ability to run through arm tackles again for a 13-yard TD. On the day, Cook had 267 yards and two TDs rushing on 28 carries. He also had 67 yards receiving on four catches, to bring his total yards from scrimmage to 329.
Cook's performance got him back in the Heisman mix and in contention for best running back prospect.
More from With the First Pick
This article originally appeared on