Jaguars WR Hurns disputes eye-gouging story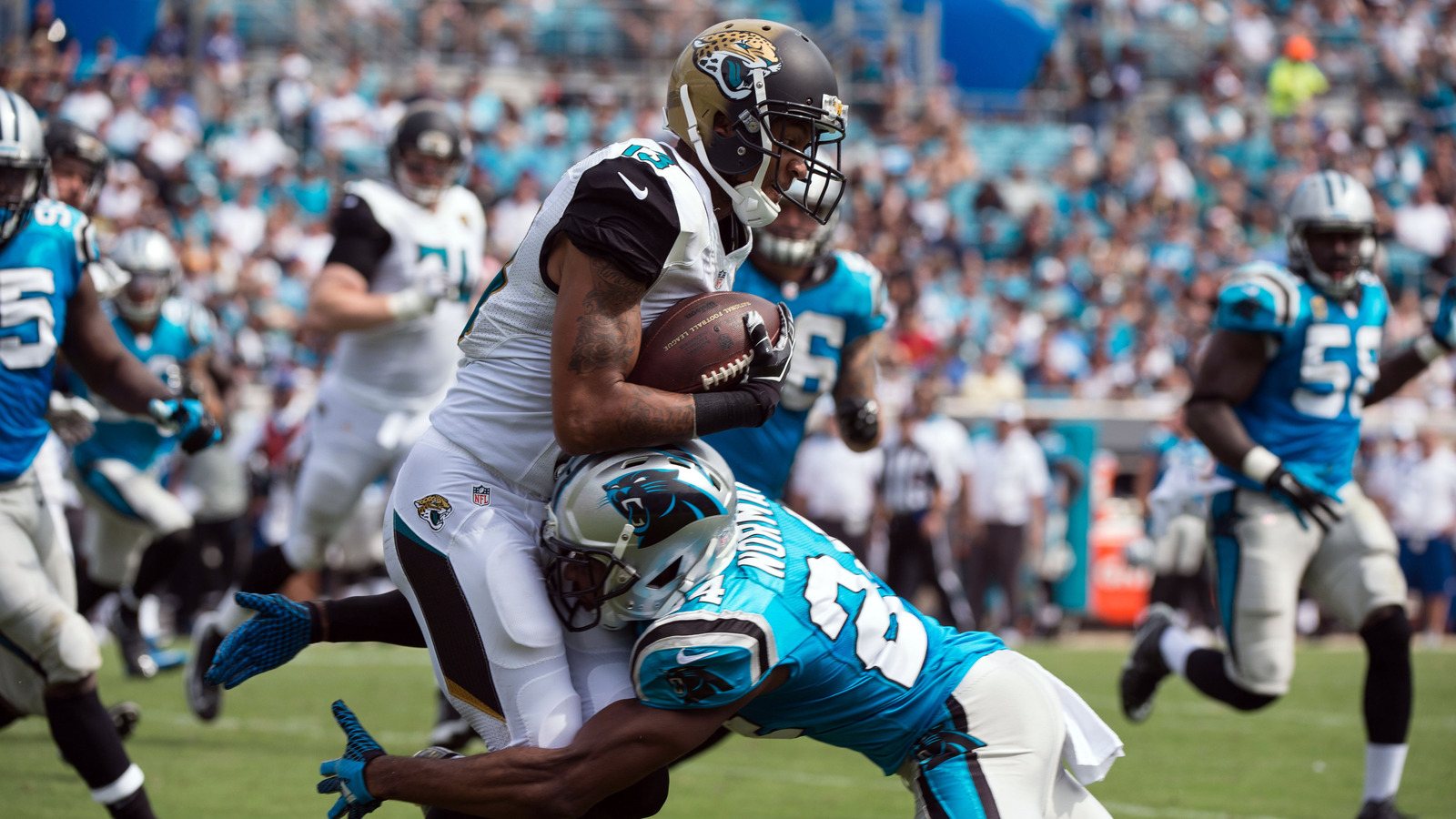 While Carolina Panthers cornerback Josh Norman may think he gouged Jacksonville wide receiver Allen Hurns' eyes while the two were fighting for possession of the ball last week, Hurns said Wednesday it didn't happen.
In the second quarter of Jacksonville's Week 1 loss to the Panthers, Norman knocked the ball free from Hurns, causing a fumble. In the battle to gain possession, Norman told reporters he turned to extreme measures to keep the ball from Hurns. The second-year receiver said that isn't quite the way things unfolded.
"He didn't gouge my eyes,'' Hurns said, per the Florida Times-Union. "I had a shield on.''
Hurns, who caught five passes for 60 yards in the 20-9 loss, said he wasn't sure why Norman claimed to have gouged the receiver's eyes, but it's possible the cornerback was confused given the chaos at the bottom of the pile.
The Panthers were awarded possession of the ball, but both Hurns and Norman said the call should have gone Jacksonville's way.
"I came up with the ball,'' Hurns said. "I'm not sure why they didn't give us the ball. It was a referee's decision. I was surprised. When I got up, I thought we had the ball.''
In addition to the fumble, Hurns also dropped a pass in the loss. He said Wednesday he's moved on from the Carolina game and is preparing for Sunday against Miami.
"I'm over it already. Right now, I'm just focused on the Dolphins," Hurns said. "It happens. It's part of the game. It's a new week and you can't keep holding onto to that (loss). I'm ready to go. Ready to roll.''
Hurns said his teammates are approaching the week with a similar attitude.
"One thing about this team is we stay in a positive spirit," Hurns said. "It comes from our head coach (Gus Bradley). Our morale is very good. Guys aren't moping around. We're excited to start the week off.''
(h/t Florida Times-Union)
MORE NEWS:
Want stories delivered to you? Sign up for our NFL newsletters.