How the San Francisco 49ers Replace Veteran Safety Eric Reid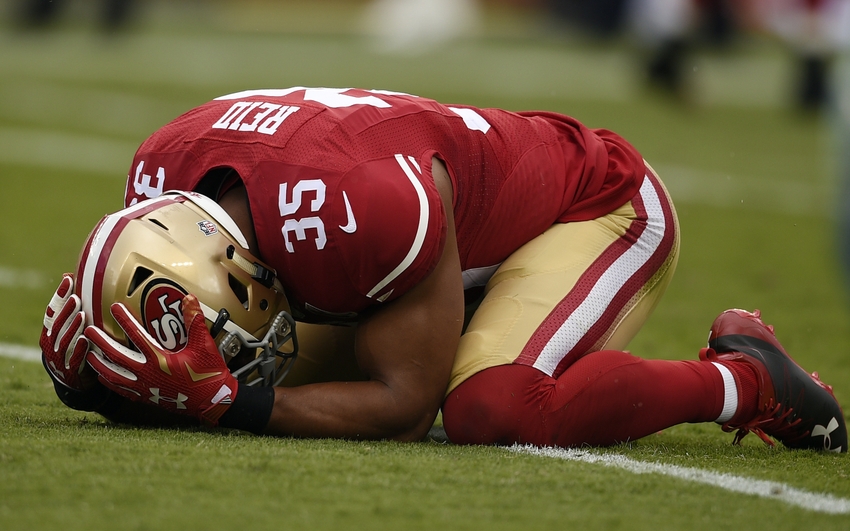 The San Francisco 49ers will be without safety Eric Reid for the rest of 2016. Reid suffered a season-ending biceps injury in Week 11, and the Niners are now scrambling for a replacement. How will they go about finding one?
2016 couldn't get much worse for the San Francisco 49ers, and now the team has to contend with the loss of safety Eric Reid.
Patriots vs. 49ers: The Good, Bad and Ugly from San Francisco's Week 11 Loss
Reid suffered a season-ending biceps injury in the Niners' 30-17 Week 11 loss to the New England Patriots. CSN Bay Area's Matt Maiocco was one of the first to report the news, after Reid was forced to exit last Sunday's game.
So how do the 49ers go about replacing the one-time Pro Bowler?
There are a few options here for a talent-strapped Niners team. Reid had a 70.4 overall grade on the season, per Pro Football Focus. His coverage skills have been decent, so San Francisco is going to have to explore options capable of handling receivers downfield.
San Francisco has three other safeties on its 53-man roster: Antoine Bethea, Jaquiski Tartt and Jimmie Ward.
Bethea will remain in his current role, so that doesn't change anything. That leaves Tartt and Ward as the other two options. Let's look at each.
Jimmie Ward
The 49ers are currently utilizing Ward in an outside/slot role at cornerback. But Ward's natural position is at safety — a point made by the Santa Rosa Press Democrat's Grant Cohn:
With Eric Reid done for the year, it's time the 49ers move Jimmie Ward to free safety, his best position.

— Grant Cohn (@grantcohn) November 21, 2016
Ward is the Niners' second-best graded defensive back (76.8) on the season, per PFF. And while he's thrived in the slot this year, and last year as well, moving him back to safety makes a lot of sense.
Let's not worry so much about whether or not Ward can handle the duties there. He can.
Instead, the move would open up an additional opening at cornerback. The 49ers have a promising young corner in Rashard Robinson. He'd see an increase in playing time alongside veteran corner Tramaine Brock. But a bigger bonus would be to insert depth cornerback Dontae Johnson.
Johnson has seen only 34 snaps on the year, but he has made the most of it with a 72.3 pass-coverage grade, per PFF.
It's time to see what the Niners have in Johnson moving forward.
Jaquiski Tartt
Second-year pro Tartt has yet to make the big leap from promising-but-raw talent to a regular contributor.
Coverage wasn't Tartt's strength coming out of college, but a 74.9 pass-coverage grade, per PFF, suggests he could be more than just an over-the-top safety.
Plus, Tartt offers the big-hit capability the 49ers defense desperately needs moving forward.
David Fucillo of Niners Nation believed the Niners would start Tartt over Ward at safety and leave the latter at cornerback.
Such a move would prevent one of the additional depth spots at corner from opening up. So this means Johnson would likely stay in a reserve role. But it would allow San Francisco to get a much-deeper look at what Tartt has to offer.
With Bethea entering a contract year next season, the Niners need to know whether or not Tartt can be a long-term answer and replacement.
San Francisco invested more in Tartt (a second-round pick) than Johnson (Round 4), and the difference in snap counts between the two tells us which player the Niners feel better about.
This probably means Tartt gets the nod over Ward for now, even if the better defense might feature Ward at safety instead.
Not like it's a perfect situation though. The Niners defense remains the worst in the league, so any fix in Reid's stead would merely be an evaluatory move for 2017 and beyond.
This article originally appeared on