Fantasy Football Frustrations: Week 10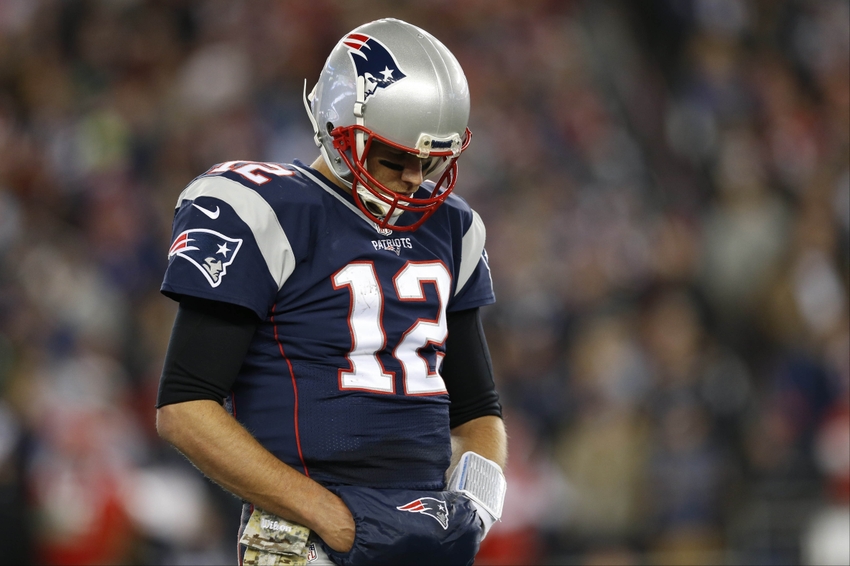 Let's face the facts: you're a loser—at least that's what your fantasy football results say this week. Rest assured, we're all just as frustrated.
"This is so stupid. I hate fantasy football," is what you say. I mean, it's all luck right? Well, that's what you tell yourself to make you feel better. The fact is, you just lost and it's eating you alive. You're afraid to look at incoming text messages or your league's message board because you don't want to see the belittling comments about your team.
One player or one play could have made the difference, but it didn't go your way this week. The fantasy god's are looking down on you and you find yourself wondering, "Why do I care so much?"
Here are some of the biggest and most frustrating misfortunes of Week 10 for fantasy owners.
Tom Brady is Human
When Tom Brady returned from suspension, it was a scary sight. He was clearly on a mission and he was destroying every defense in his path. That was until he faced the Seattle Seahawks on Sunday Night Football.
Brady went four-straight games with multiple touchdown passes. He also did not turn the ball over once during those four games. On Sunday, not only did he not find the end zone at all, but he also threw his first interception of the season. There were 21 other quarterbacks who had a better fantasy outing than Brady.
The term "matchup-proof" can no longer be used for Brady this season. This is the same traumatic feeling I got when I found out Santa Claus wasn't real.
The Eagles RB Conundrum
Last week, I shared my disgust with the Eagles coaching staff when they allowed Kenjon Barner to run in a touchdown from three yards out. This isn't to say Barner is a bad guy or that he doesn't bring something to a NFL team. However, unless you were playing against Ryan Mathews or Darren Sproles in fantasy football, you don't want to see that.
Well once again, the Eagles coaching staff did it to us again.
After multiple weeks of out-snapping and out-touching Ryan Mathews, Darren Sproles was announced as the team's lead running back by head coach Doug Pederson. Then when the actual game rolled around, I guess Pederson changed his mind.
Sproles was out-touched by now "backup" running back Ryan Mathews 21-10. He was even out-touched by rookie backup running back Wendell Smallwood 13-10. How will the snaps and touches divvy up next week? Don't ask me because I don't know. I'm not even sold Doug Pederson knows.
Phil-INT Rivers
You plugged in Philip Rivers as your starter for Week 10 and why wouldn't you? The Miami Dolphins have been playing well as of late, but their secondary is still far from good. Rivers proved that for the first three quarters of the game on Sunday. Then the fourth quarter happened.
Rivers then proceeded to throw not one, not two, not three but FOUR interceptions all in the fourth quarter of the game. Throwing four interceptions in a game is embarrassing in it's own right, but throwing all four in one quarter makes even Ryan Fitzpatrick raise an eyebrow.
Damien Williams Plays the Vulture
It was a juicy matchup for Jay Ajayi heading into Week 10. He's been one of the best running backs in the NFL over the last month and he was set to face a very beatable Chargers run defense. Surprisingly, the Chargers held Ajayi to just 79 rushing yards. Yet, a touchdown would have turned a below-average fantasy outing to a good one. Instead, former Oklahoma running back Damien Williams wasn't having any of it.
When the Dolphins were two yards out from scoring a touchdown, it was Damien Williams and not Ajayi who rushed it in for a touchdown. Shortly after, when the Dolphins entered the Chargers red zone yet again, Williams scored a 18-yard receiving touchdown.
Ajayi finished Sunday's game with seven fantasy points on 20 touches. Williams finished with 13 fantasy points on just three touches. That's just cruel.
Green BRUH's Backfield
It wasn't a guarantee James Starks was going to be available for Sunday's game against the Tennessee Titans. If he was, so what? He was only expected to see a handful of touches. In the last three games Ty Montgomery played in, he averaged 14 touches per game. There was no reason to believe he wouldn't see a similar workload.
Once again the results of this game show a clear indication that I in fact, know nothing.
Starks not only played more snaps than Montgomery but he also out-touched him 10-5. To add insult to injury, it was Starks who caught a 13-yard pass for a touchdown. Not Montgomery who was a college wide receiver and who caught 23 passes over his last three games. Instead, it was Starks who hasn't played a snap since Week 5.
Did I miss something? If so, I'd love to hear it! Tweet me and vent your frustrations about a particular player or play that ruined your chances of winning this week. After all, we are in this together (we aren't, but I'm still just trying to make it hurt a little less).
This article originally appeared on