Chuck Pagano slams Andrew Luck, possibly general manager
By Jesse Reed
Indianapolis Colts head coach Chuck Pagano simultaneously slammed quarterback Andrew Luck and potentially general manager Ryan Grigson after his team's second loss in a row on Monday night.
The New York Jets forced Luck into three interceptions and the Colts incurred five total turnovers on Monday Night Football, embarrassing Pagano's team thoroughly. Needless to say, he wasn't happy at all after the game and vented his frustrations very publicly at Luck.
"He's got to take care of the football," Pagano said in his postgame press conference, per Mike Chappell of indysportscentral.com. "It's not that hard. It's not trigonometry. Can't turn the damn ball over."
After watching Luck toss five picks in his first two games of the season, it's understandable that Pagano would be frustrated.
And is it possible he also targeted Grigson on the sly?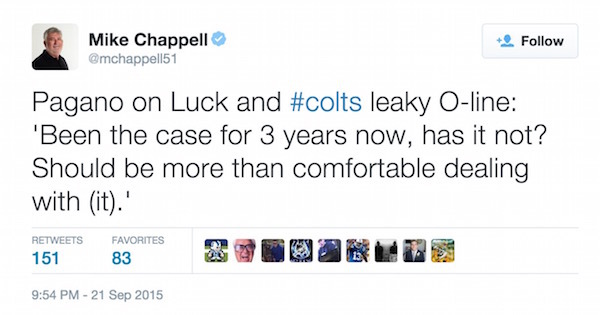 Sometimes it sure feels like owner Jim Irsay is getting ready to fire the wrong guy.
If you aren't up to speed, here's the quick lowdown. Irsay is reportedly considering letting Pagano walk after the 2015 season if he cannot conjure up a championship (which explains the coach's extra saltiness these days). The owner has denied these rumors, but they persist to the point Albert Breer reported he believes Irsay is ready to go "big-game hunting" for a top head coach this offseason.
Things have gotten so out of control on this front that Ray Lewis asked Pagano before Monday night's game about his future if he'd considered his future after the Colts, to with the coach had a particularly pointed reply.
"My plans? This is my last job. And that's what my plans are. We've won, and we'll continue to do that. But when I took this thing, I said that's my last job. And when I said that I meant it. I'm not going nowhere."
This entire situation is starting to look more and more like the one that got Jim Harbaugh unceremoniously booted out of San Francisco. Except for one caveat: At least Trent Baalke has done a good job over the years of stacking the 49ers' roster with top talent from top to bottom.
The same cannot be said for Grigson, whose failures are well documented and epic in scale.
As Pagano mentioned, Luck has been running for his life on a regular basis since showing up as a bright-eyed rookie out of Stanford in 2012. Grigson continues to assume quarterbacks don't need protection, and Luck has been absolutely hammered every season, enduring endless pressure.
And, while Grigson has been successful at finding some skilled receiver for Luck to play with in T.Y. Hilton and Donte Moncrief, he's also been criticized for reaching to land Phillip Dorsett this year in the first round. It seems clear at this point, and it did back when he made the pick as well, that the Colts missed a huge opportunity to fill other needs.
Grigson also spent big this offseason to bring in three old players in Frank Gore, Andre Johnson and Trent Cole. Many have been critical of those moves as well, based on the fact that teams rarely win via free agency and by going older — rather than younger, faster and stronger.
And don't even get us started on the whole Trent Richardson fiasco.
Pagano can only do so much with the lemons he's been given to work with. And, the same can be said for Luck, who surely has to do better at taking care of the ball, but who also cannot really be to blame for the team's offensive woes.
At the same time, it is rather alarming to hear Pagano — a guy who has been extremely chilled out through most of his tenure with the Colts — suddenly lashing out. Of course, perhaps this really is just indicative of the pressure he's under to win, and win now.
Whatever the case, Pagano and the Colts are in trouble. Thankfully, they won't have to face the Buffalo Bills and New York Jets again until the postseason, so things should get a bit easier from here on out during the regular season.
More from Sportsnaut: