2017 NFL Free Agency: 7 Teams That Need to Avoid Signing Johnny Manziel
After reportedly drawing interest from numerous teams, here's a look at seven teams that need to avoid signing Johnny Manziel during the 2017 NFL free agency process.
With the start of the 2017 NFL free agency period right around the corner, it appears Johnny Manziel is ready to give it another chance at playing professional football. Based off his history, the possibility of Manziel suiting up in the NFL seems crazy to even think about, but numerous reports indicate the former Cleveland Browns quarterback is drawing interest from a few teams.
To top it off, Manziel recently re-hired his agent Erik Burkhardt, so it looks like the quarterback is serious after all about this hopeful return to the big leagues. With that being said, Manziel still has a long way to go when it comes to proving he's going to be responsible and ready to handle the duties of an NFL quarterback, and rightfully so when taking a look back at his party habits during his two-year stint with the Browns.
At this stage in life, Manziel hopefully realizes he needs to get his act together if he truly wants to have a professional career in the NFL since he's not getting younger anytime soon. There are plenty of teams that will spend the offseason addressing their needs at quarterback, and if Manziel truly believes he can make an impact heading into 2017, it's up to him to prove it.
Of course, just because a team is in need of help at quarterback doesn't mean bringing on a player with a troubled history like Manziel would even be worth the risk, whether the talent is there or not. The interest may be there for Manziel for some organizations, but here's a look at seven teams that need to avoid the once Texas A&M star at all costs.
7. Los Angeles Rams
Johnny Manziel would be crazy to think he has a chance of stealing the starting job at quarterback for the Los Angeles Rams away from Jared Goff when looking at all of the future draft picks the team surrendered to land the former California star. But that doesn't mean the team should be ruled out as a potential landing spot since the Rams may need to consider another option at backup quarterback if Case Keenum signs elsewhere during free agency.
In Keenum's mind, the veteran believes he still has what it takes to compete for a starting job in the NFL, which is why the chances of him leaving Los Angeles for a different team once free agency gets underway seems likely. If that does end up being the case, the Rams will most likely turn to free agency themselves in order to find another backup quarterback to Goff, but that's where the development process will hopefully come into play.
Instead of taking a risk by bringing on another inexperienced quarterback to backup Goff, Los Angeles would be better off bringing in a veteran to help guide the way. The Rams have already made plenty of key additions to Sean McVay's new coaching staff to help Goff elevate his game to the next level during his sophomore season, and adding a key veteran instead of Manziel would easily help the process go smoother.
6. Arizona Cardinals
There were plenty of big surprises from the 2016 season, but the Arizona Cardinals failing to reach the playoffs after reaching the NFC Championship the year before was a complete shock around the league. On paper, the Cardinals seemed to have one of the best overall teams, which is why nobody could have predicted the team would only go on to win seven games.
Before anyone jumps to the conclusion of how ridiculous Johnny Manziel joining this team sounds since Carson Palmer has made it clear he plans on playing in 2017, keep in mind Arizona will eventually have to figure out their plan for the future at quarterback. At best, Palmer maybe has two or three effective years left in him, and even starting the rebuilding process this year would give the future Cardinals quarterback a chance to learn from the former No. 1 pick.
From an experience perspective, there's no debate about all that Manziel could learn from a quarterback like Palmer, but the move would also come with plenty of risk. When the time comes for Palmer to finally call it a career in a few years, there's a good chance Arizona will still be capable of being strong contenders in the NFC when seeing how great of a coach Bruce Arians has been since coming on board in 2013.
To play it safe, the Cardinals would be much better off starting the development process with another player to be the future quarterback over Manziel, and it's not even a close debate.
5. Miami Dolphins
Last year, the Miami Dolphins turned out to be one of the biggest surprises when it came to teams making the postseason since they lost four of their first five games to start off the year. Despite their magical run to end the regular season, it was a shame to see the Dolphins lose starting quarterback Ryan Tannehill right before the playoffs due to a knee injury, and even though he won't require surgery, nobody truly knows what to expect from the former first-round pick in a few months.
Tannehill claims he'll be ready to go for the team's offseason program, but there's always the fear of a setback with knee injuries, as Miami was forced to play their final three regular season games along with their playoff meeting against the Pittsburgh Steelers without their quarterback. Matt Moore may be under contract with the team, and certainly looked decent at times during the four games he started last year, but it wouldn't be a surprise to see the Dolphins consider another plan just in case.
Johnny Manziel would certainly welcome the opportunity to play for a team that reached the playoffs last year along with the chance to have one of the league's top receivers in Jarvis Landry, but let's hope Tannehill's situation doesn't make the team that desperate. The good news for Dolphins fans is if all goes well with Tannehill's recovery over the next few months, this scenario with Manziel becomes even more unlikely to happen.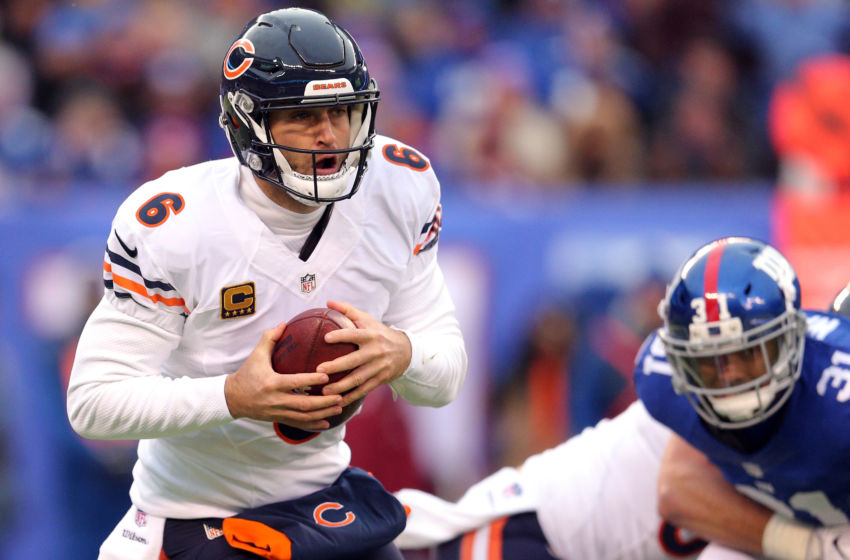 4. Chicago Bears
For a team that has finished at the bottom of the NFC North three seasons in a row, the Chicago Bears have plenty to figure out this offseason, especially if Jay Cutler and Alshon Jeffery end up with different teams. Losing Jeffery to free agency would be a major blow to the offense since the wideout still appears to have plenty of solid years left in him, but unfortunately the same can't be said about Cutler.
Between dealing with numerous injuries this past season that limited him to playing in just five games to 2009 being the last time he had a winning record as a starter, there isn't a strong enough case for the Bears to even consider bringing Cutler back next year. The veteran has been given every opportunity in the world to prove himself in Chicago over the last eight years, and while there were a few impressive seasons, Cutler has been a complete bust for the most part.
Only time will tell when it comes to what's going to happen with Cutler, but the Bears find themselves in a difficult situation since shopping the quarterback may be difficult due to injuries. The good news for the Bears is despite only winning three games in 2016, the young offense seems to have some potential thanks to players like Jordan Howard and Cameron Meredith.
As far as the possibility of Johnny Manziel joining the team is concerned, there's no question Chicago has a need at quarterback, but even they know what a disaster this could turn out to be. For a three-win team to bring on a quarterback that wasn't in the NFL at all last year, and only has seven touchdown passes with eight starts in his career would be foolish for a team like the Bears to even consider.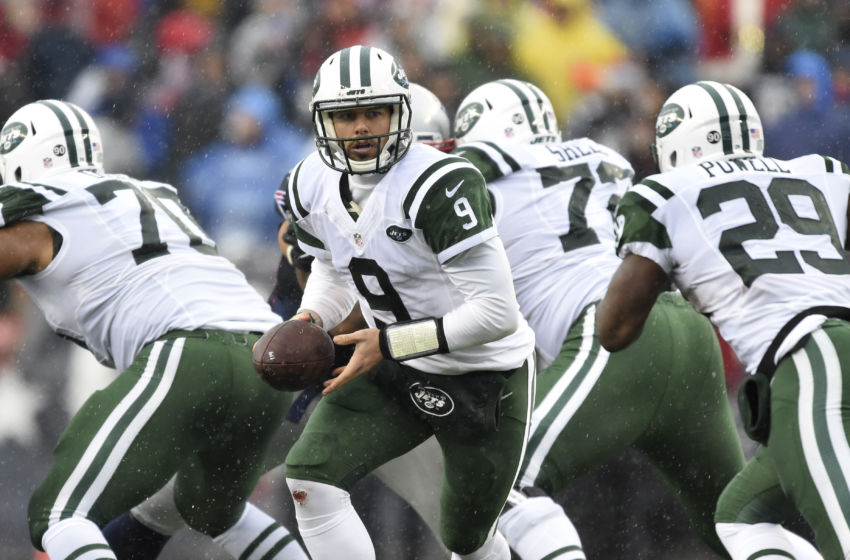 3. New York Jets
Who would have thought after falling just shy of reaching the playoffs in 2015, the New York Jets would take a major step back this past season by only winning five games? While there was plenty of blame to go around behind the struggles of the Jets, there's no question the poor play behind Ryan Fitzpatrick at quarterback was one of the main factors.
After throwing 31 touchdown passes in 2015, Fitzpatrick was doing everything in his power to fight for a long-term deal prior to last year, but luckily New York didn't give in when seeing how much his production went down. Now that Fitzpatrick is scheduled to hit free agency, the Jets will spend a majority of their offseason considering all options at the position throughout free agency and the upcoming draft.
When considering Bryce Petty is their best option at the moment, the sad part to think about is Johnny Manziel may be capable of beating him out for the starting job in New York if given the chance. Petty certainly showed potential at times during the six games he appeared in last year, but it's still too early to determine if he has a shot at being the answer for the Jets.
New York seems like they would be the type of team that would bring Manziel on board just to see what happens when considering they had four quarterbacks at one point last year, but it doesn't seem like the move would help them rebound from last year's 5-11 finish.
2. San Francisco 49ers
Even before Colin Kaepernick informed the league he would opt out of the final year of his contract, the San Francisco 49ers entered the offseason knowing they needed to address their issues at quarterback. Only time will tell when it comes to whether that need will be addressed in free agency or the upcoming NFL Draft, but hopefully the team realizes Johnny Manziel is far from the answer the team should be looking for.
With all due respect to the 49ers, the team most likely understands they are still at least another year or two away from being contenders in the NFC when looking at the current talent to work with. There's no question San Francisco made a great hire by bringing Kyle Shanahan on board, but the new head coach will have quite the work cut out for him during his first season with the organization.
In a way, Manziel shows similarities to Kaepernick when it comes to relying on his legs to scramble with the football on offense. But Manziel doesn't even come close when it comes to Kaepernick's level of experience. From San Francisco's perspective, Shanahan and company need to focus on starting fresh with a quarterback to build the franchise around, and giving Manziel an opportunity to be that player would be even more frustrating than the last few years with Kaepernick.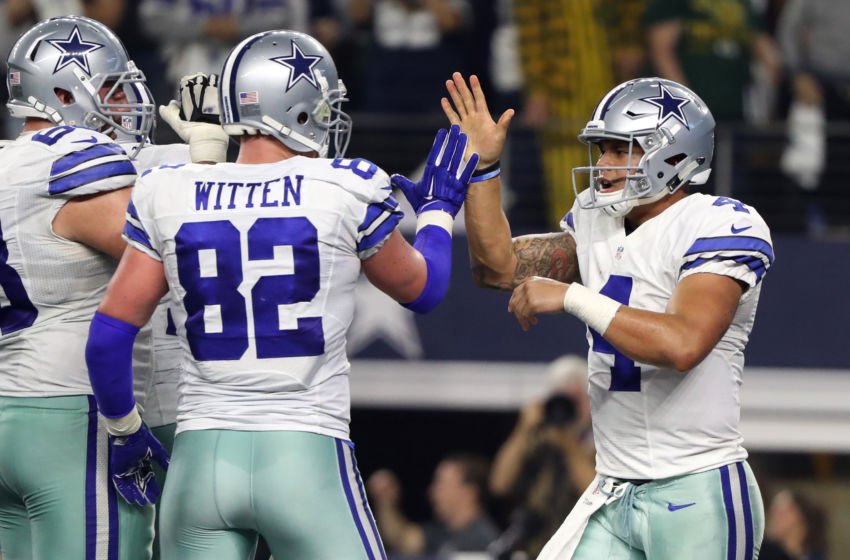 1. Dallas Cowboys
The good news is when compared to the rest of the teams on this list, the Dallas Cowboys don't have an issue at quarterback thanks to the emergence of Dak Prescott during his rookie season in which he helped lead the team to a 13-3 finish during the regular season. With that being said, the Cowboys may find themselves in need of figuring their backup situation at quarterback since all signs point to Tony Romo joining a different team for the 2017 season in order to have the chance to be a starter.
After seeing all of the success last year along with the bright future surrounding Prescott and Ezekeil Elliott, joining a team with the talent level Dallas has on offense would be a dream come true for any quarterback. But what if Prescott were to suffer a devastating injury during his sophomore season that would force him to miss a few games under center? Would the Cowboys really feel confident enough in having a troubled quarterback like Johnny Manziel running the show?
Jerry Jones has shown interest in Manziel in the past, but just the thought of him filling in for Prescott if needed should feel cringe worthy for Dallas fans. Not even having the league's top offensive line would help make things easier for Manziel since there's a good chance he would still find a way to struggle, and ruin the Cowboys chances of repeating as division champions if called upon.
This article originally appeared on