Road to Riches: Jamychal Green
Jackson Munyon/FanSided via Beale Street Bears

Fansided
JaMychal Green has found his niche as one of the best defenders at the 4 position. His stellar play will force the Grizz into a rough offseason decision.
Understanding Jamychal
To understand Jamychal Green, you first must go way back.
Green played his high school ball at St. Jude Educational Institute in Montgomery, Alabama, where he led his team to two state titles. The 5-star recruit and a McDonald's All American scored 2,500 points in his high school career..
He represents his hometown, as he looks to prove his doubters wrong. Just take a look at his Twitter feed (@jmyke1), and you will see several of his tweets ending with the hashtag 334, the area code for Montgomery.
What makes him different?
Undrafted players who are bumped around the D-league for several years usually don't make much of an impact in the NBA. They, certainly, don't often become starters for a team competing for a championship.
Once again, Jamychal Green paid no attention to the odds. He just kept working.
Replacing a legend
Former All Star and Memphis legend Zach Randolph summed up JaMychal Green's journey perfectly:
"He's tough. He's one of those guys that's hungry, having gone through the struggle. People who have gone through the struggle approach things different than people who ain't. They go harder, you know?"
That quote holds true based off his play. It seems as if every loose ball or hustle play involves JaMychal in some way. He, truly, gives it all he has each and every night, and it shows.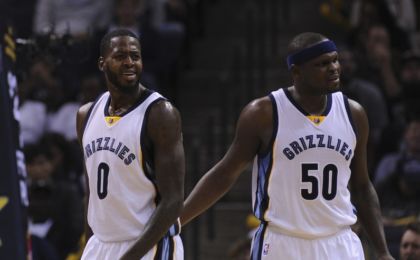 Defense wins championships
His particular style of play is crucial for the Grizzlies' hopes of a run at the NBA Finals not only this year, but for many years to come.
As the NBA's style of play is evolving, so are the players. It seems as if only yesterday that the league was dominated by post players. Now you have centers, such as Marc Gasol, hitting step back threes.
It's no question that Zach Randolph is the heartbeat of not only the Grizzlies, but the city itself. He plays with an intensity that is unmatched by most. As he continues to age, he has adapted to continue and dominate defenders on a nightly basis. However, it's difficult to ask a 35 year old man to go run around with Draymond Green and Anthony Davis.
This is where JaMychal Green comes into play.
JaMychal: the stopper
Standing 6 feet 9 inches and weighing 227 pounds, Green is 30 pounds lighter. He's much quicker and can play solid defense against some of the league's best players.
His defense is imperative, as he helps control the pace of the game and locks down opposing team's star players.
A prime example came on opening night. One minute and twenty-six seconds is all that remained with the Timberwolves trailing 93-94. Karl-Anthony Towns, one of the league's best young talents, received the inbound pass. He drove left and put up what would be a potential go-ahead shot.
JaMychal Green had other plans.
Instead, the Alabama product sent the ball into the stands and ignited the FedEx Forum and the Grizzlies offense. The following possessions included buckets from Gasol and Conley to seal the win.
Being assigned the task of guarding some of the most dynamic scorers in the league is no small feat, but Green's defied the odds. Because of his elite, ball-hawking defense, Jamychal was named Bleacher Report's Defensive Player of the Month.
Offensive Production
On the other end of the court, it's almost impossible to talk about Jamychal Green without bringing up his offense. It seems as if every game he is electrifying the crowd with a massive slam. We all know Jamychal has the potential to make SportsCenter's Top 10 every time he goes up for a dunk, but it's the less glamorous plays he makes that truly sets him apart.
The Montgomery native has averaged a little over 7 rebounds per game, including a career high 18 boards against the Trail Blazers.
With Marc's scoring production this season at an all-time high, it has been a major plus for Memphis that Jamychal has been able to handle the rebounding load.
Another major plus for Green this season has been his ability to take and make the three. Coach Fizdale elaborated on the combination that JaMychal and Marc bring to the table. "He really complements Marc [Gasol] well with his speed, his versatility, his ability to switch pick-and-rolls, trap pick-and-rolls and make open jump shots,".
Green's shooting 34% from beyond the arc this season, which is remarkable for a Power Forward. The Grizzlies can continue their NBA success, because everyone on the court is a potential threat from downtown.
Moving Forward
JaMychal Green has become a steal for the Grizzlies.
They basically found this guy from the street, and he has become an instrumental piece of both sides of the ball.
On January 1st, both Green and Vince Carter's contract became guaranteed. This is good news for Memphis fans who dream of a championship. He may not be there yet, but with time and coaching he has the opportunity to truly become a force in the league.
So, as we watch Jamychal continue to grow and develop, we need to take a moment and realize what we have. We have a warrior who's ready to battle each and every night. You can see that fire in his play, and the NBA better take notice, because JaMychal Green is here to stay.
More from Beale Street Bears
This article originally appeared on