San Francisco Giants: Buster Posey Potential Transition to Third Base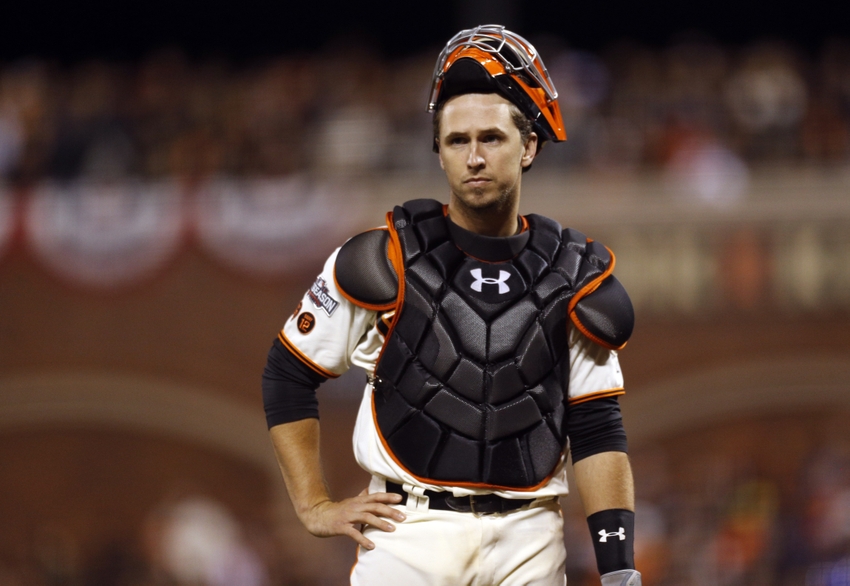 There comes a time in every catcher's career when he transitions from behind the plate to the field. That time might be on the horizon for San Francisco Giants catcher Buster Posey.
After eight remarkable seasons in the major leagues, Buster Posey is the poster child of the Giants. Since receiving the 2010 Rookie of the Year award, the extraordinary ballplayer maintained similarly high numbers throughout his career.
And now, three World Series championships and an MVP later, Posey's time time behind the plate might begin to decrease. His willingness to adapt for the good of his team might lead him to increase appearances at first base and, potentially, third base.
Stay with me, because this idea is not as crazy as it might sound.
More from Call to the Pen
Although Chris Haft of MLB.com only briefly mentioned the idea, it makes sense for Posey to play third base. Regardless of a gradual decrease since 2013, Posey is accustomed to playing roughly 24 games at first base per season. Compared to his .299 batting average when catching, he hit .340 with 22 homers in 165 games at first base. In fact, as his playing time at first base has gone down, so has his batting average.
When he played 33 games at first in 2014, Posey batted .311 while scoring and driving in 19 runs. Likewise, he batted .318 with 41 games at first base the following year. In comparison, Posey played 112 games as catcher and 11 games at first, finishing with a shrunken .288 batting average.
The difference between Posey's numbers behind the plate and in the field is something the Giants can no longer disregard. A shift to the field, regardless of where, could give the team a much needed offensive boost. Despite ranking 11th in baseball with their .258 team batting average, the Giants led only two teams with 130 homers. On top of that, San Francisco finished 19th with only 715 team runs.
However, the difference of severity between third and first must be taken into consideration. A mishandled ball at first is much less damaging than an error at third base. If Posey's transition to third is to become a reality, his experience at shortstop qualifies him to be a part-time third baseman.
The Giants acquired a solid defensive third baseman in Eduardo Nuñez last season, but he is one seasons away from free agency. With first baseman Brandon Belt under team control until 2022, hitting 15-plus homer and batting over .270 the last two seasons, Posey could ease the transition at third base if the Giants decide not to pursue Nuñez once his contract expires.
In addition, Johnny Bench successfully made the transition from catcher to third base during his career. Through his 17 seasons in the major leagues, Bench manned the hot corner in 190 games. He finished his career in 1983 with 42 games at third base, committing only six errors in 90 chances.
Not to mention, the ease of playing the field could affect the long-term success of his career. If the San Francisco Giants expect Posey to keep producing at the same rate, the strain of playing behind the plate a majority of his games will eventually catch up to him.
Needless to say, maybe Posey can man third base, instead of sliding head first into it.
This article originally appeared on