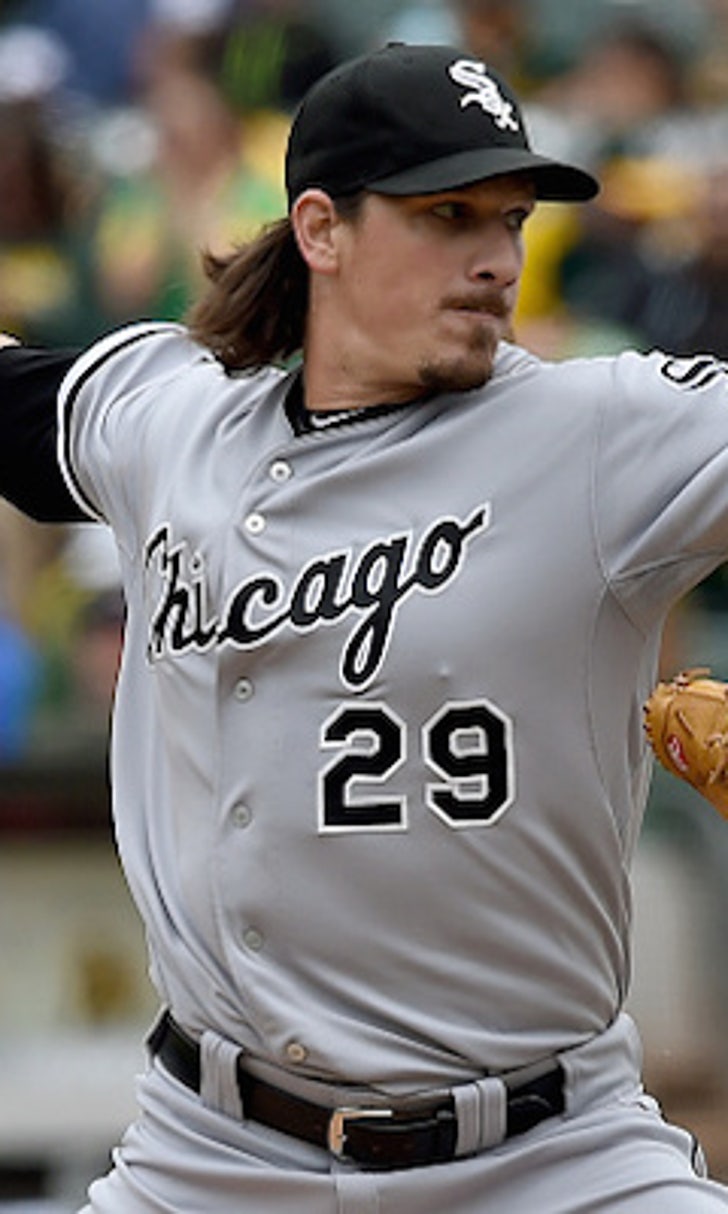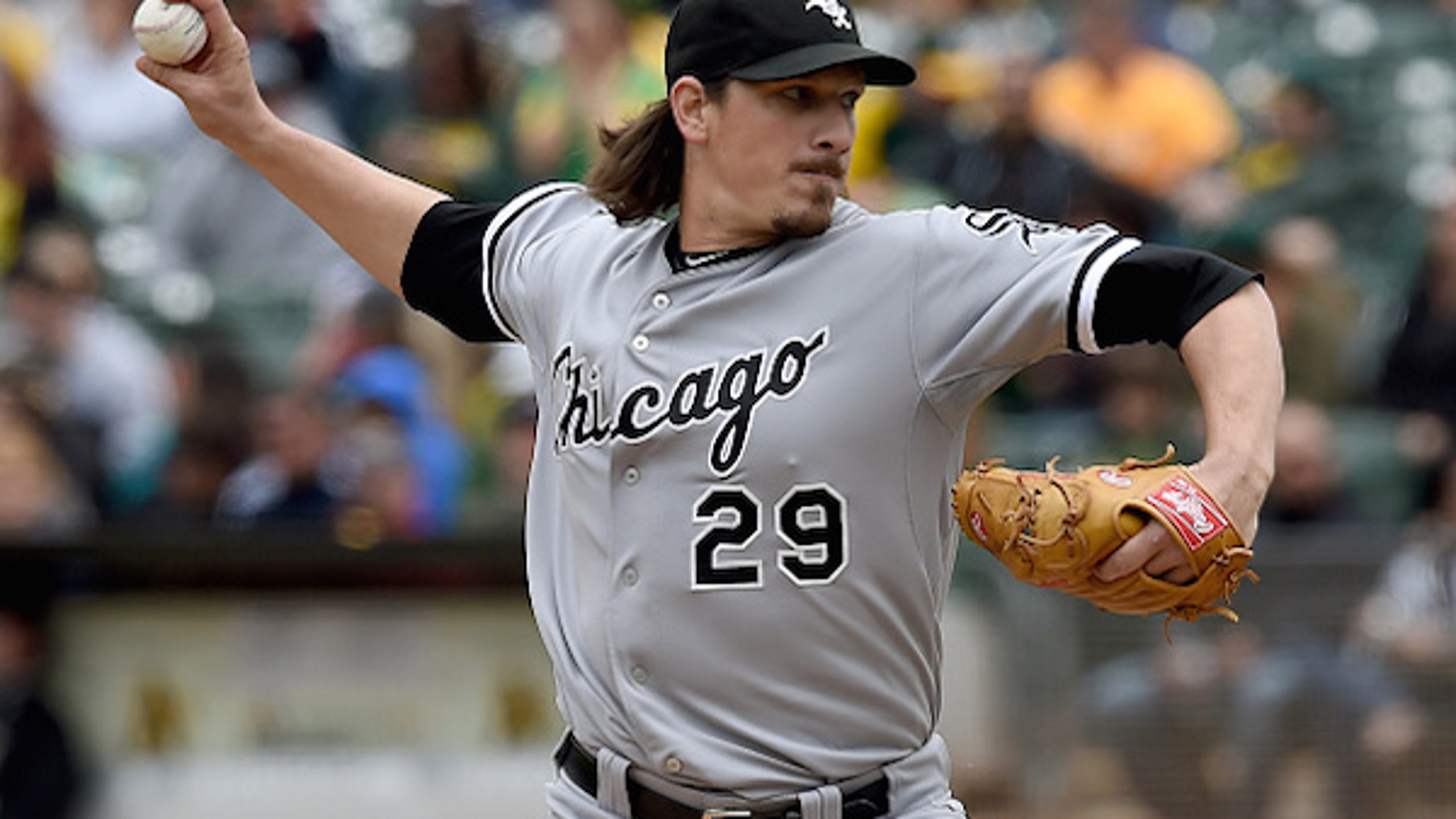 It's going to be a seller's market at the trade deadline this year
BY foxsports • June 11, 2015
By Joe Lucia
Hey MLB team – do you have assets you're looking to sell come July 31st? I've got some good news for you – you're in the minority! The trade deadline this year likely won't be all that active simply because of how bunched up the leagues are this season. Case in point, in the American League, the only team more than five games out of a playoff spot is the Oakland Athletics … and they have a +2 run differential for the season.
Aside from Oakland, which AL teams are going to sell at the trade deadline? After their offseason activity, Seattle and Boston won't. The only player Chicago *might* move is impending free agent Jeff Samardzija. Baltimore doesn't seem too inclined to deal while playing in a weak AL East.
The National League is more balanced, but only slightly so – there are *three* teams more than five games out a playoff berth in the Senior Circuit. But the Marlins aren't going to sell aside from maybe someone like Mat Latos, lest they want to incur the rage of Major League Baseball and superstar right fielder Giancarlo Stanton. Arizona already moved Mark Trumbo, and their most movable pieces are damaged goods – Aaron Hill and Addison Reed. The Reds are stubbornly refusing to move in one direction or another until after the All-Star Game, and their current three-game winning streak is probably giving them a bit more confidence than is rational.
That really leaves us with three teams that definitely look to be sellers at the trade deadline, six weeks out – the Athletics, Brewers, and Phillies. Oakland has some interesting names – Ben Zobrist, Scott Kazmir, maybe Billy Butler, Josh Reddick, or Ike Davis. But how much could they really get for any of those players? Zobrist and Kazmir are free agents at the end of the year are are on the wrong side of 30. While they both have positive attributes, they're not slam dunks. Butler was just signed this offseason, is still owed more than $20 million over the next two-and-a-half seasons, and has struggled at the dish for the second straight year. Reddick is hitting well, but hasn't been able to stay healthy throughout his career. Davis also got off to a good start, but is currently on the DL with a hamstring injury, and is a platoon bat (at best). None of those players are going to bring back an Addison Russell type in return. Now, if Oakland wants to talk about Sonny Gray? Then we could talk.
The Phillies are an interesting case, because they have plenty of players to move … but nearly all of them come with significant contracts. Ryan Howard's power is back? Cool – how much of the $35+ million left on his deal will the Phillies eat? Jonathan Papelbon is dominant once again? Awesome – do you plan on picking up that vesting option? Cole Hamels has rebounded from a poor start? Excellent – do you want to cover the $73.5+ million remaining for him? Ben Revere and Aaron Harang don't have that salary baggage, but what are you really getting with either? Revere doesn't hit all that well and is a better defender in a corner than in center, and Harang might be turning back into a pumpkin after getting shelled in his last two starts.
And that brings us to the Brewers, who have a couple of live-armed, overpaid relievers (Jonathan Broxton, Francisco Rodriguez), a couple of struggling, overpaid veteran starters (Matt Garza, Kyle Lohse), a couple of complimentary infield pieces (Adam Lind, Jean Segura), and a pair of potential franchise cornerstones that could result in them receiving hefty returns (Carlos Gomez, Jonathan Lucroy). What can Milwaukee really do aside from clear salary and hope some of their younger players step up into key roles? It's not a great situation.
The table is perfectly set for teams like the Reds, Braves, Rockies, Padres, White Sox, and Blue Jays to cash in at the trade deadline. The Reds have a pair of rental starters, Johnny Cueto and Mike Leake, making less combined this season than Cole Hamels. They have a dominant closer, Aroldis Chapman, that actually looks like a bargain at $8.05 million this year, and is still under control through 2016. Before heading to the DL with a wrist injury, Marlon Byrd had turned on the jets after a slow start, and has a reasonable $8 million club/vesting option for 2016. Jay Bruce and Brandon Phillips both have unwieldy contracts, but both are at least showing a pulse this year.
Atlanta doesn't have much to trade aside from complimentary pieces, but they've shown that they're willing to accept high risk, high reward players in returns. Veterans like AJ Pierzynski, Jim Johnson, and Juan Uribe are both free agents after the season, and both could help contenders. Jonny Gomes has stunk, but it's going to take some effort for his 2016 option to automatically vest, and he's still smashed lefties this year. Jason Grilli has been hit and miss and is signed through next year, but $3.75 million guaranteed is a drop in the bucket. But the most interesting potential trade option for the Braves is center fielder Cameron Maybin, who has benefited from a change in scenery and has hit more homers and stolen more bases in 2015 than he did in 2013 and 2014 combined.
Maybe I shouldn't have brought up the Rockies, because they don't have a lot of assets to move right now. Rafael Betancourt had fantastic peripherals this season despite a horrendously low strand rate, but is on the DL with vertigo symptoms. Veteran closer John Axford has allowed just one run all year, but has benefited from a high strand rate and low BABIP. Drew Stubbs and Carlos Gonzalez have been awful this year, and their trade value is in the dumps. Wilin Rosario didn't have a position to start the season, but has started getting reps at first base with Justin Morneau unfortunately dealing with another concussion. There's also The Troy Tulowitzki Question, which will never go away until Tulowitzki is traded or retires.
The Padres have crept their way back into contention, but if the bottom falls out again, why wouldn't they at least consider moving Justin Upton, Ian Kennedy, Joaquin Benoit, Will Venable, or Shawn Kelley? Kennedy, Benoit, and Kelley have all struggled this year, but none are all that expensive and could rebound with a new team. Upton and Venable are both free agents after the season, and both have played extremely well in San Diego this year.
After their spending spree this winter, the Chicago White Sox don't seem likely to sell off many (if any) players this summer, despite their struggles in the early going of 2015. But why not at least float players like Alexei Ramirez, Gordon Beckham, and the aforementioned Samardzija if the AL Central remains a meat grinder? Ramirez has been bad, Beckham has been adequate, and Samardzija has been unlucky, but all could be playing elsewhere next year anyway.
And then, there's the Toronto Blue Jays, who have been primed for a run in the AL East for something like the last three years, and haven't done much of anything. Dioner Navarro is a free agent after the year and has played in just 12 games this year, but he's an adequate starting catcher in this league…and those guys don't grow on trees anymore. Mark Buehrle is also a free agent after the season, and is making a ton of money, but he could be a stabilizing force for a team looking for a veteran innings eater. R.A. Dickey has struggled in Toronto, but has a $12 million club option for 2016 and may benefit from a new location for his knuckleball. The two elephants in the room are sluggers Jose Bautista and Edwin Encarnacion, who are both hitting the bejeezus out of the ball and have affordable club options for 2016. Imagine what Toronto could get in return for either of those, especially in a market largely devoid of right-handed power.
This is why we're looking at a seller's market this year – the introduction of the second Wild Card makes everyone think they can compete. It usually doesn't work that way, though. The Braves were seven games over at the 2014 deadline, acquired bench and bullpen help, and had the second-worst record in the NL after the deadline. The Marlins were two games under, bought high on Jarred Cosart, and were better than just the Braves in the NL East after the deadline. The Red Sox traded nearly every asset they had, and finished with a better record post-deadline than the Athletics, who acquired Samardzija, Jon Lester, and Jason Hammel. The action was seemingly inspired by the lack thereof at 2013 trade deadline, when the biggest names moved were Jake Peavy, Bud Norris, and Ian Kennedy. All ten teams in playoff position on July 31st made the playoffs once all the dust had settled.
So what's the general conclusion here? If you've got the horses to sell, slap a tag on them and move those pieces. If you're teetering on the brink of contention, take a step back, start thinking rationally, and try to extract maximum value from teams ahead of you in the standings. Yes, it's conceivable that the Reds can win eight in a row and pull level with the Cubs and Pirates in the NL Central – but it's more likely that the team will continue to flounder about in fourth place, and that's likely where they'd also be if they moved some of their most desirable stars.
More from The Outside Corner:
---
---