MLB: The Five Best Front Offices in Baseball Right Now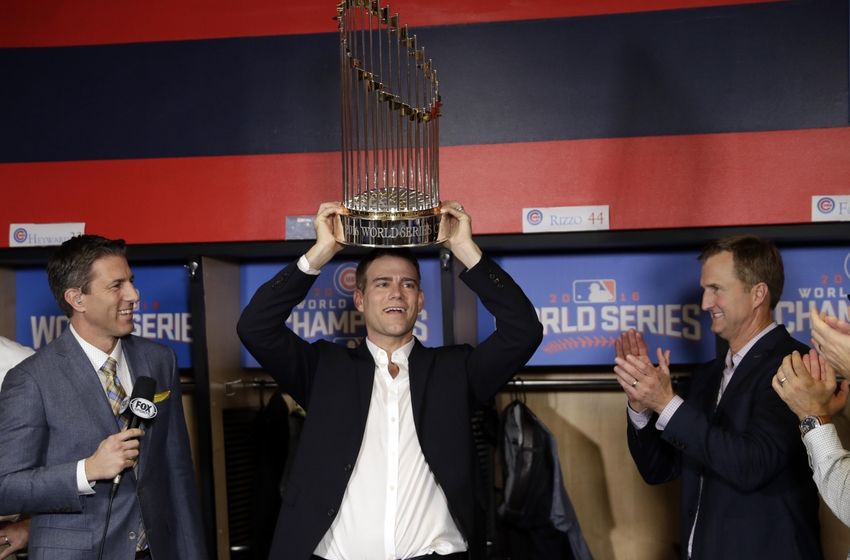 No matter what resources a team has, a stellar front office can make a major difference in their success. Which MLB teams have the best front offices in the game?
MLB Winter Meetings are underway, and if tradition holds, there will be some transactions made in the next couple of days that will have an enormous impact on the games we watch in October 2017.   We can expect to see some big free agent signings, mammoth trades and a surprise or two that breaks the bank.
The brain trusts of thirty MLB teams are packed away in hotel suites in National Harbor, Maryland shaping the summer of 2017.  Baseball fans see it every season how an organization's actions over the course of the winter can raise or dampen enthusiasm ahead of the upcoming season. How confident are you with your team's front office?  It is a completely subjective exercise of course but whether you value prospects in the pipeline, blockbuster deals or cost-effective under-the-radar signings, one thing that matters is results and this top five consists of teams that were all playing baseball this past October.
So let's take a look at the top five front office teams in MLB to help you feel better or worse about your chances for the upcoming season.  Depending on what happens at this week's Winter Meetings, we reserve the right to change this list more than once based on what is turning out to be an active few days on the Hot Stove.
Cleveland Indians / Chris Antonetti
Although a lot of the credit for the make-up and organizational philosophy in Cleveland is given to the President of their ALCS opponents, Chris Antonetti and Mike Chernoff followed the road map Mark Shapiro left them when he went to Toronto and it led them to extra-innings in Game 7 of the World Series.  Of course, the only parade in Cleveland this year has been for basketball but this a team on the upswing with a flexible payroll that should have a chance to compete for titles going forward.
Home-grown assets like Francisco Lindor and a steady organizational philosophy are the blueprint for success in a small market and Cleveland looks to have staying power as Lindor, a healthy Michael Brantley and a top 5 rotation should allow them to keep payroll steady and hold off the Tigers and Royals in the AL Central.
2016 Results: AL Central Champs; 94-67 (AL Pennant Winners)
Cost per Win (2016): $1,220,296.47  (Rank: 4th)
Best Winter Moves:  Trevor Bauer (2012)
Other Impressive Moves:  ALCS MVP Andrew Miller trade (2016)
Top Talent Coming Soon:  Francisco Mejia (C), Bobby Bradley (1B), Bradley Zimmer (OF), Brady Aiken (SP)
What Can We Expect From the AL Champs this week?  Low-key, 2nd tier signings which in this Free Agency class is a good thing
Boston Red Sox / Dave Dombrowski
This might be a bit of a legacy award.  Dombrowski's first key moves with Boston were to make David Price a rich man and trade for Craig Kimbrel from the San Diego Padres.  While these moves did not revolutionize the game, they did help the Red Sox capture a division title in the very competitive AL East of 2016.
That said, the two best Winter Meeting moves of the last ten years belong to Dombrowski while he was with the Tigers.  In 2007, Dombrowski traded his top two prospects at the time — Cameron Maybin and Andrew Miller (that kind of worked against him in Boston this postseason) for a 24 year old Miguel Cabrera.  In 2009, Dombrowski was the architect of a three-team deal that would land his club future Cy Young award winner, Max Scherzer.
Can Dombrowski recreate his Winter Meeting magic from his days in Detroit?  Having had over a year now to evaluate what he has in Boston, it would not be a surprise to see the Red Sox make a blockbuster move or two at these Meetings to stay on top in the AL East.
2016 Results: AL East Champs; 93-69
Cost per Win (2016): $2,313,616.52  (Rank: 26th)
Best Winter Moves: FA Signing of David Price from division rival; trade for a top closer in Craig Kimbrel; acquire Carson Smith
Other Impressive Moves:  While with Detroit, Dombrowski traded Rick Porcello to Boston in 2014 and followed him there in 2015.  A premonition perhaps?
Top Talent Coming Soon: Yoan Moncada (IF), Andrew Benintendi (OF)
What Can We Expect From the Red Sox this week?   A trade of their top talent for Chris Sale, replace Big Papi's middle-of-the-order bat, shed bad contracts given out by the previous regime
Texas Rangers / Jon Daniels
After completing his 11th season as GM in 2016, Jon Daniels has molded the Rangers into consistent winners.  In the last seven seasons, the Rangers have made the playoffs in five of them.  While they have yet to win a World Series, they came achingly close in 2011 and posted the best record in the AL this season.   The last two July trade deadlines have seen them cash in a volume of prospects to upgrade at catcher (Jonathan Lucroy) and ace (Cole Hamels).  Those moves have depleted their minor league assets but because of their front office moves, there is little doubt that they will be among the contenders in 2017 in the challenging AL West.
While recent signing Andrew Cashner helps the back end of the rotation, Daniels is creative when it comes to solving roster problems and will be aiming to resolve bigger needs.  If at the end of these Winter Meetings, he brings a lead-off hitting, defensive centerfielder like Lorenzo Cain back to Arlington as well as a number 3 SP in a lopsided trade, would anyone be surprised?
2016 Results: AL West Champs; 95-67
Cost per Win: $1,773,905.16 (Rank: 14th)
Best Winter Move:  Adrian Beltre signing (2011)
Other Impressive Moves: Cole Hamels trade (2015), Jonathan Lucroy trade (2016)
Top Talent Coming Soon:  Ariel Jurado (SP), Andy Ibanez (IF)
What Can We Expect From the Rangers this week?  Centerfielder trade rumors, a move for a Number 3 SP
San Francisco Giants / Brian Sabean
Something felt off this year for Giants fans as it was an even numbered year and they didn't win the World Series.  Champions in 2010, 2012, and 2014, the Buster Posey era has been more fruitful than the Barry Bonds era.  Long-time GM Brian Sabean was responsible for putting both of those teams together and the Giants seem to be perennial contenders – in even-numbered years anyway.
Despite it being an odd numbered year, the Giants have one of the best rotations in baseball and are probably a closer and another impact bat away from turning the world upside down and qualifying for the post-season in 2017.   If the rumored signing of Mark Melancon is true, it sounds like they will be spending the rest of the Winter Meetings focused on hitters.
2016 Results: NL Wild Card; 87-75 (2nd NL West)
Cost per Win (2016): $2,104,333.84 (Rank: 25th)
Best Winter Move: Signing SP Johnny Cueto (2015)
Other Impressive Moves: SP Matt Moore trade (2016)
Top Talent Coming Soon: Christian Arroyo (IF), Tyler Beede (RP), Chris Shaw (1B)
What can we expect from the Giants this week?   Top 3 Closer like Mark Melancon; J.D. Martinez trade with Detroit
Chicago Cubs / Theo Epstein
When you are responsible for ending both the Curse of the Bambino and the Curse of the Billy Goat and sweeping aside a combined 194 years of baseball misery for sport's two most beleaguered fan bases, you are the leader of the best front office in baseball and without a doubt, you have punched your ticket to Cooperstown.   Theo Epstein and the Cubs' front office set out to win a World Series within five years and not only accomplished it but with a pipeline of young talent, the Cubs look to be on the verge of competing for a couple more titles in the next five seasons.
How hard will it be to repeat?  Hitting, defence and starting pitching as well as an innovative manager are all positive factors in Chicago's favor going into 2017.  However if Aroldis Chapman isn't resigned, a closer becomes the highest priority for the Cubbies.  When that replacement comes either from on the roster or via under-the-radar trade, expect a creative choice to fill the void that will no doubt be seen as another great move by the best front office in the game today.
2016 Results: World Series win; 103-58 (7.5 game lead over MLB's 2nd place team)
Cost per Win (2016): $1,829,149.46 (Rank: 21st)
Best Winter Meeting Moves: Free agent signing Ben Zobrist and John Lackey (2015) and Jon Lester (2014)
Other Impressive Moves: Trade Andrew Cashner for Anthony Rizzo (2012); trade Scott Feldman and Steve Clevenger for Jake Arrieta, Pedro Strop and cash
Top Talent Coming Soon: Ian Happ (2B), Jeimer Candelario (3B), Eloy Jimenez (OF)
What can we expect from the Cubs this week?  Figure out their Closer situation; trade surplus OF for young SP
More from Call to the Pen
This article originally appeared on