How Pablo Sandoval has been a total disaster for the Boston Red Sox
When Pablo Sandoval was benched for Opening Day in favor of up-and-comer Travis Shaw, the moment went down as the latest low of what has thus far been a miserable career with the Boston Red Sox for Sandoval.
The Red Sox paid a high price in order to sign Sandoval to a five-year contract in November 2014 worth a reported $95 million. But unfortunately for the Red Sox, Sandoval has not managed to show he deserves that deal in his year-plus with the team.
When Sandoval arrived at Red Sox camp for spring training in 2015, he was just as big as he has always been. Sandoval's hefty frame did not go over well with the Boston media, but the Red Sox brushed off concerns about Sandoval's weight by saying they have always known the third baseman is more rotund than the average player. They asserted that he could still perform despite his extra size, so it was then up to Sandoval to prove to the fans and the media that his weight would not get in the way of a productive season.
Panda failed miserably at that task. The Venezuelan's health seemed to suffer over the course of the season, as he battled dehydration and pneumonia last year and did not perform well at the plate or in the field.
Sandoval's shortcomings at the plate read like a grocery list. He recorded career lows for a full season in runs (43), total bases (172), home runs (10), RBI (47), on-base percentage (.292), slugging percentage (.366) and OPS (.658). Sandoval also recorded the second-most errors of his career (15) in 126 games with the Red Sox last season.
There were off-field issues too. Sandoval created an uproar in June when he was caught using Instagram during a game — a violation of MLB's rule prohibiting players from using social media during a game — and he was subsequently benched by the Red Sox. The move went over very poorly with a fan base still scarred from its team's chicken-and-beer clubhouse fiasco from 2011.
Sandoval benched, admits that was him liking photos of woman on Instagram during game Said he was using bathroom at the time

— Gordon Edes (@GordonEdes) June 18, 2015
The third baseman's 2015 season came to an unceremonious end when the Red Sox decided to shut him down for the year following a bout of pneumonia in September.
During the offseason, numerous members of the Red Sox brass talked about encouraging Sandoval to lose some weight, but Boston fans seemed resigned to the idea that Sandoval was a lost cause.
A Red Sox fan managed to make his way into the Giants' annual Fan Fest early in February, and he asked Giants manager Bruce Bochy if he would be willing to take back Sandoval.
The Red Sox PR campaign to improve Sandoval's image continued throughout the winter, however, as manager John Farrell told media members and fans at the Boston Baseball Writers dinner in January that Sandoval lost about 20-22 pounds. The wait was on to see what Sandoval would look like when he arrived at spring training in February.
But there was no happy ending to the weight saga. Sandoval reported to camp a day after he claimed he would show up. He looked just as large or possibly even bigger than ever. To make matters worse, he contradicted Farrell's claims of a specific weight loss by telling reporters he did not weigh himself at all over the offseason. Sandoval said he simply tried to get better at his position instead.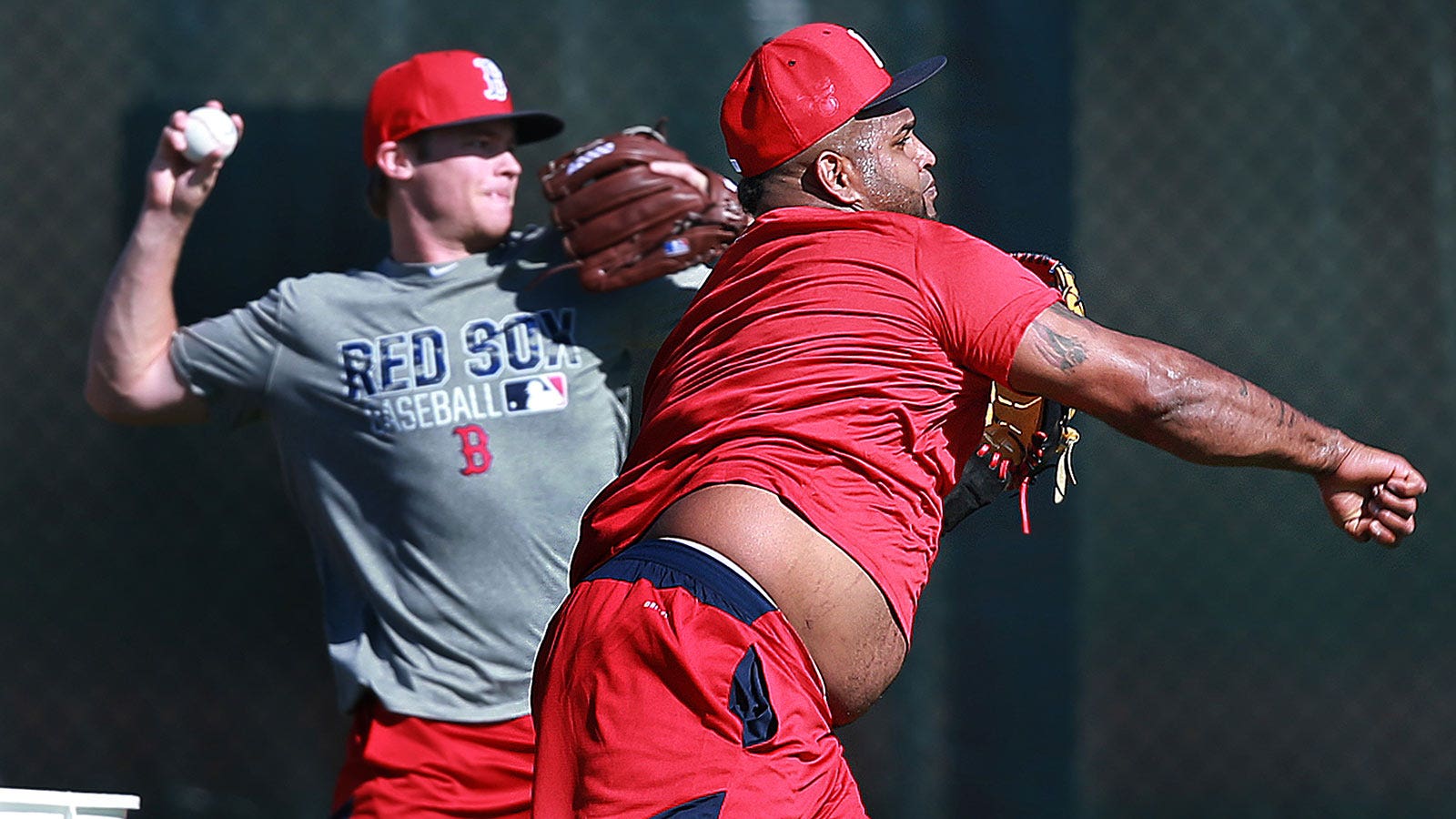 In a market like Boston, any failure to live up to expectations creates a ton of scrutiny, and discussion over Sandoval's weight reigned in Boston for days after his arrival at camp. The Red Sox brass had to scramble to cover their tracks.
Farrell revised his specific weight statements by saying that the team never gave Sandoval a specific number to reach in terms of weight loss. Owner John Henry tried to claim Sandoval reduced his body fat ratio to 17 percent.
But Red Sox chairman Tom Werner admitted on WEEI's Dennis & Callahan show that he was worried about Sandoval's weight.
"As a fan, of course I'm disappointed," Werner told WEEI. "You see that picture, and if a picture's worth a thousand words, you're disappointed."
The pressure was on, then, for Sandoval to prove in spring training that he was an improved player from the 2015 season. Once again, Sandoval failed.
He recorded a .244 batting average in March and totaled four errors in 16 games.
Sandoval's best defensive play of the spring — a diving grab on a Giancarlo Stanton groundball –€" cost him, as Sandoval injured his back on the play and was ruled out for a few games due to back stiffness. If the Red Sox were already concerned about Sandoval's defense, it is extremely concerning that Sandoval's decent plays in the field came at the expense of his health.
So the announcement Thursday that the Red Sox decided to start Travis Shaw at third base on Opening Day over Sandoval comes as no surprise to anyone who has been following Sandoval's career in Boston. The question now is where Sandoval goes from here. Can he recover from this latest low and salvage the remaining four years on his contract in Boston, or do the Red Sox give up on Panda?