Yankees Prospect Dillon Tate to Work as a Starter in 2017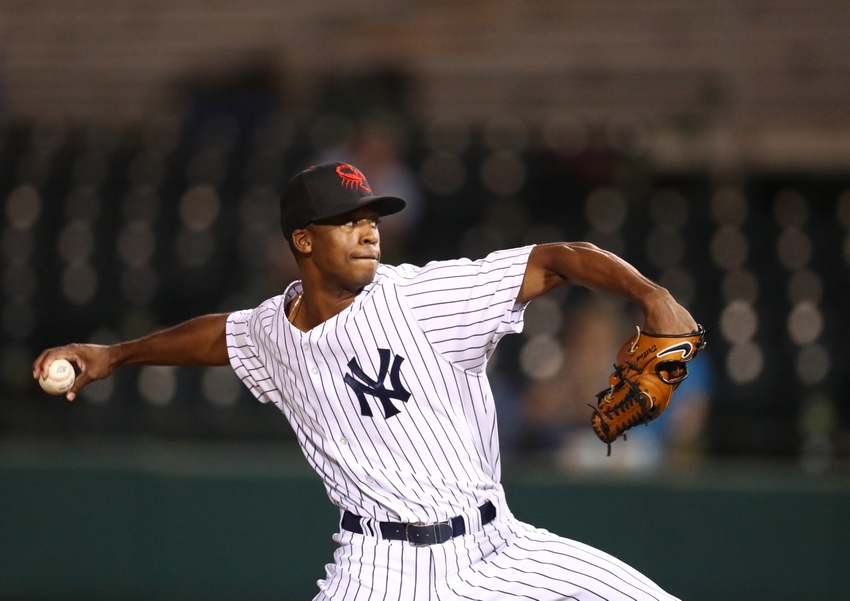 New York Yankees pitching prospect Dillon Tate will return to a starting role in 2017 after working out of the bullpen in the second half of last season.
Dillon Tate has looked fantastic for the most part during his first six appearances in the 2016 Arizona Fall League. He's struck out 11 and walked just one over 9.2 innings of work. He has allowed four earned runs on two homers, but has otherwise dominated opposing batters.
Selected fourth overall in the 2015 draft by the Rangers, Tate was seen by many as a potential steal when he was acquired for two months of 39-year-old Carlos Beltran at the August 1st trade deadline.
Although he was seen by many prospect evaluators as a potential front-line starter prior to being drafted, as a professional Tate struggled to maintain the mid-to upper-90's that had made him a star in college. He was throwing in the upper 80's and low 90's with the Low-A Hickory Crawdads to begin the year, pitching to a 5.12 ERA and 1.615 WHIP in 65 innings as a member of their rotation.
After coming over to New York, the front office moved him to the bullpen for the remainder of the year, reportedly so they could have more control over his outings and work on his mechanics. The work has paid off as Tate is back to throwing 94-97 mph, but it has been an open question whether he is better off as a starter or a reliever long-term.
At the annual General Managers Meetings last week, Yankees GM Brian Cashman put that debate to bed (for now), confirming the team does plan to move Tate back to the rotation in 2017. He was very complimentary of the progress Tate had made since joining the organization, telling Brendan Kuty of NJ Advance Media:
It's been good since we got him. We kind of let him go back to some of his mechanical ways before they made changes with him in Texas, and the velocity came back.
Want your voice heard? Join the Yanks Go Yard team!
While many evaluators have opined that Tate is probably best suited to the bullpen, I do think giving him a shot to stick as a starter is probably the smart move. A little over a year ago he was one of the most highly-regarded arms in his draft class with many forecasting him as a solid number two starter down the road.

The Yankees have plenty of interesting relief prospects, but very view guys with that kind of ceiling in the rotation. They need to give him every chance possible to fulfill that potential.
This article originally appeared on