Yankees: Gary Sanchez Among Finalists for AL Rookie of the Year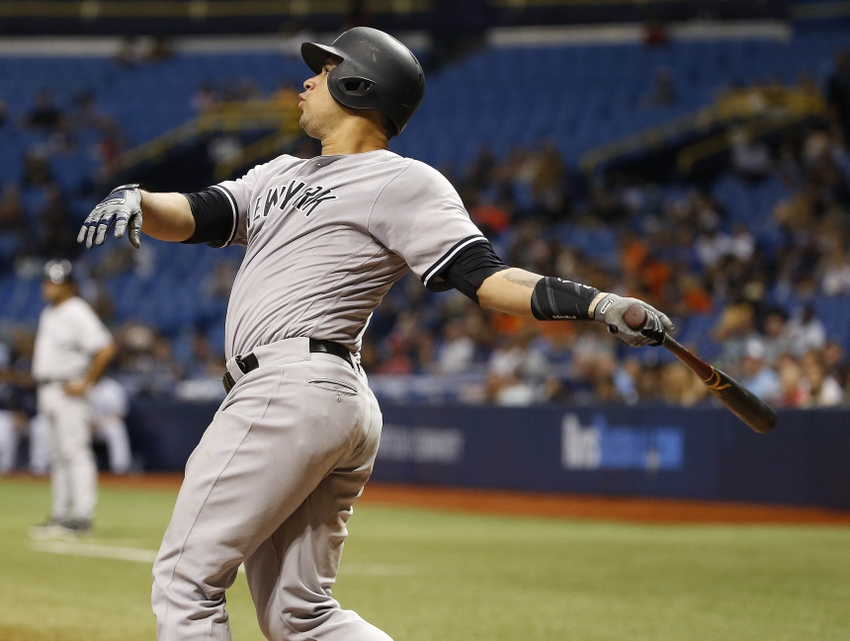 New York Yankees catcher Gary Sanchez is one of the three finalists for the 2016 American League Rookie of the Year Award.
On Monday, Major League Baseball and the Baseball Writers Association of America revealed the three finalists for the 2016 American League Rookie of the Year Award. They are starting pitcher Michael Fulmer of the Detroit Tigers, outfielder Tyler Naquin of the Cleveland Indians, and catcher Gary Sanchez of the New York Yankees.
Let's all take a moment to appreciate how incredible it is that Sanchez is even a serious candidate for this award despite playing less than two months of the 2016 season. Fulmer and Naquin both put in full seasons this year, and it isn't all that hard to make the argument that Sanchez was more valuable to his club this year in roughly a third of the playing time of his two rivals for the award.
Sanchez was the most dominant force in baseball for the final two months of the season, hitting .299/.376/.657 with 20 home runs and 42 RBI in 229 plate appearances (53 games). He has a pretty strong case for having the most impressive debut of any player in the history of the game. I've honestly never seen anything like what he did in my 20 years as a fan of the team.
If Sanchez had done all of this as a DH or hulking left fielder that would have been impressive enough, but he did it while taking over the starting catcher role mid-season at age 23, one of the most mentally and physically demanding positions in all of sports. Incredibly, he made that look easy too, taking command of a veteran pitching staff without missing a beat and drawing rave reviews from coaches, teammates, and opponents for his work behind the plate, especially his ability to shut down the running game.
In most seasons, that performance would have been enough to make Sanchez the clear favorite for the award. Unfortunately for him, Tigers starter Michael Fulmer was one of the American League's best starters this year, pitching to a 3.06 ERA and 3.76 FIP in 159 IP (26 GS). He fell just short of qualifying for the ERA title, but would have ranked third if he'd collected enough frames.
Want your voice heard? Join the Yanks Go Yard team!
According to Baseball-Reference, Fulmer was easily the most valuable of the three finalists at 4.9 WAR. With 3 WAR, Sanchez does edge out Naquin (2.7 WAR), who had a solid year, but doesn't quite have the numbers to stack up with the other two candidates. For what it's worth, Sanchez was slightly more valuable than Fulmer according to FanGraphs' wins above replacement metric (3.2 vs. 3 WAR).
The results of the voting will be announced on November 14th. It would be fun to see Sanchez win, but ultimately it will probably go to Fulmer, primarily because of the playing time disparity.
This article originally appeared on