The Cubs have given Dexter Fowler a qualifying offer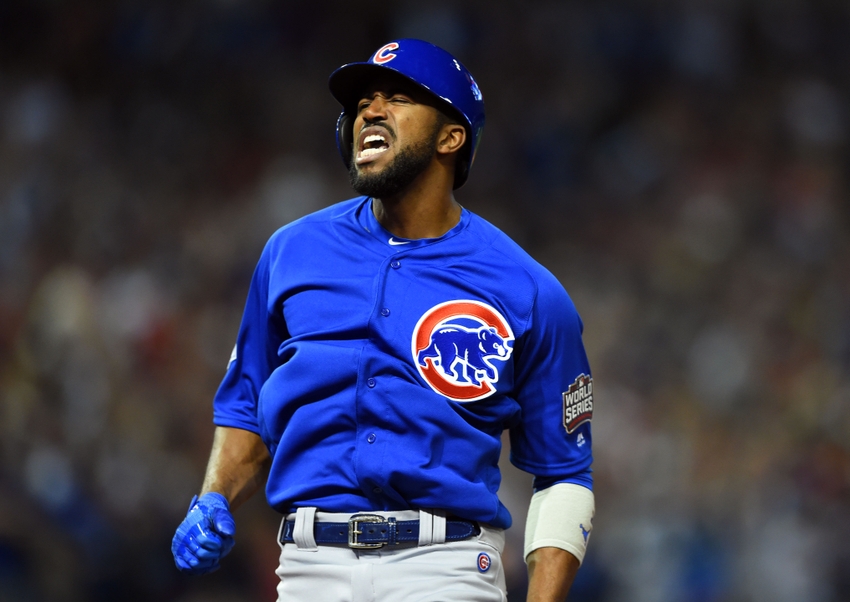 The Chicago Cubs have given Dexter Fowler a qualifying offer worth $17.2 million.
Just days after news broke that Chicago Cubs center fielder Dexter Fowler was declining his second year option worth just $9 million, the World Series champions have made another qualifying offer.
Since then, teams such as the St. Louis Cardinals, Seattle Mariners and the San Francisco Giants have expressed serious interest in the 30-year-old outfielder. The Cubs presented Fowler with a $17.2 million qualifying offer, but it's rumored that he will decline that as well, per MLBtraderumors.com.
Simply put, the Cubs will have to empty their wallet dry if they plan to re-sign Fowler (with money they do happen to have). Despite having a youthful core consisting of Kris Bryant, Anthony Rizzo, Addison Russell and Willson Contreras, the veteran Fowler was arguably the most important piece of this World Championship puzzle.
Fowler is fresh off one of the best statistical seasons of his career. The 2016 season saw him bat .276 while slugging 13 home runs from the lead-off spot in the Cubs' batting order. His productivity from the one-spot ultimately earned him a trip to the Midsummer classic.
While he missed the game due to fear of re-injuring his ailing hamstring, Fowler was able to prove his worth to the Cubs by vastly improving his defensive skills in center field. Fowler is also an extremely patient batter with switch hitting capabilities; a talent that makes him extremely valuable. His .393 on base percentage was one of the best in baseball last season among qualified hitters, so his hole in the lineup would be noticeable early in the 2017 season. This winter's free agency class is so full of corner outfielders like Yoenis Cespedes and Jose Bautista, so Fowler is arguably the hottest commodity of them all given his abilities in center field.
With Fowler likely to decline the most recent offer, the bidding war is set to begin at nearly $20 million a season. Fowler is younger than virtually all other big name outfielders on the market, so it is fair to assume he is going to attract the most attention. If the Cubs and Fowler cannot work out a deal, the probable 2017 opening day starter in center field will be Albert Almora. That is, unless the Cubs decide to move Gold Glove outfielder Jason Heyward to center and let Kyle Schwarber and Ben Zobrist handle left and right field, respectively.
Chicago Cubs President of Baseball Operations Theo Epstein will have to make a decision relatively soon. Fowler wants, and probably deserves a lengthy contract now that he has his World Series ring.
This article originally appeared on