Texas Rangers: The Ian Desmond Experiment Has Been a Success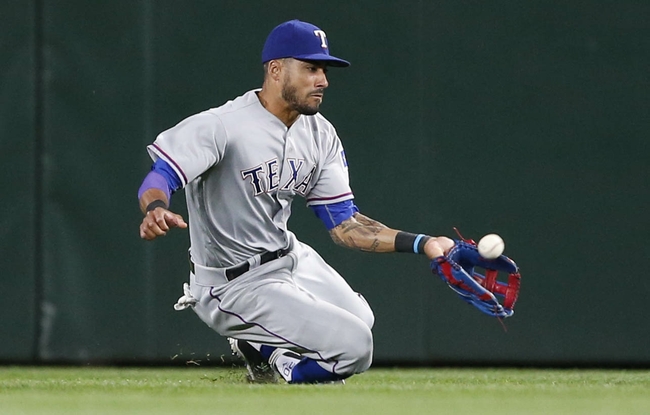 After turning down a hefty contract extension from the Washington Nationals that ultimately backfired following his dismal 2014-15 seasons, Ian Desmond is having a career-year playing for a new team and new position.
If you're having a rough day, just remember that newly-minted Texas Ranger Ian Desmond is playing for $99 million less than what he could've been making had he signed the contract extension that was offered to him back in 2014.
In hindsight, it's easy to criticize Desmond for rejecting $107 million in guaranteed money from the Washington Nationals. But when you look at it from his point of view, it's not as crazy as it seems. The deal would have been below market for a shortstop, considering that Elvis Andrus – his current Rangers teammate and a lesser offensive player – had just signed a $120 million contract.
More from Call to the Pen
Desmond felt he deserved more and rightfully so, as he was coming off two seasons in which he led all big league shortstops in Wins Above Replacement while finishing in the top three in nearly every major offensive category. The two parties never quite saw eye-to-eye and were unable to strike a deal before the 2014 season. It all went downhill after that.
Desmond's production began to tail off but not to the point where it would have much, if any, affect on his future contract negotiations. Then 2015 rolled around and wound up being a disaster of epic proportions for the 30-year-old, hitting a paltry .233 while striking out a career-high 187 times.
Despite Desmond's lack of contributions, the Nationals still made him a $15.8 million qualifying offer during the offseason, but he decided to turn that down and take his chances in free agency – only to find his down year and the draft-pick compensation attached to him suppressed his market. It also didn't help that there simply weren't many contending teams looking to upgrade at the shortstop position.
Then, out of nowhere, the Texas Rangers signed him to a one-year deal in late February in what was a head-scratching move given the surplus of infielders already on the club's roster. As it turned out, the Rangers wanted his services for the outfield, a position in which Desmond had played only three times professionally prior to this season. It was a risky decision on general manager Jon Daniels' part to add $8 million to the budget and cede the 19th overall pick in this year's draft for what amounted to basically an experiment.
The deal, however, has ended up being a bargain and is paying huge dividends for a Rangers team that has the second best record in all of baseball. Desmond ranks in the top five in WAR (4.1), batting average (.292), runs batted in (81), runs scored (96), and stolen bases (20) among all American League outfielders. He's been a stabilizing presence in the two-hole for manager Jeff Banister and is on track to set career highs in nearly every offensive category.
While his transition from shortstop to center field has had its fair share of hiccups (leads all outfielders with nine errors), Desmond has far exceeded expectations and has shown the ability to be an above-average outfielder in the big leagues.
Among AL outfielders, Desmond is 13th in ultimate zone rating and fifth in outfield arm runs, which measures arm strength by taking into account what runners do on the basepaths when a fielder has the ball. Not only has he prevented runners from advancing, but he continues to throw out those who test his cannon. Desmond has eight outfield assists including a 95 mph laser to nab Jason Castro at the plate uncontestedly:
It's understandable that the Houston Astros would attempt to run on a guy who basically spent his entire big league career in the infield until this season, but shortstops often have strong throwing arms, and Desmond is no exception. He's garnered the respect of third base coaches around the league to hold up the stop sign when the runner has thoughts of scoring.
Desmond is eligible for free agency again this upcoming winter, and there's no question he'll get paid this time around after a bounceback season.
This article originally appeared on