St. Louis Cardinals: Best Moments of Matt Holliday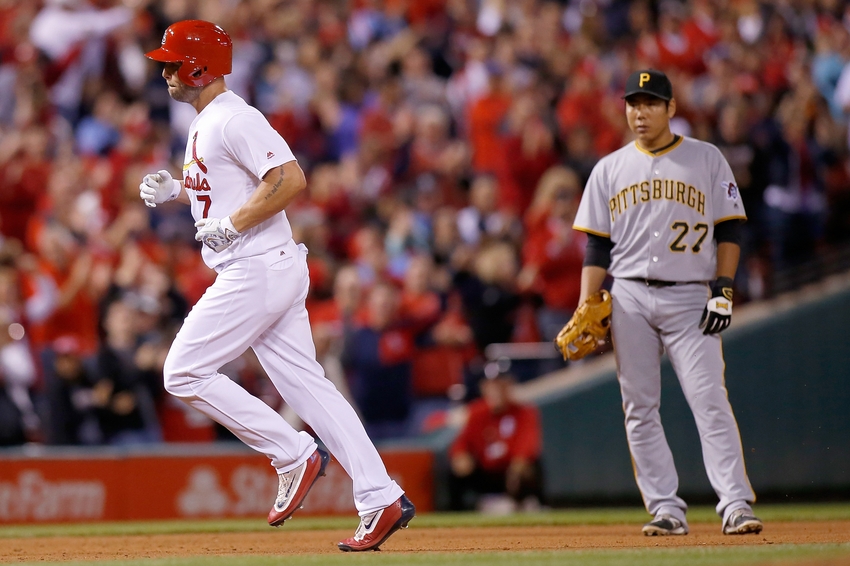 The St. Louis Cardinals recently announced that will move Matt Carpenter to first base full-time next season. With this news, it does everything but put the nail in the coffin of any hopes that Matt Holliday could return to St. Louis next year.
The St. Louis Cardinals and Matt Holliday have officially split paths. Holliday was definitively announced as the final free agent of the 2017 offseason Thursday.
In a perfect world, your favorite team and favorite players would never part with each other, but at the end of the day, it's still a business and needs to be ran accordingly. Matt Holliday was a cornerstone of this team since he was acquired so losing him brings some melancholy thoughts.
Some fans may have been frustrated with him throughout his eight years with the St. Louis Cardinals, but no one can discredit what he did for the team.
He played 982 games over his eight years, never having any injury problems until his age 35 and 36 seasons, the past two years. His ability to secure the left field position during his stint with the Cardinals was extremely valuable.
Holliday was a force in the middle of the lineup through his Cardinals year. Pairing him and Albert Pujols was a brilliant move by the front office. He has a slash line of .293/.380/.494 that has to be among the league's best since he arrived in St. Louis. He also accumulated 156 home runs, 616 RBI, and over 1,000 hits.
He provided numerous moments that made St. Louis Cardinals fans proud, all the way up until his last at-bats with the team. An injury riddled-2016 wasn't exactly the way Holliday and his fans wanted to see his career in St. Louis end, but he left us with one last thrill to remind us of the good ole days.
Many, including myself, believed that Holliday could get another run with the Cardinals, but it looks unlikely now. It isn't for sure that Holliday's days in St. Louis are numbered, but with the announcement of Matt Carpenter moving to first, it limits options for Holliday to be in the starting lineup.
When competitive teams like the Boston Red Sox and Cleveland Indians have potential openings at the DH spot, Holliday could find better use of his time in the American League.
But without further delay, here's my personal goodbye to Matt Holliday and a list of the five best moments of his time as a Cardinal.
Number 5. The Trade
This is undoubtedly one of John Mozeliak's best acquisitions for the St. Louis Cardinals since he took over after the 2007 season. In the middle of the 2009 season, Mozeliak dealt prospects Brett Wallace, Clayton Mortensen, Shane Peterson and $1.5 million to the Oakland A's for Matt Holliday.
Before acquiring him, the Cardinals left fielders hit a combined .212 with a OBP of .294 in the 2009 season. Holliday was an instant upgrade. He filled the cleanup spot in the lineup that had its fair share of struggles while only hitting .250 so supplanting him behind Pujols made the offensive attack dangerous.
The three players traded away have played a combined 663 games, 494 of which coming from Wallace who spent four years in Houston and is currently going on his third year in San Diego. Wallace was one of highly touted prospects at the time, but failed to play a single game in Oakland.
Mortensen and Peterson actually saw action in an A's uniform, however they did not last long. Peterson played two games in 2013 while Mortensen appeared in only seven games as a starting pitcher.
Holliday played over 300 more games than those three prospects, and has been an all-star four times since arriving in St. Louis.
After acquiring him in 2009, he played in 63 games and batted .353/.419/.604 with 13 home runs, 55 RBI and 42 runs scored. In case you were wondering, Brett Wallace has only eclipsed the .300 batting average mark once in his career in a year when he only had 107 plate appearances.
Number 4. Matt Holliday's debut
Matt Holliday seemed like he belonged on the Cardinals from day-1. It did not take long for him to get accustomed to a St. Louis Cardinals uniform. He played his first game in Citizens Bank Park against the Philadelphia Phillies, in which the Cardinals won 8-1.
Holliday had his fingerprints all over the final outcome of this game, and may have had one of the better debuts for a player starting with a new team, showcasing the talent he would bring to St. Louis over the next eight seasons.
He finished 4-5 with an RBI and even showed off his wheels by stealing a base and managing an infield single (mishap by the shortstop). He also came mere feet away from a home run to right-center field as it bounced off the wall, resulting in a double.
His hot start didn't end there as he went on to get 20 hits in his next 33 at-bats through nine games, hitting .606 with three home runs and 10 RBI. The great start extended throughout the rest of the season as told by the numbers for the 63 games played during the second half of the 2009 season.
With all the memories of Matt Holliday in a Cardinals jersey being more recent or more important, it's important not to forget the beginning. This is where it all started for him as a Redbird and it unfortunately has to end.
This was just a glimpse of the success that Holliday would bring to the organization. His championship caliber excellence was noticeable from the beginning.
Number 3. New contract brings MVP-type year
Kind of cheating with this one, but when an front office executive trades for a player with an expiring contract, there is always a chance a player snubs the organization and leaves them with nothing, despite getting rid of future potential talent. Luckily for the St. Louis Cardinals, this wasn't the case.
Holliday signed a seven year contract in 2010 worth $120 million that featured a no-trade clause and an option for 2017. The option was declined earlier this year and Holliday is officially a free agent.
The 2010 season was his best while in a Cardinal uniform that had him finish 12th in National League MVP voting. He finished with a slash line of .312/.390/.532, which as good as that is, it did not come close to his numbers early in his career while a part of the Colorado Rockies.
He posted statistical-highs while being a member of the St. Louis Cardinals for a full season in home runs, RBI, stolen bases, BA, hits and doubles. It was his best year in Wins Above Replacement as a Cardinal by almost two full wins at 5.9. His second best being 4.0 in 2012.
He earned his fourth and final Silver Slugger award in 2010. He finished second in the NL in doubles, third in hits, and fourth in total bases.
Although great individual accolades, the St. Louis Cardinals finished second in the NL Central, finishing with 86 wins and ultimately missed the playoffs. Things would be different a year later.
Number 2. The Final Appearances
It was the last series of the regular season. The St. Louis Cardinals were in the thick of a intense wildcard race that went down to game 162. The game against the Pittsburgh Pirates was essentially over with a 5-0 lead in the seventh when manager Mike Matheny sends Holliday up as a pinch hitter.
Before this game on September 30th, Holliday hadn't seen game action since August 11th. One thing was certain, Holliday was looking to go out with a bang.
Zach Phillips on the mound for the Pirates having never faced Matt Holliday. It only took three pitches for Phillips to know what Holliday was capable of. The long-time Cardinal sent a line drive shot straight into the right field bullpen to extend the St. Louis Cardinals lead even further.
Some assumed this would be his final appearance, they would be wrong as the fireworks showed up again the next night.
A three run early home run by Pirates infielder Jung Ho Kang had Cardinal fans believing the season was over. The shutout lasted until the sixth inning when #7 stepped into the right hander's batter box. With two runner's on, Holliday pinch hitting for the pitcher, he had one more chance to help the Cardinals in a big moment. It only took four pitches this time.
A short line drive single into right field scored the Cardinals first run of the night, that sparked a comeback win, 4-3 to extend the playoff hopes.
Matt Holliday came through once again when the team was its most vulnerable.
Number 1. Achieving the ultimate goal
Every single baseball player's goal is to win the World Series. When playing for the St. Louis Cardinals, players often have at least one shot at this ultimate goal.
Matt Holliday had a chance earlier in his career as a member of the Colorado Rockies in 2007 after sweeping the Diamondbacks in the NLCS. Holliday was the NLCS MVP, but did not have a happy ending in the World Series when the Boston Red Sox swept them in four.
In 2011, Matt Holliday had to deal with some nagging injuries, especially late in the season that affected his play in the postseason. This season was a dramatic one as the Cardinals playoff chances came down to the last day. During the amazing comeback, Holliday had little playing time due to tendonitis.
Holliday managed to start two of the five NLCS games against the Phillies, but came back strong batting over .400 in the NLCS against division foe, Milwaukee Brewers, driving five runs in during the series. He finally had another shot to play in another Fall Classic.
In the dramatic seven game series, Matt Holliday managed only three hits in 19 at-bats, resulting in many St. Louis Cardinals fans frustrations, however he walked an unprecedented seven times, the most in a World Series since 2003 at the time. Of these seven base on balls, he ended up scoring five times, helping his team capture the 2011 World Series championship!
Despite a low batting average, his OBP was .385 during the Fall Classic, helping out the team in anyway possible. That is just what Matt Holliday's career was about.
Want your voice heard? Join the Redbird Rants team!
His days as a Cardinal may be over, and his playing career days are certainly numbered, but St. Louis Cardinals fans will always remember Holliday as one of the best players to don the birds on the bat.
This article originally appeared on