Solving the mystery of Madison Bumgarner's shoe-size dilemma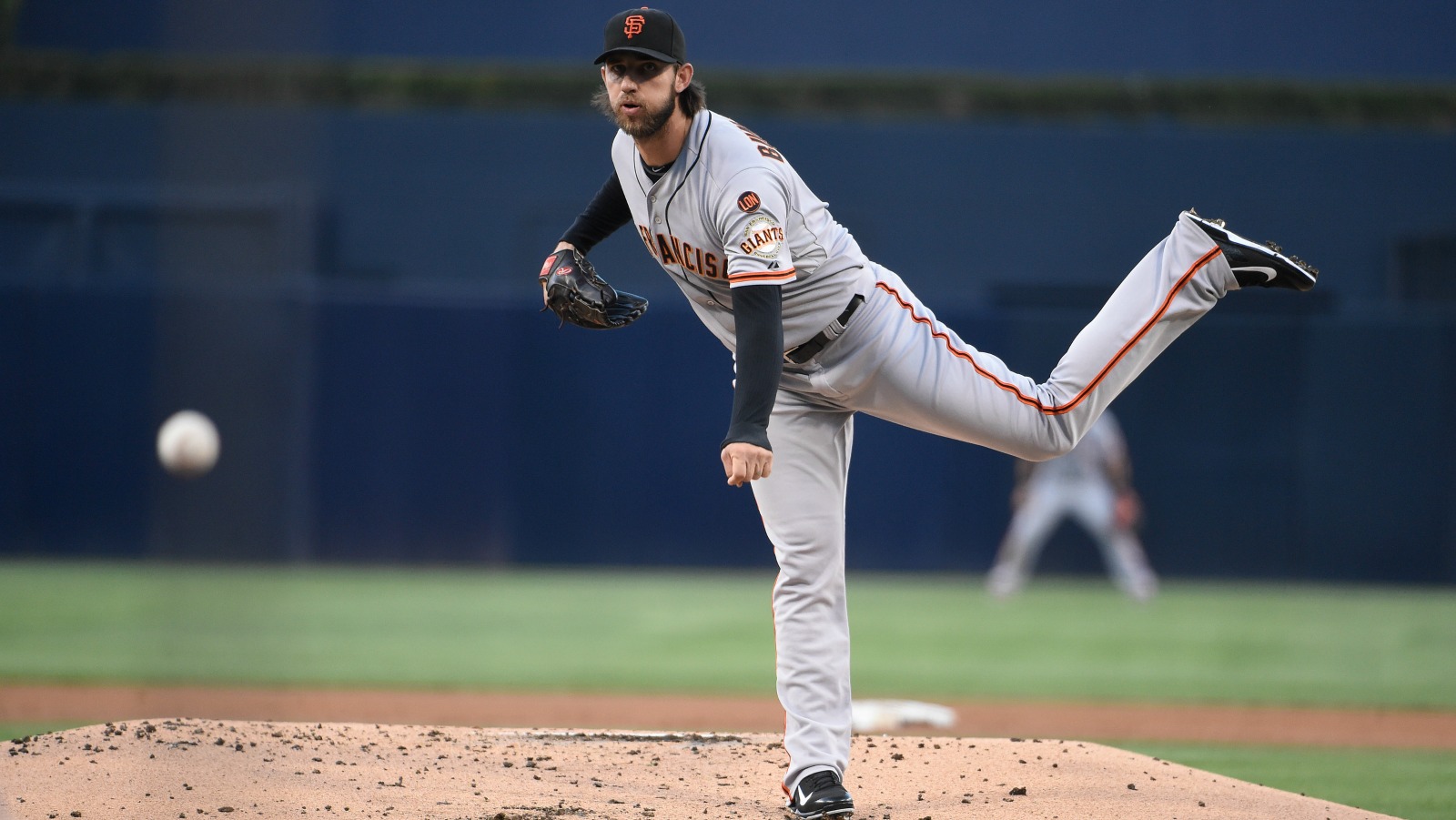 Call it the case of Madison and the curious shoe size.
Yes, even for elite professional athletes, finding the right fit for one's foot can be a challenge.
Our story began in early March, when Giants left-hander Madison Bumgarner revealed that he was suffering from neuroma, a nerve injury between the third and fourth joints on the bottom of his left foot.
A friend of mine told me that the condition might be serious, recalling that former Dodgers outfielder Mike Marshall, former NBA center Rick Smits and former NFL receiver Bob Chandler were among the professional athletes who had struggled with a similar problem.
So, I stopped by Giants camp in Scottsdale, Az., one morning to investigate. And when I asked Bumgarner how it was going, he hesitated, saying he was almost embarrassed to reveal the source of his problem.
Then he picked up one of his spikes and pointed to the size printed on the tongue of the shoe.
"13."
Bumgarner explained that the day before, he had gone looking for soft insoles and wound up at what he called a "serious runner's store." He tried a pad designed to reduce pressure, and then – attempting to cover every conceivable option – he asked a salesman to measure his feet.
The Giants already had asked Bumgarner to check his shoe size; cleats can be narrow and skinny. Bumgarner experimented with "all kinds of stuff," one team official said, and at one point the club's athletic trainers even suggested that Bumgarner go back to the model he wore last year. Alas, his company no longer manufactures that particular shoe.
The salesman, meanwhile, had other ideas.
"He said, 'You don't need to wear anything smaller than a '15,'" Bumgarner recalled that day. "I said, '15? I've worn 13 for so long. Can I try 14?' He wouldn't even bring me a 14. He said, 'I'm not bringing you a 14. You don't wear a 14.'"
Bumgarner said he then went to another store, purchased size 15 cleats and experienced immediate relief.
Pretty interesting. But when I asked Bumgarner if I could report all this, he requested that I wait. He had missed one Cactus League start, also suffering from discomfort in his right ribcage, and was pitching again in a few days. He just wanted to make sure everything was OK.
I checked back with him after his start, and he told me not to report anything, that he had been wrong and his shoe size had not caused the problem. No big deal – stories come, stories go, and this one was not exactly Watergate to begin with.
But then, on an ESPN broadcast March 24, Giants manager Bruce Bochy mentioned that Bumgarner's foot was better, adding with a chuckle that his ace had been off by two shoe sizes.
Once more, I checked with Bumgarner, informing him of what Bochy had said. And once more, he said his shoe size had not caused the problem. Knowing I would see him before our first Saturday MLB on Fox broadcast, I figured he could tell me the whole story then.
If that's how shoes are supposed to feel, sorry, I can't wear 'em.
Madison Bumgarner
The whole story is this: Bumgarner wore size 15 cleats for two days and size 15 tennis shoes for about a week before concluding that they were "way too big."
"If that's how shoes are supposed to feel, sorry, I can't wear 'em," Bumgarner said.
So, he went back to 13s, and a combination of treatment during spring training and modification of his running program helped resolve his nerve problem.
At this point, his condition essentially is a non-issue. Bumgarner said that his recovery has been slow, but that he is experiencing discomfort only rarely, making progress week-to-week, if not day-to-day.
The case of Madison and the curious shoe size is now closed. Bumgarner continues to wear his lucky 13s.