Phillies History: Taking a Look Back on Phillies MVP Winners The Phillies have produced five MVP winners in their storied history. As we progress through the offseason, let's take a look back on those MVP players.
The Phillies have been a notoriously bad team in their strenuous history. They have the sixth-worst franchise win-loss percentage of all current MLB teams, and the worst of any established prior to 1969. The club also has the most amount of losses of any current franchise, despite five teams on the list being founded before the Phils.
Despite the overall below-average, the Phillies have flashed glimpses of success. Their first flash of potential came with the Whiz Kids in 1950 before quickly falling off the wagon. The late 70s and early 80s saw a run of dominance, capped off by the franchise's first World Series title in 1980, before the team once again dropped off. 1993 saw a flash in the pan with another World Series appearance, but the team didn't put together another string of playoff runs until the next millennium rolled around. The team won five straight division titles from 2007 to 2011 with their second World Series title coming in 2008. As most fans know, the team has returned to the cellar, just as the Phillies are so apt to do.
Some key players propelled the Phillies to their runs of success throughout their history. Those players were rewarded with the National League MVP award. Let's look back at the Phils who won this award in their career.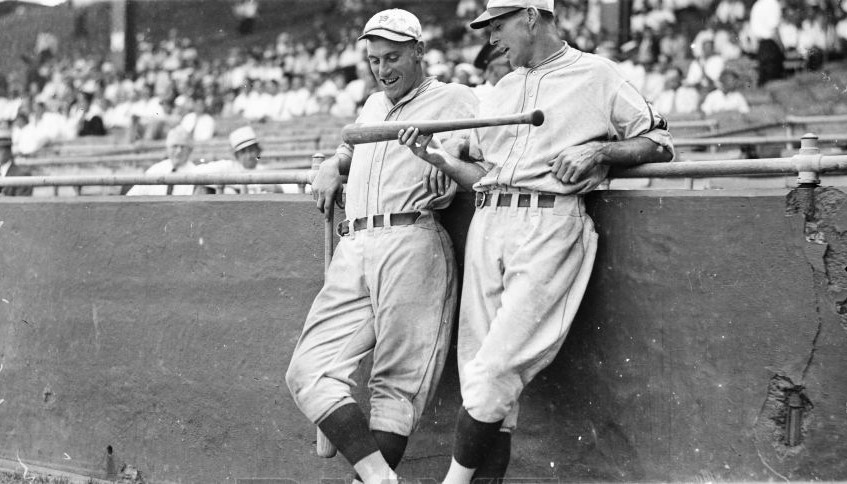 1932 MVP Award Winner Chuck Klein
When Chuck Klein joined the Phillies in 1928, they were in the middle of one of the worst stretches in their history. In 1932, Klein helped propel the club to their first season above .500 in 15 years thanks to his slugging ability. That season, the Phillies finished 78-76 and fourth in the National League, still well out of playoff contention in the era of just one playoff team from each league.
Klein hit 30+ home runs in four straight seasons from 1929 to 1932. In his 1932 campaign, Klein hit 38 long balls, leading the National League. Klein led all NL hitters with 226 hits, 20 stolen bases, a .646 slugging percentage, and 1.050 OPS.
Klein came second in NL MVP voting in 1931 when he hit 31 home runs, but he took home the award in 1932. Klein appea8red on 98% of the ballots, receiving 78 points in the voting.
After his MVP campaign in 1932, Klein upped the ante by becoming the only Phillie to ever win the Triple Crown. He led all MLB hitters with his .368 batting average to go along with his NL-leading 28 home runs and 120 RBI. Despite winning the Triple Crown, Klein lost the MVP award to pitcher Carl Hubbell of the then-New York Giants. Hubbell had a 1.66 ERA and 0.982 WHIP over 308.2 innings that season, so there was more than ample reason for Hubbell to receive the award.
So why does no one remember MVP and Triple Crown winner Chuck Klein? For starters, he played on a paltry Phillies team that finished above .500 just once in his time there. Klein also had to compete with the ultimate slugger in Babe Ruth, who captured every headline of the day and beat out Klein in most offensive categories. Had Klein not had to comepete with these two factors, the Hall of Famer would be far more well-known among baseball fans. 1950 MVP Award Winner Jim Konstanty
Prior to the Cy Young Award's creation in 1956, pitchers and hitters both had to compete for the Most Valuable Player award. In most seasons nowadays, the best hitter takes home the MVP while the best pitcher takes home the Cy Young, giving each position group a fair shot.
In what would likely never happen in modern times, Phillies relief pitcher Jim Konstanty won the National League MVP award in 1950. Konstanty anchored the Phillies bullpen as their closer, finishing off the wins set up by Robin Roberts and Curt Simmons.
Konstanty led the major-leagues with 22 saves along with finishing 62 games. He appeared in 74 games, also a league-high. Konstanty also posted a solid ERA (2.66) and WHIP (1.039) over 152 innings.
Konstanty's WAR in 1950 varies depending on which formula is used. He was an All-Star caliber player according to Baseball Reference's WAR (4.7), but barely above replacement-level by Fangraphs's calculation (0.9).
This discrepancy is due to Konstanty's low ERA (2.66), but high fielding-independent pitching (3.77). Since Fangraphs uses the latter in their calculation, it makes sense Konstanty's fWAR is far lower than his rWAR.
Konstanty won the MVP voting by a large margin. He appeared on 85% of the ballots as he received 18 of 24 first-place votes. He collected 286 points in the voting, 128 more than the runner-up Cardinals legend Stan Musial.
1950 was another flash in the pan for the Phillies, with Konstanty contributing to their first pennant since 1915. Konstanty didn't post an ERA below 3.90 again until 1954 when the Yankees claimed him off waivers and he saw a slight revival in his career. However, he once again declined in 1956, ending his career in the Cardinals bullpen. Three-Time MVP Winner Mike Schmidt
Mike Schmidt is the undisputed best third baseman in Phillies history and likely their best player overall. Schmidt racked up ten Gold Gloves, six Silver Sluggers, 12 All-Star Game appearances, and three Most Valuable Player awards.
Schmidt's first MVP award came the same year the Phillies won their first World Series in 1980. With Steve Carlton winning the Cy Young award that year as well, the Phillies racked up the trophies.
In 1980, Schmidt led the league with 48 home runs, 121 RBI, a .624 slugging percentage and 1.004 OPS. He was the unanimous MVP as he also won the Gold Glove and Silver Slugger that year.
Schmidt didn't let a strike hamper his performance the next year. In 102 games, Schmidt led the league in home runs, RBI, slugging percentage, and OPS. He also led the National League with 73 walks, including 18 intentional walks as pitchers recognized his potency at the plate. This helped Schmidt post a career-high .435 on-base percentage.
Schmidt secured 21 of 24 first-place votes in 1981 as he appeared on 96% of all the ballots. Schmidt led all positions players in the National League in Baseball Reference WAR with 7.7.
After a "down'" season in 1985, Schmidt took home one more MVP award before he wrapped up his career. The slugger once again led the league with 37 home runs. Pitchers still felt threatened by Schmidt, intentionally walking him 25 times that year. Schmidt appeared on 85% of the ballots as he took home his final MVP award.
Schmidt was a near-unanimous pick for the Hall of Fame in 1995, his first season on the ballot. Schmidt's Hall of Fame Standard of 56 and Monitor of 250 are both well above the average Hall of Famer. JAWS ranks him as the best third baseman of all time. It's safe to say Schmidt deserved every award he received. 2006 MVP Award Winner Ryan Howard
Say what you will about the latter part of Ryan Howard's career, but he was a force to be a reckoned with at the plate when he broke onto the major-league scene. Just a year removed from winning the Rookie of the Year Award in 2005, Howard upped the ante in his sophomore season in 2006.
Howard absolutely demolished baseballs in 2006 in the heart of the Phillies order. He led the league with 58 home runs and 149 RBI, both of which are also single-season records among all Phillies players. Along with power, Howard posted an impressive .313/.425/.659 line that year.
Howard actually finished tenth among all hitters in Fangraphs wins above replacement with 5.9 fWAR, with runner-up Albert Pujols leading the league with 8.1 fWAR.
The vote was fairly close between Howard and Pujols with Howard receiving just 41 more points than Pujols. Howard received 20 first-place votes; Pujols received 12. In the end, Howard's higher home run and RBI total outweighed Pujols's higher averages.
Howard came close to his second MVP award in 2008 when the Phillies won their second World Series.
Pujols got his revenge, beating out Howard for the award this time around. Howard's 48 home runs and 146 RBI both led the league, but this time around Pujols's better hitting line carried more weight. He beat out Howard 18-12 in first-place voting. 2007 MVP Award Winner Jimmy Rollins
The Phillies produced back-to-back MVP winners in 2006 and 2007, with Ryan Howard taking home the award first and Jimmy Rollins earning it the next season. Rollins paired this MVP with his first of four Gold Gloves along with his only Silver Slugger.
Rollins played in every game for the Phillies in 2007 as they won their first division title since 1993. He led the National League with 139 runs and 20 triples. Rollins also posted a tremendous .296/.344/.531 line and 41 stolen bases to go along with his Gold-Glove caliber defense.
Rollins was worth 1.2 wins above replacement on defense alone, and was worth 5.6 wins on offense. They combined to produce a career-high 6.1 rWAR for Rollins.
When it came down to the voting, Rollins had his own voting battle with Matt Holliday, then of the Colorado Rockies. Rollins received just half of the 32 first-place votes, with Holliday receiving 11 and Milwaukee's Prince Fielder receiving five. That was still enough to earn Rollins the lone MVP award of his career in Philadelphia.
This article originally appeared on