New York Yankees Stand Ground, yet Hopeful for Chapman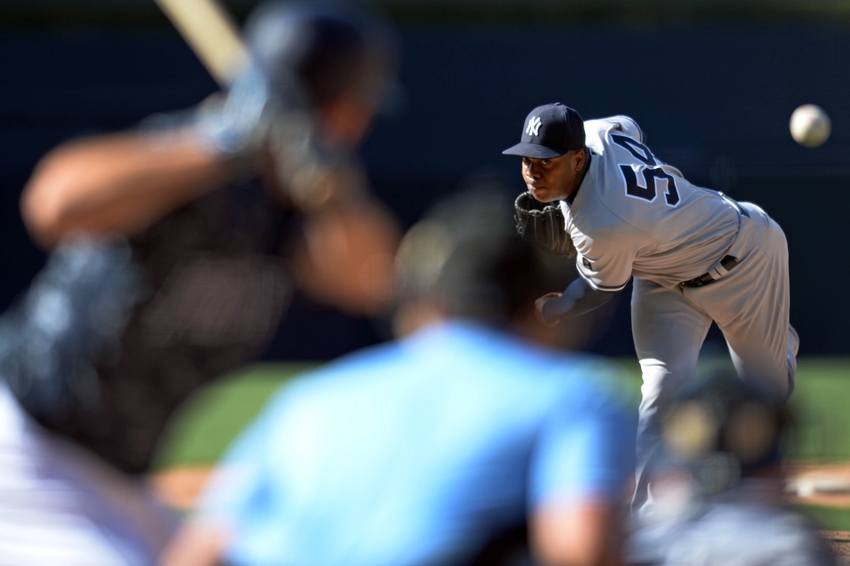 Since issuing his high contract demands, the flame-throwing Aroldis Chapman scared away a number of his suitors. Even his former club, the New York Yankees, are only willing to bring back the southpaw on their terms.
The change of tradition for the New York Yankees never rang clearer than in their pursuit of Aroldis Chapman. The great George Steinbrenner is rolling over in his grave at the slow-paced pursuit of baseball's pristine closing pitcher.
Although Chapman is atop their wish list this offseason, the Yankees are hesitant to cough up the cash for him. For starters, the Yankees are working to lower their annual payroll below the new luxury-tax threshold. With the new collective-bargaining agreement, drawn up on Nov. 30, teams are working to avoid an increased overage tax. As a result, certain teams, including the Los Angeles Dodgers, are reevaluating how they go about their offseason spending.
Driven by their desire to lower their AAV in the near future, the Yankees are wary to sign Chapman. Sure, as baseball's most lucrative franchise they can afford a high-contract closer, yet the need to adapt to CBA changes is becoming more necessary.
More from Call to the Pen
Furthermore, the Yankees are patiently insisting on compromising with Chapman, despite their shared interest of reunion. Well before the Winter Meetings, Chapman expressed his interest to return to The Bronx.
"The organization treated me first class," said Chapman (per nysportsday.com). "And the fans were like no other. I would love to be a Yankee again."
From the success the left hander brought them early in 2016, the Yankees are confident in his talent. Through 31 games in the pinstripes, Chapman went 3-0 with a 2.01 ERA and 20 saves in 29 finished games. Not to mention, he maintained his success after moving to the Chicago Cubs and flashed his value in the postseason.
"The attraction to him is we know he can pitch in New York and there is no draft pick attached," Yankees general manager Brian Cashman said (per espn.com). "Then it just comes down to money and terms. We will compete to a certain level and then we'll see if that is good enough. If it is not, that is why we are staying in contact with all of them."
With Mark Melancon off the market and Kenley Jansen out of the question, the New York Yankees only choice is Chapman. Likewise, Chapman's high demands are something only the Yankees can satisfy. It is safe to say Chapman will return to the pinstripes for 2017, but only for what the Yankees are willing to pay.
This article originally appeared on