New York Mets to Give Amed Rosario Time at Third Base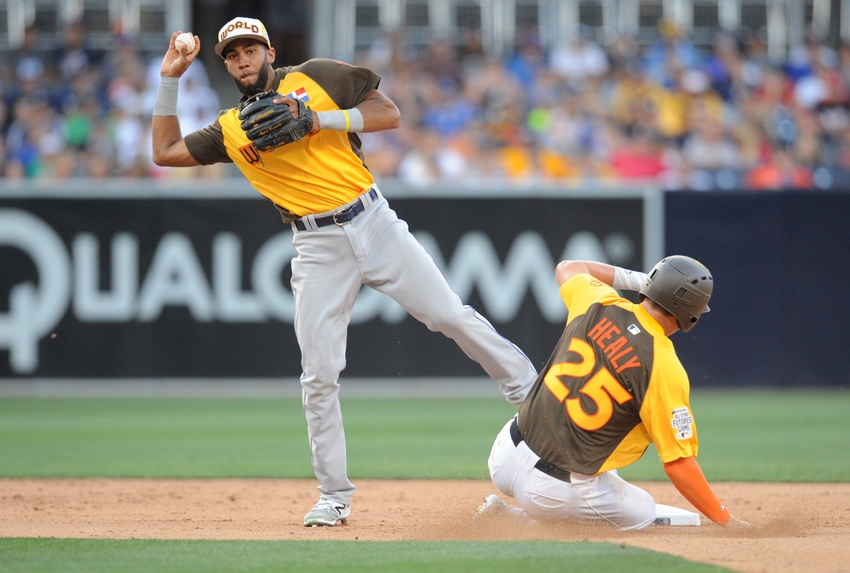 The New York Mets plan to transition Amed Rosario to third base for the near future.
Top prospect Amed Rosario appears to be staying in New York for the foreseeable future. Comcast SportsNet New York reports that New York Mets General Manager Sandy Alderson explained that he is unavailable in any trade discussions.
While a team wanting to hold onto a top prospect is by no measure a shocking development, the means by which they plan to use the shortstop is a bit curious. Alderson states that Rosario will receive some time at third base in the minor leagues. The plan is to move him around so that he can contribute to the New York Mets at more than just the shortstop position. Alderson does note that such a transition could possibly be temporary.
Rosario, who turned 21 years old just a few weeks ago, has spent his entire minor league career playing shortstop. His work there has been graded well, and Jonathan Mayo of MLB.com writes that he has "outstanding speed, hands, footwork, and a very strong arm". Clearly, those skills would serve him well at shortstop.
More from Call to the Pen
The issue is that Asdrubal Cabrera currently mans that position. Cabrera, 31, is a bat-first middle infielder with very little defensive contributions. He still posted a solid season for the New York Mets last year, with a .280 batting average and 23 home runs. His blend of contact and power brings a good bit of value, and it is understandable why the Mets would want to keep him in their lineup.
Still, Rosario is almost certainly their shortstop of the future since the guaranteed portion of Cabrera's contract expires at the end of the 2017 season and the rest contains one option year. It seems dubious that the New York Mets would keep an aging infielder around for much longer than two seasons, especially given the top-prospect status of Rosario. Baseball America ranked Rosario as the 58th prospect in baseball before the 2016 season.
If the New York Mets truly believe in Rosario's long-term value, which they clearly do since they have him labelled as being off-limits, then they would be better served to allow him to perfect his skills at his best position. Perhaps that means moving Cabrera back to second base or even teaching him how to play at third. Either way, it seems rather counterintuitive to retain a defensive liability at arguably the most important position on the diamond while preventing a potential plus defender from perfecting his craft at that very position.
Perhaps the Mets will change their mind, and Alderson may not want to follow through with his statement. There could be more happening behind the scenes that we cannot see. Here's to hoping for the best for such a young player with a potentially bright future.
This article originally appeared on