Nationals' GM says Stephen Strasburg unlikely to pitch in NLDS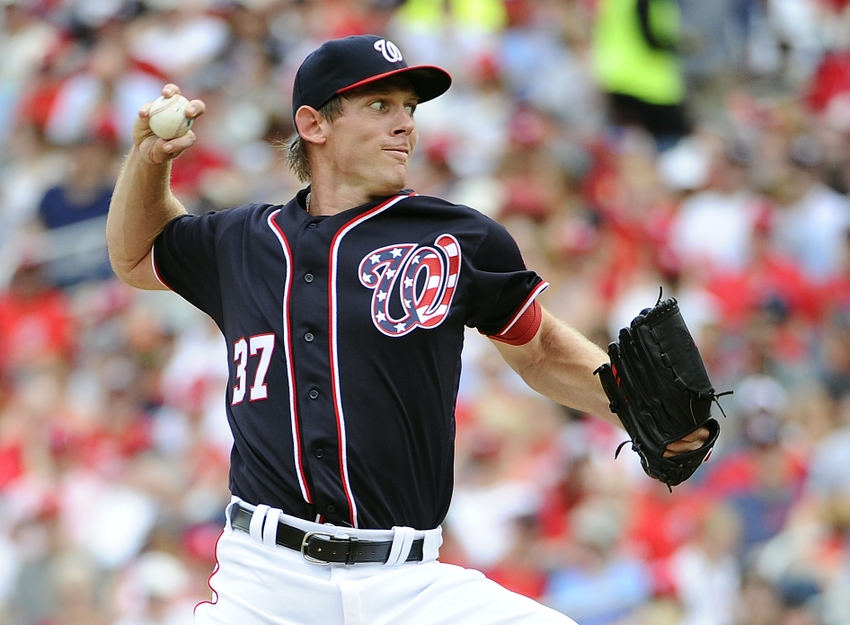 Right hander Stephen Strasburg is dealing with a strained flexor mass and has not pitched since Sept. 7.
Washington Nationals general manager Mike Rizzo said Tuesday that he does not expect right-hander Stephen Strasburg will pitch in the National League Division series as he is still recuperating from a strained flexor mass in his throwing elbow, according to a report in the Washington Post.  An MRI did not show any ligament damage.
The 28-year old played catch at 90-feet at Nationals Park which is not exactly getting in any serious work off the mound. He received a platelet-rich plasma injection soon after the injury and it is a slow, somewhat delicate recovery.
Strasburg has not pitched since the third inning of a game against the Braves on Sept. 7 and it forces the Nats to alter their rotation for the first postseason series.
At this point, it looks like Max Scherzer, Tanner Roark, Gio Gonzalez, and Joe Ross will go in the first four games. The fact that Washington is going with four pitchers is to keep Scherzer from having to go in Game 4 on short rest, if the game is necessary.
Strasburg was on his way to a possible 20-win season, going 15-4. He was averaging 11.2 strikeouts per nine innings and had a solid 3.60 ERA and 1.10 WHIP.
"I think it would be kind of pushing it," Rizzo said when asked if Strasburg would be available for the NLDS. "I think that's fair to say. Again, I haven't seen him after his throwing program today, but just the calendar, it's unlikely that he'd contribute in that first series."
The first game of the Division Series against the Dodgers is scheduled for Oct. 7 and the Nationals will be limping in. They just lost catcher Wilson Ramos when he suffered a torn ACL jumping for a ball at home plate. There was no contact, but it will require surgery.
This article originally appeared on