Major League Baseball and Marijuana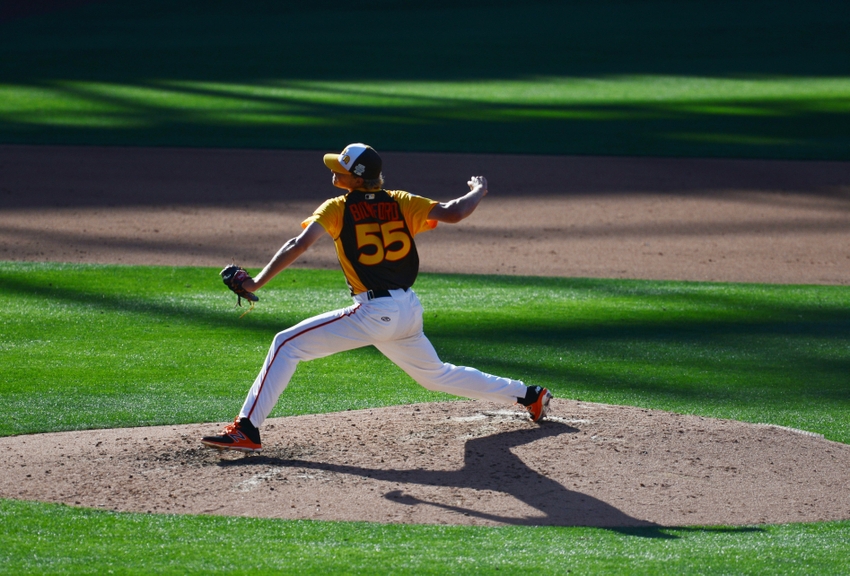 As more and more states legalize marijuana, is it time for Major League Baseball to eliminate suspensions for marijuana use?
Milwaukee Brewers minor league pitcher Phil Bickford is the latest well-regarded prospect to be hit with a suspension for a "drug of abuse." It's likely the drug of abuse that led to Bickford's suspension is marijuana. Bickford reportedly tested positive for marijuana before being drafted in 2015. Bickford was subject to pre-draft testing under MLB rules because he was one of the top 200 prospects, as identified by the Major League Scouting Bureau. The top 200 prospects for the June amateur draft are given a random, unannounced drug test in the 30 days prior to the draft. If a player doesn't participate, he is ineligible for selection in the draft.
Despite the positive test, Bickford was still drafted in the first round (18th pick overall) by the San Francisco Giants. He's pitched well in his minor league career, with a 2.78 ERA and 167 strikeouts in 142 1/3 minor league innings. Last August, the Giants traded Bickford and catcher Andrew Susac to the Brewers for left-handed reliever Will Smith. Baseball America had him ranked #50 on their mid-season Top 100 list.
The second positive test means Bickford will begin a 50-game suspension at the start of the 2017 season. Brewers GM David Stearns said in a statement, "We are very disappointed to learn of Phil's suspension, but we fully support the Minor League Baseball Drug Prevention and Testing Program and its enforcement by the Commissioner's Office. Phil understands he made a mistake, and we fully anticipate that he will learn from this experience."
It should be noted that Bickford was subject to the Minor League Baseball testing program, which carries a suspension for marijuana use. If he tests positive again, he'll face a 100-game ban. A fourth positive test means a permanent ban from organized baseball.
This is very different from the punishment imposed on major league players and minor leaguers on each team's 40-man roster. These players are not randomly tested for marijuana and don't face a suspension for the use of marijuana. They can be placed in MLB's drug treatment program and face escalating fines not to exceed $35,000 for marijuana-related violations.
This difference in the punishment for marijuana use between major league players and minor league players can be attributed to the MLB Players Association. The player's union has consistently opposed strict punishment for marijuana offenses going back to MLB's first Joint Drug Agreement in 2002. Minor league players are not protected by the union, so MLB can impose whatever punishment they want. Of course, many fans do not support long suspensions for marijuana use. To them, it seems ridiculous to suspend a player for 50 games for smoking pot.
Over the last 25 years, there has been growing support for the legalization of marijuana, for medicinal and recreational use. According to Pew Research, just 16 percent of people surveyed in the late 1980s supported legalization of marijuana. That number has risen to 57 percent in 2016. As of the November elections, 28 states and the District of Colombia have legalized medical marijuana and seven states and the District of Colombia have laws legalizing marijuana for recreational use. One of those states is California, where Phil Bickford lives.
As support for marijuana use continues to grow, the idea that a baseball player should be suspended for smoking pot will seem more and more ridiculous. At some point, MLB will have to reconsider the strong penalties associated with marijuana use. Of course, it would be much easier for MLB to navigate this issue if the federal government would follow the trend of the majority of states. Right now, there's a big disconnect between federal laws and state laws regarding marijuana.
Despite the ongoing trend towards legalization by individual states, marijuana is still an illegal schedule I drug under the Controlled Substances Act. This classification says marijuana "has a high potential for abuse . . . has no currently accepted medical use in treatment in the United States [and] there is a lack of accepted safety for use of the drug or other substance under medical supervision."
More from Call to the Pen
Many people believe it's ludicrous to classify marijuana as a schedule I drug, right alongside heroin and LSD. Millions of people have used marijuana for such medical conditions as glaucoma, epileptic seizures, Dravet's Syndrome, anxiety, and pain relief. With so many people finding medical uses of marijuana, there was hope that its classification as a Schedule I drug would be changed under the Obama administration. This did not happen.
For the most part, the current president has relaxed enforcement of federal marijuana laws and left it to the states, but it hasn't taken the bold step of removing marijuana from the Schedule I drug classification. The Obama administration had an opportunity this summer to reconsider the classification of marijuana but chose not to.
As of right now, there are two main ways to change the federal government's classification of marijuana. Either numerous federal agencies, including the DEA and FDA, agree to do so or Congress must pass a law to change the classification of marijuana, and the president must sign it.
President-elect Donald Trump has flip-flopped on the issue of legalization, where once he said he was "100 percent in favor of medical marijuana", he's also said that Colorado's legal marijuana industry is a "real problem." Trump's vice-president, Mike Pence, has long been opposed to marijuana legalization and his state has some of the harshest marijuana sentencing laws in the country. Considering the hard-right turn this country took with the election of Donald Trump, federal legalization of marijuana is likely further off now than it was before. Statistically, Republicans are less likely to support legalization than Democrats.
In the meantime, Major League Baseball should re-consider the long suspensions for minor league players who use marijuana. Allow them the same leeway as players on each team's 40-man roster.
This article originally appeared on