Kansas City Royals 2016 Player of the Year: Danny Duffy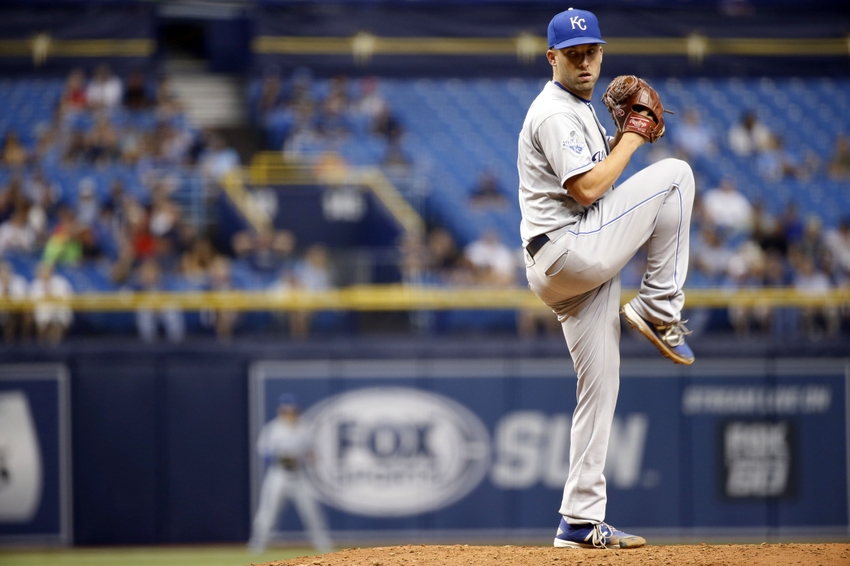 The Kansas City Royals were the 2015 world champions but missed the 2016 postseason, with a young veteran pitcher selected as their Player of the Year.
For the defending World Series champion Kansas City Royals, the 2016 season proved to be one of major disappointment.
After three straight winning seasons, including back-to-back American League pennants, manager Ned Yost's squad finished exactly at the .500 mark with an 81-81 record. It was good enough for just third place in the AL Central Division.
DH Kendrys Morales paced the team with 30 homers, and his 93 RBI were second on the club. Leading in that RBI category was first baseman Eric Hosmer with 104. He also led the club with 80 runs scored, and banged 25 homers while making the AL All-Star team.
Catcher Salvador Perez produced 22 home runs and 64 RBI, was an AL All-Star, and took home both a Silver Slugger and a Gold Glove Award.
Right fielder Paulo Orlando for a team-high .302 average, while 27-year old rookie second baseman Whit Merrifield hit .283 with 44 runs scored in what amounted to a half-season of work.
More from Call to the Pen
On the mound, Ian Kennedy won 11 games with a tidy 3.68 ERA, allowing 173 hits over 195.2 innings with 184 strikeouts. Yordano Ventura and Edinson Volquez won 11 and 10 games each.
The Royals lost closer Wade Davis for part of July and all of August to injury, but in the 45 games in which he appeared, Davis recorded 27 Saves with a 1.87 ERA and 1.131 WHIP. He allowed just 33 hits in 43.1 innings with a 47/16 K:BB ratio.
Kelvin Herrera stepped in for a dozen Saves in Davis' absence. He produced a 2.75 ERA and 0.958 WHIP, allowing just 57 hits over 72 innings with an 86/12 K:BB ratio.
But the choice for the Royals top player overall in the 2016 went to a pitcher who performed both in the rotation and the bullpen, 27-year old southpaw Danny Duffy.
Duffy went 12-3 to lead the staff in victories, registering a 3.51 ERA and 1.141 WHIP. He allowed just 163 hits in 179.2 innings over 42 games, 26 of those as starting assignments.
Duffy had a 188/42 K:BB ratio as well, and his 4.2 WAR led the entire Kansas City ball club.
On August 1 at Tropicana Field, Duffy struck out 16 Tampa Bay Rays batters to set a franchise record. He came within six outs that night of pitching a no-hitter, finished with one hit allowed over eight innings.
After that outing, Yost commented on the improvement in Duffy's game this season. The pitcher has seemed on the verge of big things previously in his career, only to be derailed by injuries or inconsistency.
"He's definitely turned the corner," Yost said per The Kansas City Star's Rustin Dodd. "That's a big step, when you just take your game to the next level."
In a season of disappointments, Danny Duffy stayed healthy and shined. For that he is the 2016 Kansas City Royals Player of the Year.
This article originally appeared on