Josh Tomlin Must be Judged on Start-by-Start Basis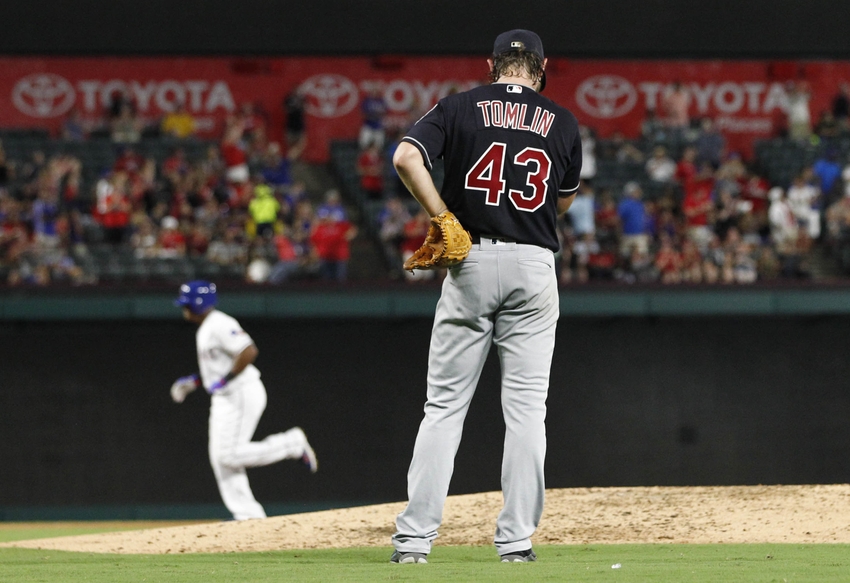 Josh Tomlin has found his way back into the Cleveland Indians starting rotation, but his return may not be permanent for the rest of the season.
The Cleveland Indians have opened the current four-game series against the Chicago White Sox with two losses and some lackluster starting pitching, while the offense has been quiet for the entirety of the road trip. Sound familiar?
The Indians have struggled on the road all season, but these late-season struggles are a bad sign. And now, an unsuspecting player is being called upon to try to turn things around. That player being Josh Tomlin.
Tomlin did not exactly earn a return to the starting rotation, as he is replacing the injured Danny Salazar, but he could have been passed over in favor of a few other players. Terry Francona sticking with Tomlin shows there is still some faith in the starter who began the year with a 3.43 ERA and an 11-3 record.
Record is often a misleading stat, and proved to be so for Tomlin. He has only started two games in 2016 in which he has not allowed a home run, allowing 10 in 26 2/3 innings of work in August. This led to his relegation to the bench, with his only work in September coming in an inning of relief on September 5.
He will be starting tonight against the White Sox in a game that isn't a true "must-win" for the Indians, but three straight losses to the White Sox would be a concerning sign. With seven games remaining against the Detroit Tigers, the Indians must pick up wins against the other divisional foes to maintain a comfortable lead over the Tigers.
Tomlin has a chance to prove he still has the great stuff he had at the beginning of the year by coming out tonight and giving a quality start. He consistently met or exceeded the six-inning mark all season until August, when he only eclipsed 4 2/3 innings of work in one start, when he went 7 2/3 innings on August 15 in a loss to the Boston Red Sox.
But even if Tomlin comes out and has a great start, allowing no home runs and picking up the win, it would be far too early to say he deserves to be in the rotation for the rest of the season. The same thing was being considered after that August 15 start, only for Tomlin to give up three home runs in his next start.
His return must be judged start-by-start, but that can only happen if he does well tonight. A poor outing may see him be replaced by someone like Ryan Merritt, as Francona would not be giving the team a fair shot to win by putting Tomlin out there, especially in the midst of a pennant race.
But a solid start tonight could earn Tomlin the right to start again, with the same conditions being placed on his next outing. His spot in the rotation only has three starts after tonight, so if he needed to be replaced it would not be for a long period of time.
Salazar's injury has complicated the situation, allowing both Tomlin and Mike Clevinger to end up in the starting rotation, although either could lose that spot if it became clear they did not have good enough stuff to help this team hold the lead in the division.
More from Wahoo's on First
This article originally appeared on