Jason Heyward goes Spiderman on this catch at Wrigley (Video)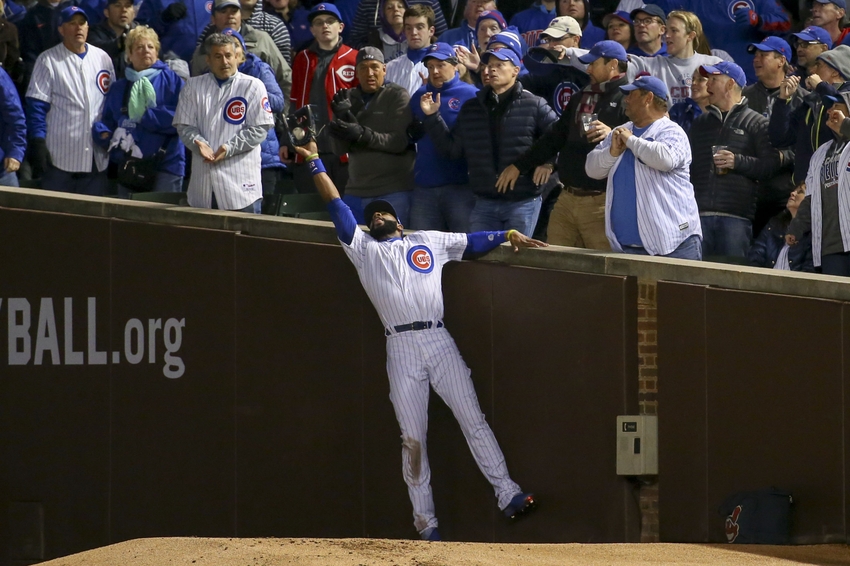 Chicago Cubs right fielder Jason Heyward uses every part of wall in foul territory in right field to come up with this ridiculous catch.
In the World Series, sometimes you have to see an American League starting pitcher handle a bat. That meant Cleveland Indians starter Trevor Bauer had to step into the box on Sunday night against the Chicago Cubs' Jon Lester during Game 5 of the World Series at Wrigley Field.
Bauer makes contact with a Lester offering and proceeds to hit it into fall territory. He was terribly late on the pitch, so the ball should have gone out of play fairly easily in right field. However, not every right fielder has the defensive skills of Jason Heyward.
Heyward is an offensive liability at this stage of his MLB career, but the guy can still play Gold Glove caliber defense in any Major League outfield. If Heyward and Kyle Schwarber could combine skills, the Cubs would have another outstanding player in their outfield. Schwarber has no range defensively, but is as pure of a hitter in baseball.
Heyward navigates past the pitching rubbers in right field, plants his foot on the brick wall in Wrigley, and makes an incredible catch to retire Bauer at the plate. Bauer probably didn't care, as he wanted to get back into the dugout to get ready for another inning's work on the Wrigley Field diamond.
Chicago has to win tonight to stay alive in the 2016 World Series. The Cubs trail the Indians 3-1 in the best-of-seven. Should Chicago come up short a fourth time, Cleveland will have won its first World Series since the 1948 MLB season.
This article originally appeared on