Houston Astros to Attempt to Retain Jason Castro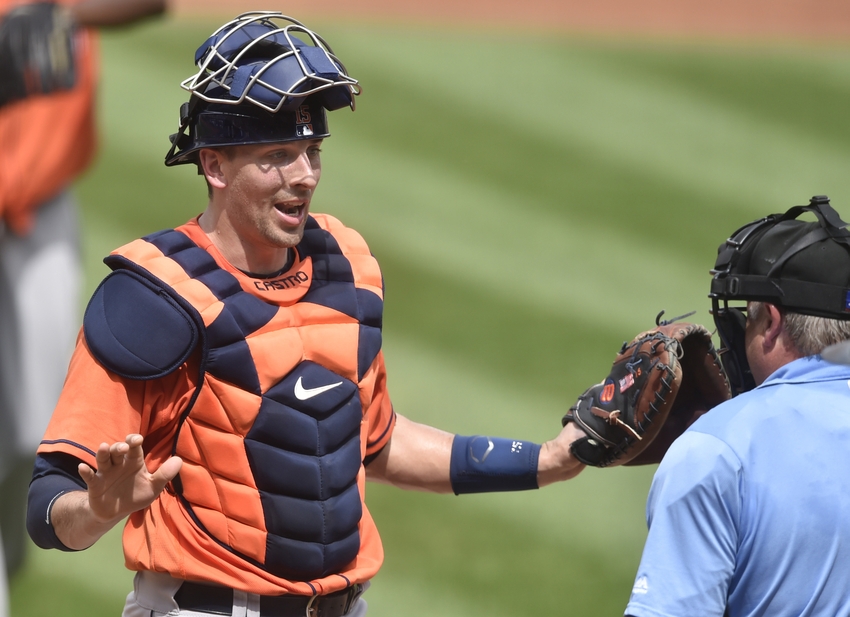 With a suddenly weaker catching market in free agency, Jason Castro may have a better market than expected. Nonetheless, the Houston Astros will attempt to keep their starting catcher.
In 2013, Jason Castro appeared to be a budding star behind the plate for the Houston Astros. He made his first All Star Game, and after a promising 2012 season, produced a .276/.350/.485 batting line, slugging 18 home runs. The Astros catching situation appeared to be solved for the foreseeable future, especially as Castro was entering the prime of his career.
Instead, since that point in time, he has struggled offensively. Unable to approach that same level of production, Castro has produced a combined .215/.291/.369 batting line over the past three seasons. It also has not helped matters that Castro has been subpar behind the plate defensively, as he struggles to control the running game and is frequently among the league leaders in passed balls.
And yet, Castro is expected to have a robust market in free agency. With Francisco Cervelli being locked up to an extension, and Wilson Ramos' future behind the plate in question due to his ACL tear, there is not a lot of depth at catcher in free agency.
More from Call to the Pen
However, the Houston Astros are looking to retain their current starting catcher. In a way, they may well be forced to meet Castro's asking price, as their own catching depth is suspect at best. Evan Gattis has served as the Astros backup catcher and primary designated hitter, but his ability behind the plate is suspect at best. Max Stassi is solid defensively, but has struggled offensively at the AAA level, and may not be ready for a full workload in the Majors.
Castro, almost by default, is the Astros best option behind the plate. Of course, his work with the pitching staff and ability to take command of a game with pitch selection, are as much of a consideration as his modest offensive contributions.
The biggest question that the Astros may have to ask themselves this offseason is how much is too much for Castro's services. While they will be in the market for a catcher, and short of Matt Wieters, Castro is the best available, his price tag may be far more than the Astros would feel comfortable with.
The Houston Astros would like to retain Jason Castro, but it may not be feasible. They will have quite a decision to make in the coming months when free agency begins in earnest.
This article originally appeared on