Colorado Rockies Countdown: Top Five Center Fielders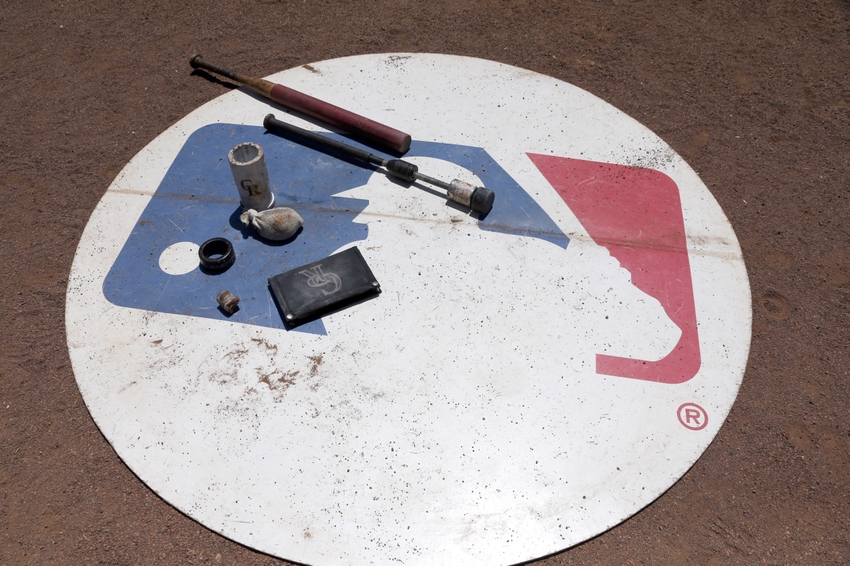 Coors Field's notoriously massive outfield coupled with its extreme hitter-friendly environment asks a lot of out any big leaguer unlucky enough to roam its pastures. Center field is a particularly laborious predicament for any Rockies player.
As a part of Rox Pile's 'All-Time' series, we'll examine the best Rockies to ever call Coors' center field home. In our last countdown, we featured the Rockies' greatest left fielders, which of course featured some of the best power guys in Rockies club history. Now shifting a spot over to center, we find some of Colorado's best multi-tool athletes ever.
To compile our rankings, Rox Pile used Fangraphs' list for career Wins Above Replacement (fWAR), which serves as a great guideline for positional players. The fWAR statistic allows one to evaluate a player's contribution over time with a specific team. Therefore, fWAR allows us to completely negate what a player has done in their career while not wearing the purple and black.
Also as a general rule, this list consists of players that have at least 500 plate appearances with the club. The 500 PA rule approximates to about 1.5 years of service time and gives a large enough sample size for accurate evaluation. As an added stipulation, the players on our list needed to have played a majority of their innings in the field at the position being evaluated.
Luckily, the "majority rule" doesn't exclude any player from this list who would have been on it otherwise. Without further ado, here is Rox Pile's list of the top-five center fielders to ever sport purple pinstripes. Let us know in the comments section what you think!
5.  Preston Wilson (2003-2005, fWAR 2.8)
Preston Wilson spent the first half of his big league career with the Florida Marlins organization before making his way to Colorado via a six-player deal that included the infamous free-agent signee Mike Hampton.
In his first season in LoDo, Wilson dazzled as he would lead the league in RBIs (141) and make his first and only All-Star game of his career. During the next two seasons, Preston would only play in a combined 129 games due to injury issues. The Rockies would trade away Mr. Wilson during the 2005 season to the Washington Nationals in a salary dump deal.
Interestingly enough Wilson's 141 RBIs during the 2003 campaign is tied for the fifth-most by a Rockie in a single season. Wilson also struck out 139 times that year, almost once for every RBI collected, that is good enough for the fifth-most strikeouts by a Rockie in a single season.
Wilson is the nephew of former New York Mets icon Mookie Wilson. Consequently, Wilson was drafted by the Mets organization in the first-round (ninth overall). Wilson was traded by the Mets in 1998 to Florida in order to acquire Hall-of-Famer Mike Piazza. In regards to life after retirement, Wilson is now in his fifth season with the Marlins broadcast team and assists the MLB Network with analysis.
4.  Juan Pierre (2000-2002, fWAR 3.6)
Speedster and fan favorite Juan Pierre comes in on our list as the fourth-best center fielder to dawn purple pinstripes. According to Fangraphs DEF statistic which measures a player's defensive value relative to the league average, Pierre scores an impressive 16.2. To put Pierre's DEF in perspective, the next closest center fielder is a guy named Mark Little who scores a DEF of 2.9.
Juan was no slouch at the dish either. Out of any other Rockies' player with over 200 plate appearances in their Colorado career, Pierre ranks first in K percentage, striking out in only 6.2 percent of his at-bats. In 2001 Juan only stuck out every 21.3 at-bats, which is a franchise single-season record. Pierre holds the same record for the course of a Rockies career, only striking out once every 14.7 at-bats.
Being a contact hitter tends to work out well and as a result, Pierre ranks second among franchise center fielders with a .308 career average. In case you're wondering, Darryl Hamilton ranks first at .315. Pierre didn't bring any power to the position as he hit only three home runs in his Colorado career. It was Pierre's blazing speed that allowed him to steal his way into Rockies fans hearts. In 2001 campaign Pierre led the league with 46 stolen bases, a feat he'd accomplish three times in his 14-year career.
Pierre was able to accomplish amazing things during his short Rockies career. Feats that he would consistently meet over and over during a long big league career. After leaving Colorado, Pierre would go on to play in 810 straight games, lead the universe in hits on two occasions, triples once and finish in the top-ten of the MVP race once.  Juan holds the Rockies record for singles in a season with 163. 3.  Dexter Fowler (2008-2013, fWAR 8.0)
Atlanta native and home-grown product Dexter Fowler roamed center at Coors for six seasons, making him the longest tenured player on our list. As the franchise's most stable center fielder, Fowler would play in 667 games with the club, 70-plus more than the nearest player.
Fowler ranks first among Rockies center fielders in runs scored in a career with 376. Also, Fowler ranks second in offensive runs above average for a Rockies career at 26.3. As reported by Fangraphs' all-encompassing base running statistic, Fowler is second in club history with a score of 17.6 (Willy Taveras ranks first). In an amazing feat during the 2009 season, Fowler tied the MLB rookie record for most stolen bases in a game when he swept five bags against rival San Diego.
Although he was more than capable, Fowler would only steal 20-plus bases in a season once, that didn't stop Fowler's speed from being playing a significant role in franchise history. Most relevantly, Fowler occupies the first, second, and third spots in the Rockies record book for triples in a season with 15 (2011), 14 (2010, led the league), and 11 (2012). Having accomplished four seasons with double-digit triples in Colorado, it's no surprise that Fowler holds the club record for triples in a career with 53.
Currently, Fowler is playing a pivotal role in center field for the playoff-bound Chicago Cubs. In 2016 Fowler made the first All-Star game of his career.
2.  Charlie Blackmon (2011- Present, fWAR 8.2)
As one of the most underrated players in the Majors today, Charlie Blackmon has established himself as one of the top lead-off hitters in baseball over the past three seasons. Blackmon had a breakout season in 2014 as he'd make the first All-Star game of his career. Despite putting up even better numbers since, inexplicably Charlie has yet to return to the mid-summer classic.
At present, Charlie is in the midst of yet another historic season for a Rockies center fielder. In 2016 Charlie has set career highs in runs scored, doubles, home runs, RBIs, and OPS. As it stands now, Blackmon ranks second on our list in home runs and RBIs. Charlie is poised to become the Rockies career leader at center for stolen bases.
Charlie is one of the best in the field, but intangibly Charlie is in an elite class of athletes. Charlie is revered by teammates and passes as one of the most fun and interesting characters in baseball. Having nothing handed to him, Blackmon has worked hard to become one of the premier leadoff hitters in baseball.
As a microcosm of Blackmon's underrated nature, Charlie still drives his high school car to spring training every year.
1.  Ellis Burks (1994-1998, fWAR 11.0)
Burks leads all Rockies center fielders in most offensive categories including home runs and RBIs. Behind Fowler and Blackmon, Ellis has only played in the third-most games at the position. Consequently, that fact makes Burks' offensive output even more impressive.
In five years with the Rockies, Burks performed spectacularly on the offensive side of the ball. Burks finished his Colorado career with 115 home runs, 337 RBIs to go with a .306 AVG and .378 OBP. Burks is the most powerful center fielder in Rockies history. As stated by Fangraphs' ISO statistic (communicates a hitter's extra bases per at bat), Burks scores a .273. The next closest is Preston Wilson with a score of .228.
The best year of Burks' career came in 1996 when he'd hit for a .344 average. Most noteworthy, Ellis would make the second of two career All-Star games and finish third in the MVP vote. As a result of that unforgettable season, Ellis led the league in runs (142), slugging (.639), and total bases (392).
In line with his WAR, Burks' 1996 season is the fourth-best by any Rockie in the club's history. As of now, Burks ranks second in club history with a career .957 OPS. Burks mashed a home run every 15.8 at-bats, that's the same as Larry Walker.
Burks enjoyed an 18-year big league career, playing a significant role in the history of several organizations.
This article originally appeared on