Cincinnati Reds send Ivan DeJesus Jr. to Lousiville and begin looking for a new back-up infielder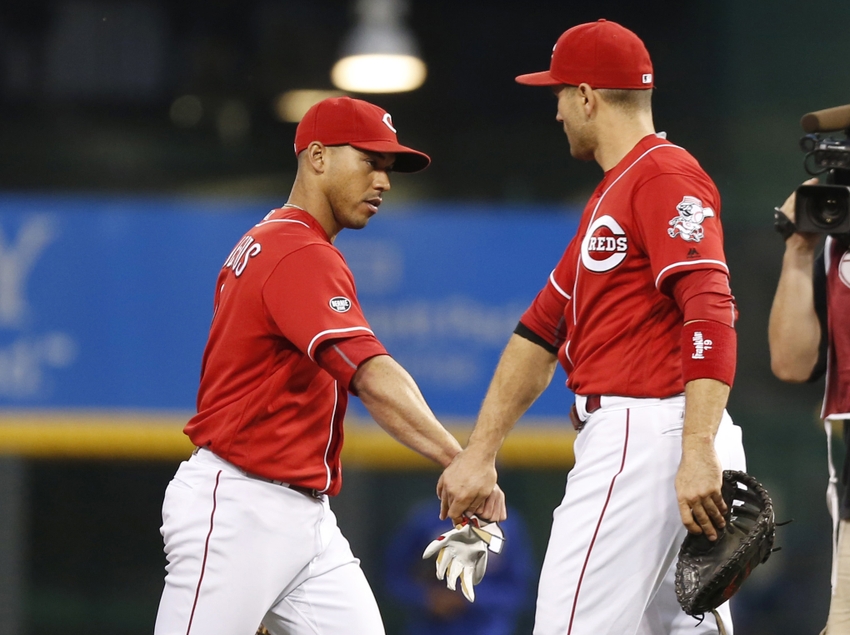 After being the top bench player the past two years for the Cincinnati Reds, Ivan DeJesus is relegated to Louisville.
For years the Cincinnati Reds have been looking for bench players to complement a line-up of various talent.  The last real back-up first baseman was Scott Hatteberg.  In 2016 DeJesus played more first base than former first baseman, Adam Duvall.
DeJesus did lack some offense.  For years the Reds had elite pinch hitter Lenny Harris on their team.  Harris only graded average or better in left field, but he also played first. second, and third.
DeJesus came to the majors as a defensive specialist at short.  In his time for the Reds Dejesus has transitioned to a second baseman/third baseman who also plays first, the outfield and occasionally  short.
DeJesus is a right handed batter and so is three-fourths of the Reds' current infielders.  DeJesus doesn't have much of a role left when he can't hit enough to justify at-bats.  He also is already 29 on a rebuilding team.
The Cincinnati Reds have several options to replace DeJesus, depending on whether they need offense or flexibility.
The first, obvious choice to replace DeJesus is Jose Peraza, who played five positions for the Reds this season.  If he adds first and third to his set, he could back-up all seven.  He would start more than DeJesus and the Reds would want Peraza to get more playing time.
The other option for the Reds is Hernan Iribarren, who is back in Louisville himself.  Iribarren had a nice tryout in September in Cincinnati.  He played the outfield, as well as second and third in his career.
Beyond that, the Reds could go outside the organization.  Usually offensive minded bench players are expensive to sign in the market.  That is unlikely.
Want your voice heard? Join the Blog Red Machine team!
The Reds could have someone they like who is available in the Rule 5 draft.  They don't know for sure who is going to be available.  Optioning Iribarren and DeJesus has opened roster spots to protect there own prospects from the Rule 5, too.
In any case the Reds need an upgrade at the back-up infielder position.  They need someone who can provide offense off of the bench.  They may even need more than one person.
One of the flaw of the Reds' roster construction for several years has been the lack of a back-up for Joey Votto.  They need someone who can take some of the burden off of the perennial MVP candidate.  Once they have that and someone to back up the aging middle infielders their roster can move forward into 2017.
More from Blog Red Machine
This article originally appeared on