Cincinnati Reds Rumors – Los Angeles Angels Hone in on Brandon Phillips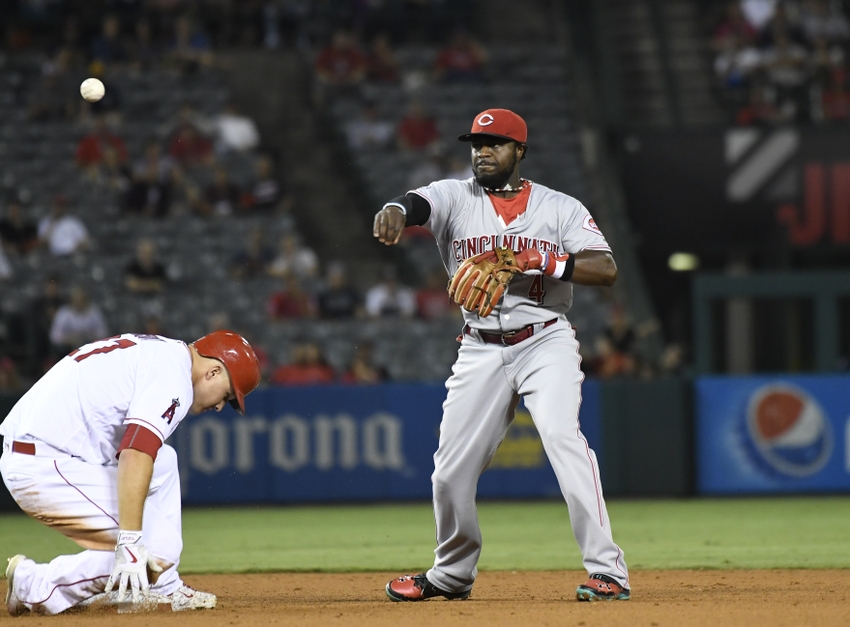 The Cincinnati Reds have begun to get earnest offers for Brandon Phillips, but may want more than just salary relief.
The Cincinnati Reds have been trying to trade Brandon Phillips for three seasons.  Now they may be holding out for more.  The Los Angeles Angels are supposedly all in for 2017 and want to add Phillips. This time last year, it was the Arizona Diamondbacks.
What is interesting is what the Angels are rumored to be offering for Phillips  The Angels are rumored to have offered back-up infielder Cliff Pennington and former Ohio State outfielder Troy Montgomery in exchange for Phillips and a potential relief pitcher.  That relief pitcher has run a gamut from big leaguer Blake Wood to prospect Barrett Astin with several names in between.
The issue holding up the discussions is not the pitcher going to the Angels.  It is the value of the players going back to Cincinnati.  The Reds are high on Montgomery, but don't see any value in Pennington.
That's where the Reds are not looking at things the right way.  Pennington does bring value, although he doesn't have to for this deal to make sense.  The Reds just need relief from Phillips' contract and for the rest of the deal to make sense.
The Reds would trade Blake Wood for Troy Montogmery in all likelihood.  If not, the deal is close.  There is also the value of Pennington.
Pennington could be a great value for the Reds.  He could be the primary back-up infielder for the Reds for the first half of the season.  Then they could move him for another prospect from a contending team.
In the interim Pennington would provide a nice insurance policy at second base and defensive replacement at third.  The Reds may not be ready to compete in 2017, but they should act like they are to start the season.  Pennington could be part of that.
The Cincinnati Reds cannot be too particular in moving Phillips after missing out on a pair of deals last year.
There just aren't that many teams that Phillips is willing to go to right now.  It sounds like he is telling the Reds SoCal or bust.  They cannot drag their feet anymore.  There are options, but this is one of the best.
Want your voice heard? Join the Blog Red Machine team!
Once they get an acceptable deal, they can only make one more call before accepting whatever deal they have.  Pennington and a potential starting outfielder is a great haul for Phillips.  Plus getting rid of his salary will help when they need cash in 2017.
More from Blog Red Machine
This article originally appeared on