Chicago White Sox: Why the White Sox Should Sign A.J. Pierzynski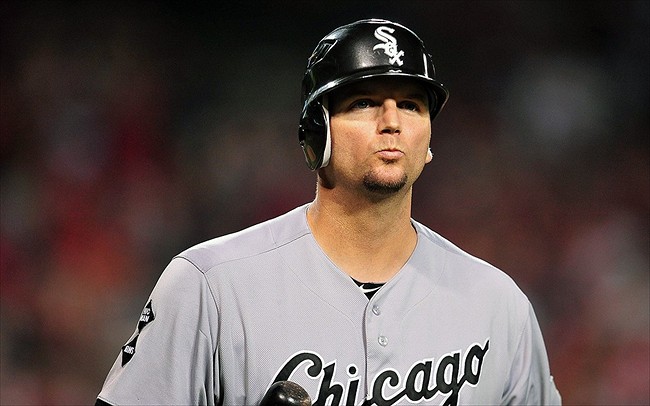 Veteran catcher A.J. Pierzynski has expressed that he is not yet ready to retire, and will explore all of his options in free-agency this winter. Pierzynski should have his going-away party on the south side in 2017.
According to a report from Chris Cotillo this afternoon, veteran catcher A.J. Pierzynski is not ready to retire just yer. He writes that the former Chicago White Sox backstop will be searching for a new deal this winter in favor of hanging it up.
Pierzynski is 39 years old, and just wrapped up his nineteenth season in Major League Baseball in 2016. Way back in 1998 Pierzynski broke into the major leagues with the Minnesota Twins, before making stops in San Francisco, Chicago, Texas, Boston, St. Louis and most recently Atlanta.
The prime of Pierzynski's career was spent with the Chicago White Sox, where he won a World Series in 2005, ate a sucker-punch from Cubs catcher Michael Barrett in 2006, caught Mark Buehrle's no-hitter in 2008, Phillip Humber's perfect game in 2011 and became a south side legend behind the dish.
That's why the White Sox should bring Pierzynski home, and let him have his seemingly more and more prevalent year-long retirement party in Chicago.
Before you start screaming at your smart phone or your computer, take a second and hear me out.
I don't want the White Sox to bring Pierzynski back solely based on the idea that he can play out the end of his career where he spent his best years and retire as a member of the White Sox, but he could also be of value to the White Sox.
More from Call to the Pen
It will probably cost the White Sox two or three million dollars to bring Pierzynski back to the south side for the 2017 season. That's pennies compared to the senseless spending that the White Sox do on majority of their free-agent acquisitions.
Obviously Pierzynski would in no way be my choice for the full-time catcher, or any sort of solution in lieu of actually filling the starting catcher role. Rather Pierzynski could be the back-up catcher for the White Sox in 2017.
Over the last two years with the Braves Pierzynski hit .269 with a .304 OBP, 11 HR and 72 RBI over 194 games. Over 85 games with the White Sox in 2016 Dioner Navarro could only muster a .210 batting average with six home runs and 32 RBI, so even as the everyday catcher Pierzynski would still provide the White Sox with an upgrade over the production they received in 2016.
Outside of still being able to give the White Sox an average offensive catcher a couple times each week, Pierzynski would bring the White Sox a veteran presence. Pierzynski knows how to manage a pitching staff, he has always been regarded well regarded by his pitchers for his ability to get the most out of them. He's gritty, he's a pest to opponents and he's tough. He fits in on the south side and he always has.
He can spend the winter and spring working with Zack Collins and Omar Narvaez if the White Sox don't add another catcher this winter. Pierzynski is a lifetime .280 hitter with a .319 OBP to go along with 188 home runs. With Collins being regarded as an offensive-minded catcher, who better to learn from than another catcher who made a long career on being a good offensive catcher.
Pierzynski can also work beside the White Sox young pitchers like Carlos Rodon, Carson Fulmer and Zack Burdi if the White Sox bring him back for the 2017 season.
Bottom line, for two or three million dollars the White Sox can bring a fan favorite back to Chicago so that he can spend the next year working with young White Sox players, playing a couple times each week and ride out the final year of his career with the team that he accomplished the most with over his eight years with the White Sox. Seems like a no-lose situation for the White Sox in my opinion. Let's hope they see it that way as well.
This article originally appeared on