Chicago White Sox: Trading Chris Sale Is the Move the White Sox Must Make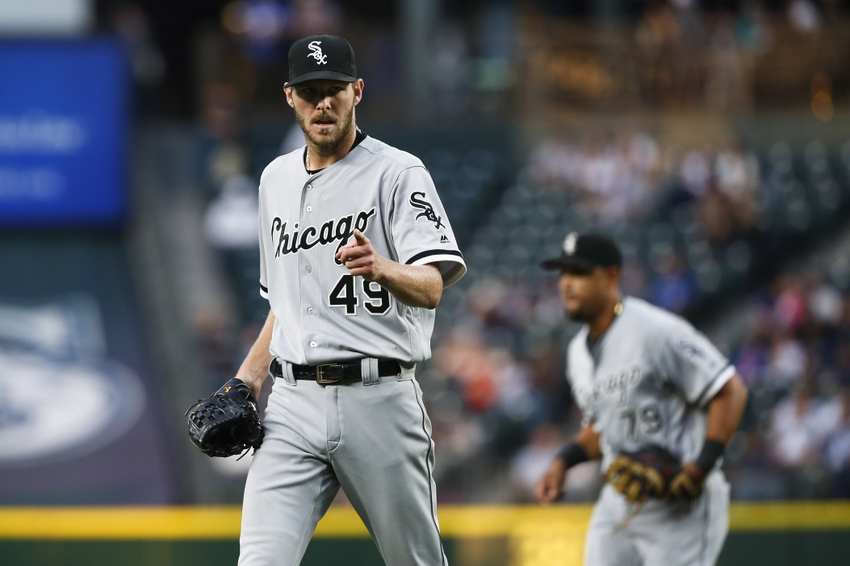 A weak free agent market this offseason, coupled with a team-friendly contract, has opened the door for the Chicago White Sox to start their rebuild by trading Chris Sale.
The already weak 2016-2017 free agent pitching class took a potential hit today when the Philadelphia Phillies offered starting pitcher Jeremy Hellickson a $17.2 million dollar qualifying offer. Hellickson has a week to decide whether or not he will accept the qualifying offer. If he does, he's completely off the market and even if he doesn't, he will cost an interested team a first round draft pick.
So on the morning of Major League Baseball's annual General Managers Meetings in Scottsdale, Arizona, the Chicago White Sox could be the biggest winner of free agency already as they hold the most valuable trade chip in all of baseball.
We all know that good pitching beats good hitting in baseball, and we also know that even the best of the best in baseball right now are short at least one starting pitcher as of this morning. At $12 million, $12.5 million and $13.5 million for the next three seasons, Chris Sale is the total package for a team searching for the last piece of their puzzle.
The White Sox have little choice other than a full-blown rebuild moving forward. Seriously, we have all seen that the current plan is not working on the south side of Chicago. The White Sox held on to Sale at last season's non-wavier trade deadline, and smartly so in hindsight now that we see what the landscape of the available starting pitchers looks like this winter.
Rick Hahn and company need to understand one simple concept: Chris Sale's trade value will never be higher than it is right now. As of today, the lanky southpaw is the most valuable trade piece in all of baseball without doubt. The White Sox will never get more value on their return than they will right now.
We've heard speculation that the White Sox will take their core talent, and any other acquisitions into 2017 as is, hoping that Rick Renteria can get more output than Robin Ventura did in the past, and if not they will pull the trigger in July at the trade deadline.
More from Call to the Pen
No thanks, that's a horrible plan, folks. If you let Sale open the 2017 season with the White Sox, you take the chance of his stock falling due to a potential injury, poor performance, less time with team control over him on his existing contract and of course some other pitcher could gain steam for potential suitors as a rental player at a lower cost than Sale.
At this point Chris Sale will command a top-tier prospect, as well as three to four second-tier prospects as a trade return. That's as good as it's going to get moving forward, and Rick Hahn needs to turn the volume on his phone way up, because the calls will be coming soon.
The White Sox have a thin minor league system, and this is the time to strike and begin to rebuild a farm system that has been near the bottom of baseball for too long. We learned yesterday that at least one MLB executive made it known to Nick Cafardo of the Boston Globe that White Sox General Manager Rick Hahn is, "open for business on just about his entire roster".
That's a small sliver of hope for a fan base that has been slapped around by false expectations for the last few years, but at least it's some hint at the White Sox's direction for this winter.
If it is in fact an indicator that Hahn has the clearance from Jerry Reinsdorf and Kenny Williams to make the moves necessary to begin a rebuild, then I would be mildly surprised if Sale is not dealt this winter. Mildly because I have zero faith that Reinsdorf and Williams will allow Hahn to actually do his job without them handcuffing him to past-their-prime free agents.
On behalf of all of the White Sox fans that I've chatted with over the past few days, don't screw this one up, White Sox.
This article originally appeared on