Chicago Cubs: Offensive explosion cause for concern in Game 7?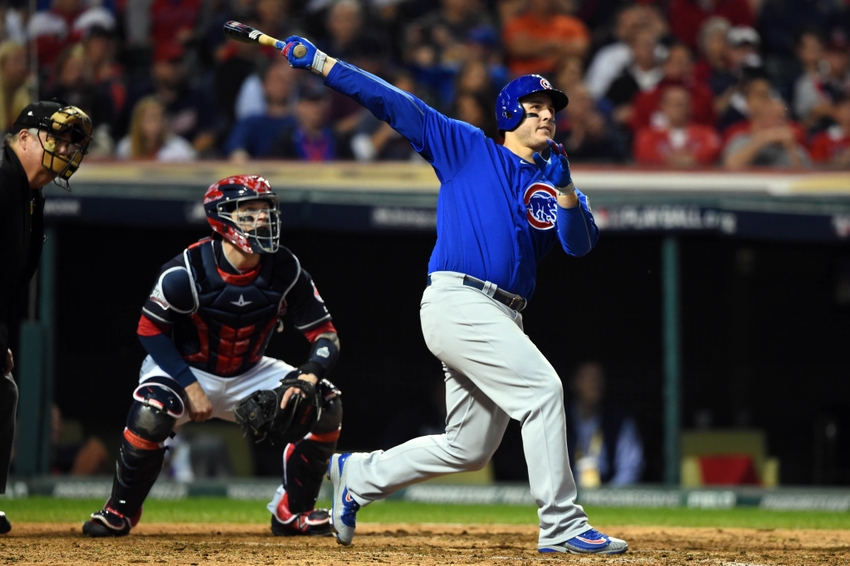 It all comes down tonight as the Chicago Cubs and Cleveland Indians square off in Game 7 of the World Series. A hard-fought postseason has led the National League Champions to this point.
Despite falling behind 3-1 to the Cleveland Indians, the Chicago Cubs found their footing and evened things up. Going out and winning two games in a row has been huge for this club but the journey isn't over just yet.
Again, the Chicago Cubs have their backs against the ropes? Why? Mainly because Indians skipper Terry Francona didn't have to use his heavy arms in Game 6. This leaves Andrew Miller, Bryan Shaw, and Cody Allen fresh and ready for the final game.
The Cubs and their offense were on point in the 9-2 win. Receiving home runs from Kris Bryant, Addison Russell, and Anthony Rizzo. Bryant got things going with a solo home run out to left field.
Later, on in the fourth, Addison Russell cranked a grand slam out to left-center, ending the night with six RBI. He tied a World Series record and was all smiles when the final out of the game was recorded.
Yes, watching the Cubs explode for so many runs is fun to watch but will it become a problem in Game 7? Looking at their schedule dating back to mid-September, Chicago's bats have gone into hibernation after scoring five or more runs.
Making Noise/Going Quietly
For instance, on Sept. 14, they defeated the St. Louis Cardinals 7-0 only to fall to the Milwaukee Brewers, 5-4. Just a week later, they shut down the Redbirds 5-0 then lost 10-4 the next day in that weekend set.
Again, after outscoring the Pittsburgh Pirates 18-6 between two games, they were outscored 9-5 in a loss and a rare tie. This continued over to the first round of the postseason against the San Francisco Giants.
Joe Maddon's boys were up 2-0 in the LDS, winning Game 1 (1-0) and Game 2 (5-2). With Madison Bumgarner on the mound and having an early 3-0 lead, the Giants rallied and won that game 6-5, forcing a Game 4.
Both Jon Lester and Johnny Cueto were slated to start Game 5 back at Wrigley Field. However, the offense finally showed up once Matt Moore was removed from the game. Remember, Ben Zobrist sparked this offense as they advanced to the LCS with a 6-5 rally-from-behind win.
 NLCS — Not A Problem
Taking on another West Coast team meant having to deal with a two-hour time difference as they went from the Central to Pacific time zone, again. Miguel Montero's Grand Slam lifted the Cubs to an 8-4 win but the bats went quietly in a 1-0 loss to Kershaw and Kenley Jansen in Game 2.
Frustration would settle in as Chicago's heavy hitters found themselves in a slump during a 6-0 in Game 3. Finally, this offense found its groove, hammering out 23 runs over the next three games, winning out the series.
World Series
Heading into the World Series, on paper, the Cubs looked like the better team. Having their entire pitching staff healthy, the Cubs held the starting rotation advantage. Meanwhile, Cleveland was only running with three starters, mainly Corey Kluber.
Kluber outright dominated the Cubs in Game 1, striking out nine hitters as Cleveland cruised to a 6-0 win. The Cubs responded with a 5-1 outing in Game 2 only to be shut down in Game 3 (1-0) and Game 4 (7-2) prior to Sunday.
Which brings us to tonight. Last night's 9-3 win over the Indians was huge and sets up a decisive Game 7 with Kyle Hendricks and Corey Kluber. The Chicago Cubs handled Clayton Kershaw the second time around but failed to do so against Kluber.
Will the third time be a charm? Hopefully, for everyone's sake. From the No. 2 spot down to the No. 6, the offensive production in Game 6 was fantastic. Three men in those slots, as noted earlier, went deep but against some of the weaker arms in Cleveland's arsenal.
If the Chicago Cubs plan on winning the World Series, they are going to need to bring their absolute all-around best performance. From defense to pitching, and especially, in the batters box.
Francona will more than likely use Kluber for only four to five innings then turn the rest over to Miller, Shaw, and Allen to close things out. If the Indians have the lead, it's going to be an uphill battle for the Cubs.
It would be the wrong time for their bats to hibernate, yet again. Keep this momentum going and we could be celebrating a World Series victory tonight. If they don't strike early for at least one or two runs, it's going to be difficult.
We've got one more left to go, so let's make sure we're the team who gets to Fly The W when it's all said and done. Buckle up, fans, it's going to be a bumpy and wild ride to the finish line.
This article originally appeared on