Boston Red Sox Report Cards: Joe Kelly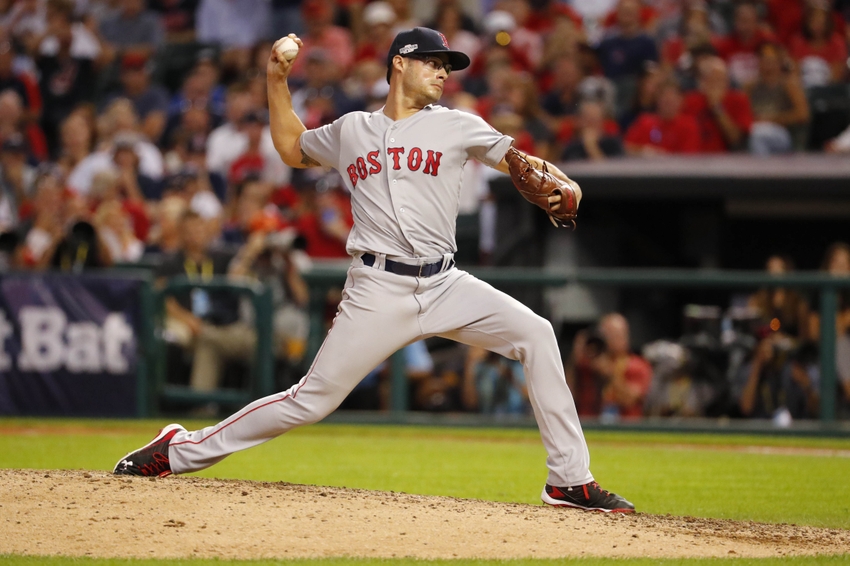 The BoSox Injection staff reflects on the 2016 season by grading each member of the Boston Red Sox based on expectations for them entering the season.
Baseball history is littered with pitchers who failed as starters; however, became incredibly successful pitching in relief. Joe Kelly may be the next pitcher to add his name to such a list.
2016 might go down as the year Joe Kelly finally found his niche. Always possessing a blazing fastball, Kelly, nonetheless, struggled mightily as a starting pitcher. Many people felt that Kelly's raw velocity would translate well to the bullpen. It turns out that those people were rather prophetic.
From April 8 to June 1, Joe Kelly made six starts for the Boston Red Sox. In those six starts, Kelly tossed only 22.1 innings, while pitching to an ERA of 8.46. He struck out 27 batters, walked 19 batters, and yielded a slash of .330/.437/.564.
On June 2, a day after allowing 7 ER over 2.1 IP in Baltimore, Kelly was sent down to Pawtucket.
With the exception of three relief appearances made for the Red Sox during the last week of July, Joe Kelly spent most of July and August in Pawtucket. From July 6 to August 31, with the aforementioned three-game exception, Kelly was in Pawtucket attempting to reinvent himself as a reliever, a role that he filled brilliantly throughout the September pennant chase for the Red Sox.
More from BoSox Injection
Kelly's numbers at Pawtucket, while functioning as a reliever, were very impressive. In 16.0 innings, spread across 13 appearances, Kelly struck out 25 batters, walked only two batters, and produced a minuscule 0.56 ERA.
As atrociously as Kelly pitched as a starting pitcher for the Red Sox, he pitched unfathomably well as a relief pitcher. Kelly made three relief appearances in July, and 11 in September. His 2016 numbers as a relief pitcher for the Red Sox were brilliant.
In 14 relief appearances, Kelly tossed 17.2 innings, struck out 21 batters, while issuing only five walks. Kelly's 2016 ERA and slash as a reliever were 1.02 and .203/.261/.297, respectively.
Kelly's 2016 campaign will likely be remembered for the September 28 walk-off Grand Slam that he surrendered to Mark Teixeira. In my mind, Kelly's 2016 campaign, especially if he continues to pitch as well, will be remembered much differently. In 2016, Joe Kelly finally performed up to the lofty expectations that accompanied a pitcher capable of lighting up a radar gun with regularity.
If Kelly becomes a lights-out, late-inning reliever, perhaps even a closer, than 2016 would mark the most critical year of Kelly's baseball career. I am willing to disregard his six abysmal starts, as they have no relation to his most recent and future role as a relief pitcher.
If basing Kelly's season on the niche that he will likely occupy for the rest of his career, a relief pitcher, then his grade will be solely based on his performance in that role. Nonetheless, because he was of no value to the club prior to September, points must be deducted from, what would otherwise be a much higher grade.
Grade: B-
What's Next?
Joe Kelly appears to have found his pitching niche as a relief pitcher. His numbers in that role were extraordinary, and with his stuff, I see no reason why that level of performance cannot be maintained.
Kelly is arbitration-eligible and, like most arbitration-eligible players, I expect that a contract will be signed, enabling arbitration to be avoided. Once converted, Kelly was one of our best relievers in September, and I fully anticipate that he will play a larger role for the 2017 Boston Red Sox.
This article originally appeared on