Boston Red Sox fans are being so mean to Pablo Sandoval
It's safe to say Pablo Sandoval is far from winning the hearts of Boston fans. One day after the Red Sox announced Sandoval would be benched on Opening Day in favor of starting Travis Shaw at third base, one innovative Boston fan decided to list Sandoval for sale on Craigslist.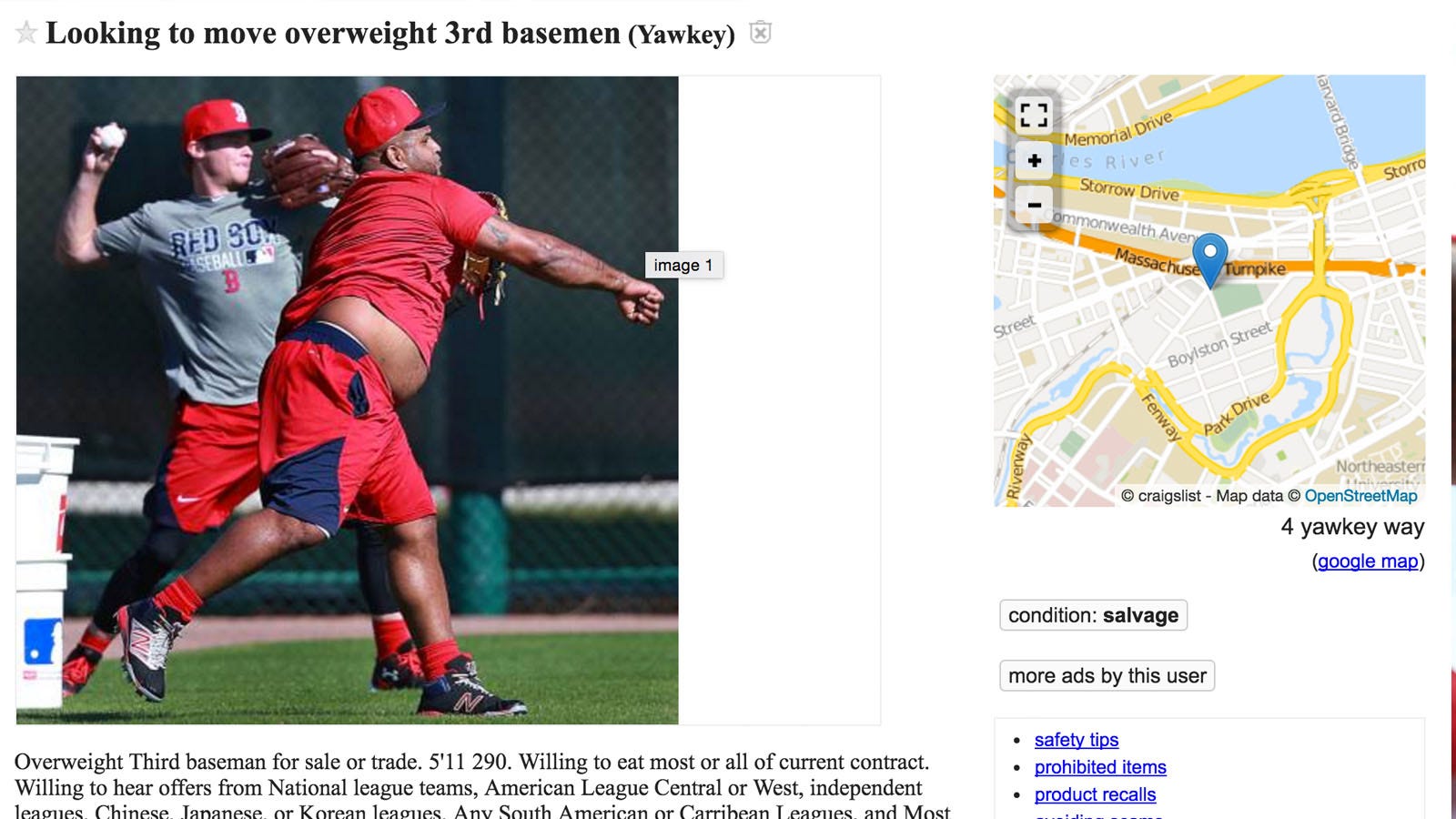 The ad listed Sandoval's condition as "salvage" and added a warning that offering to "eat the salary of the contract does not include cost to feed this man." It also includes items the seller would accept in return for Sandoval, including a used car ("rust is fine, doesn't need a steering wheel"), partially used Marlboro gift cards or "someone to volunteer to teach [Cuban prospect Yoan] Moncada English."
Although the parody ad says it would like to sell Sandoval, the offer only goes out to baseball teams outside of the American League East. It is otherwise a very inclusive ad, however, as it is willing to offer Sandoval even to "most co-ed softball leagues."
Meanwhile, Boston fans on Twitter continued with their harsh treatment of the third baseman. Many made jokes about his weight.
Periodic Table of the Elements – According to Pablo Sandoval
via @TheTicklerIsIn pic.twitter.com/mbQqdshUcI

— Obnoxious Boston Fan (@realOBF) April 1, 2016
Pablo Sandoval says he'll accept any role with the Red Sox. Will it be kaiser, dinner or onion?

— Andrew Perna (@Andrew_Perna) April 1, 2016
Pablo Sandoval just lost weight. 😂😂 #AprilFools

— Masshole Strong™ (@MassholeStrong) April 1, 2016
One fan came up with a dream destination for Sandoval.
@JeffLurking I think Pablo Sandoval would look fantastic in pinstripes.

— bill colrus (@billcolrus) April 1, 2016
Even a Boston cartoonist got in on the action.
Pablo Sandoval goes from Ringer to Second-Stringer https://t.co/1fFRcA7gRM via @frankie_galasso pic.twitter.com/oTI7vON0KX

— Steve Silva (@stevesilva) April 1, 2016
But there is one person who sympathizes with Sandoval's plight: former Red Sox Carl Crawford. The outfielder, like Sandoval, was an absolute disaster in Boston. He lasted just over a year with the Red Sox before he was sent to the Los Angeles Dodgers as part of a blockbuster deal in which Boston shipped players seen by the fans as dead weight (Crawford, Josh Beckett and Adrian Gonzalez) to L.A.
Crawford was asked by Yahoo! Sports recently about Sandoval's situation in Boston, and the outfielder acknowledged life will be tough for Sandoval.
Via Yahoo! Sports:
"Once you have failure, for some reason people like to see it," Crawford told Yahoo! Sports. "When you get that type of money, the expectations become so unrealistic. You don't live up to the expectations, you're doomed.

"It definitely eats at you. But, as men, we can't whine about stuff like that. We have to be professional. We can't show somebody it bothers us. But, hey, you know, we bleed just like you."
Although "eats at you" might not be the best phrase to use when trying to sympathize with Sandoval, Crawford's points are valid. The rabid Boston market is a tough place to survive once you lose the support of the fans.
Even Sandoval's agent is learning that lesson. MLB insider Jon Heyman made an appearance on a Boston sports talk radio show Friday and claimed Sandoval's agent dared to compare Sandoval to a Ferrari.
Corrected statement from Pablo Sandoval's agent Rick Thurman to @JonHeyman "If you want to win, why leave the Ferrari in the garage?"

— Marc Bertrand (@Marc_Bertrand) April 1, 2016
It took just minutes for Red Sox fans on Twitter to poke fun at that statement.
Actual representation of Pablo Sandoval. Not a Ferrari pic.twitter.com/6lrJS7QqKy

— Cody Powers (@Cody_Powers_) April 1, 2016
This must be the Ferrari Pablo Sandoval's agent is talking about pic.twitter.com/pT5lRsKdJ0

— Will (@HeyMyNameIsWill) April 1, 2016
Pablo Sandoval pic.twitter.com/wY4SsQLqrr

— Jeff Israel (@jeffisrael25) April 1, 2016
Pablo Sandoval comparing himself to a Ferrari. I think of him more as a used mini-van

— Blind Mike (@BlindMike_) April 1, 2016
This is going to be hard for Sandoval to come back from.